2 April, 2015
The Best way to make Moong/ Mung sprouts and a super-healthy salad
Comments : 24 Posted in :
Appetizer
,
sprouting
on
by :
apsara
Tags:
best mung bean brand
,
mung salad
,
mung sprout
,
seed sprouter
,
simple sprout salad
,
Victorio seed sprouter
Moong beans are one of the easier beans to digest and are loaded with micro-nutrients.  Sprouting makes the B-vitamins in it more available and also increase he soluble fiber content. It is also the easiest bean to sprout. Any method would work well- muslin cloth, a covered colander or a seed sprouter.
A tip: A reliable brand of mung beans is 24-Mantra Organic which you could find in an Asian market. It contains uniform, large beans that form the best sprouts.
I like to make  mung sprouts almost every week, in a big batch, using my sprouter.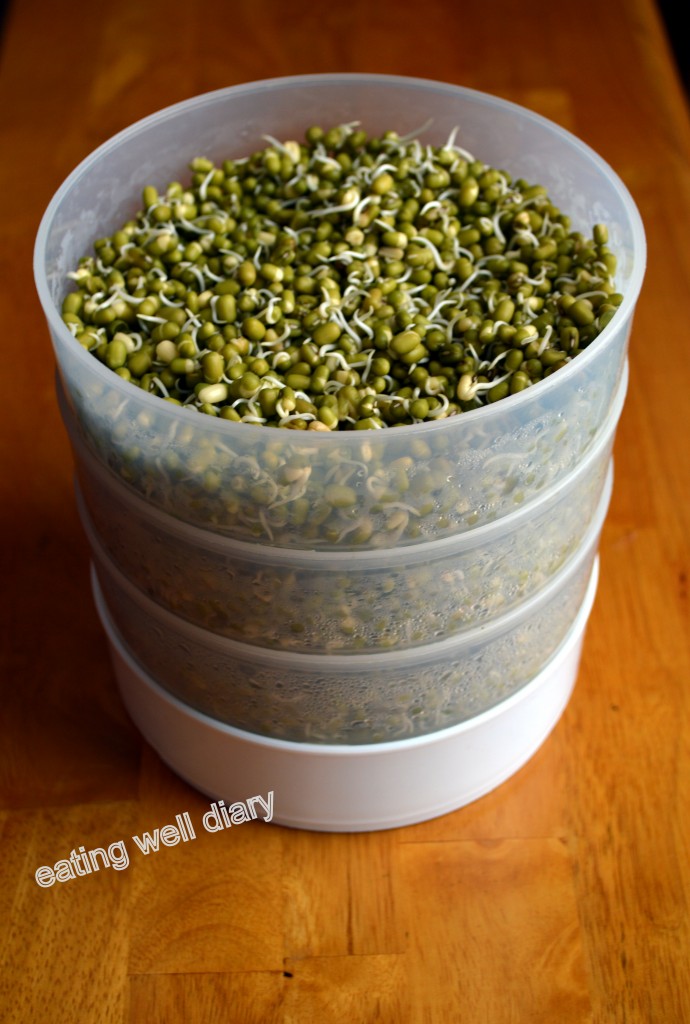 Always forms uniform and lovely sprouts. This sprouter can be successfully used for many other beans as well. DO CHECK my Sprouting 101 post for details.
There are many ways to consume this:
Raw: As a delicious addition to any salad, or
Partly cooked: As this easy-to-make savory pancake
Pressure cooked: In tomato gravy or as a dry savory snack.
Recently, a friend shared some useful information that raw mung sprouts when taken every morning can improve hair growth and overall health. Since then I have made it a regular habit to make this easy salad, at least a few days in a row.
Simple mung salad
Servings: 1
Time: 5 minutes
Difficulty: easy
Ingredients:
Mung sprouts- 1 cup
grated carrot- 1/2 cup
baby cucumber- 1
lime or lemon- 1/2
pepper, sea salt- to taste
Method:
Toss all ingredients together and let it sit for 20 minutes to allow sprouts to absorb flavors.
A good idea would be to let the sprouts and carrot soak in lime dressing overnight in the fridge. The next morning, add any other ingredients and the salad will be ready to eat!
Sharing this at Sonal's Diabetic Friendly Thursdays this week alongside these awesome entries from Prachi and Shailaja.
Taking this with me over to Angie's place as I join them in Fiesta Friday #62, co-hosted by Jess@ Cooking Is My Sport and Prudy@ Butter, Basil and Breadcrumbs.
Also sharing at  Vegan Link-up #39 at Urban Naturale and Virtual Vegan Linky Potluck 7.
24s COMMENTS