14 October, 2014
Thippili rasam (Long pepper soup) with therapeutic properties
Comments : 10 Posted in :
Main course
,
soups and chili
on
by :
apsara
Tags:
arisi thippili
,
Ayurveda thippili
,
Ayurvedic soup
,
Indian long pepper
,
kanda thippili rasam
This is another rare soup made with herbs from the heart of South India. 'Thippili' is the Tamil word for Indian/Indonesian long pepper, an ayurvedic medicinal plant with therapeutic properties.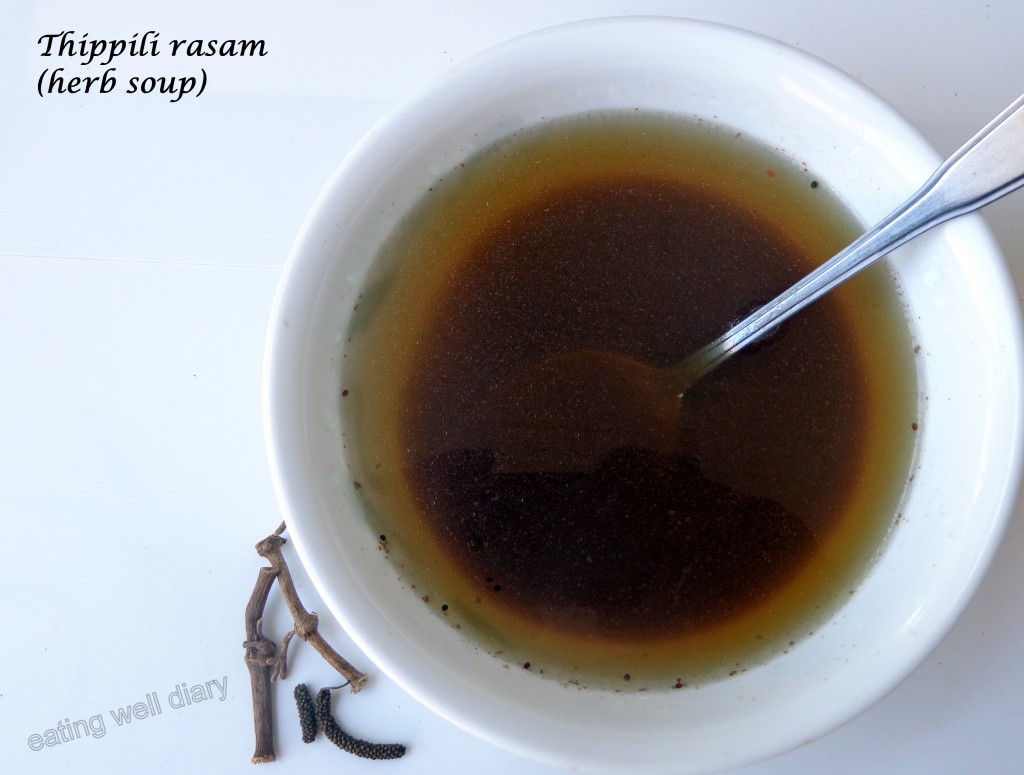 In fact, as I just learned from Wikipedia, the etymology is the other way around. The word 'Pepper' has its origin from the Tamil/Malayalam word "pippali", how interesting!
My mother got these actual dried herbs from Chennai, when she visited me this summer. 'Arisi thippili' is the dried long pepper and 'kanda thippili' is the dried root of the plant. A rasam powder is prepared from these herbs and can be stored for a long time in an airtight container. A soup/rasam is prepared and regular consumption (once a week) is good for health. It is especially useful in the winter months for alleviating pain from cold, sore throat and other ailments.
I found that this is supplied by India Mart too.
Ingredients for Thippili Rasam powder:
Arisi thippili- 1 tbsp.
kanda thippili- 10 sticks
toor dal- 3/4 cup
black pepper- 1 tbsp.
cumin- 1 tsp.
red chilly- 3
asafoetidav bits-a few
curry leaves- 2 (optional)
Method:
1. Roast all the above ingredients in a tsp. of ghee (dry roast or roast in coconut oil for vegan version). Make sure to remove moisture from the curry leaves.
2. Allow to cool before making a powder in a spice grinder/blender.
3. Store in an airtight container.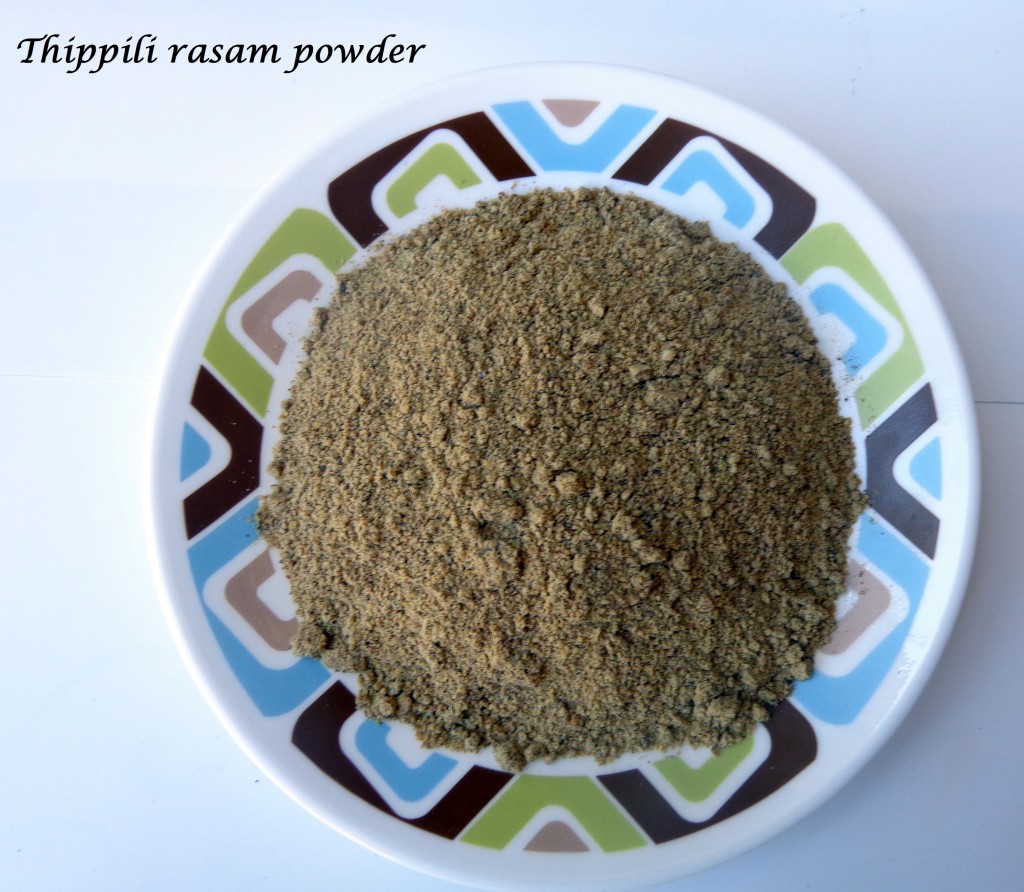 Ingredients for soup/rasam:
Rasam powder (prepared above)- 2-3 tbsp.
water- 3 cups
fresh tamarind or tamarind paste- 1 tsp.
mustard seeds and ghee for tempering
Method:
1. Bring all ingredients to a boil in water. Allow it to boil a couple more times for the flavors to infuse.
2. Heat mustard seeds in ghee till they pop and add to the rasam.
3. This is traditionally mixed with rice in the main course of a meal, but I like to drink it as a soup too.
Notes:
Some finely diced tomatoes can be added to the water while preparing the rasam.
10s COMMENTS