29 September, 2016
Two Ways To Make Sprouted Black Eyed Beans Sundal
Comments : 8 Posted in :
Appetizer
,
Indian sweets
,
snack
on
by :
apsara
Tags:
black eyed bean curry
,
healthy Indian snack
,
Navarathri snack
,
protein rich Indian snack
,
sprouting black eyed beans
,
sundal
,
sweet black eyed beans
,
vrat khana
The Indian festival of Navaratri is here! I regularly make sprouted black eyed bean sundal during this time.
Here is the way to prepare a sweet and a savory version of this protein-rich snack:
Black eyed peas are one of the easiest beans to soak and sprout, next to mung beans. If you can get more nutrients by sprouting, why not do it? It just needs 36-48 hours more, and if planned ahead, it adds many benefits. The sprouts can be stored in the freezer for months which makes it an attractive option. 
I soak a big amount of dry beans overnight and sprouted it using my Victorio seed sprouter. After 24 hours I gave the partially sprouted beans a quick wash and returned to the sprouter. Sprouts were ready in 40 hours. For more instructions on sprouting and why to do it, see this post:
Sprouting 101: with A Seed Sprouter
I used a pressure cooker to cook the sprouts (with very little water) which, by the way, takes much less time than cooking un-sprouted beans. Another option is to slow-cook them (about 5 hours on low setting).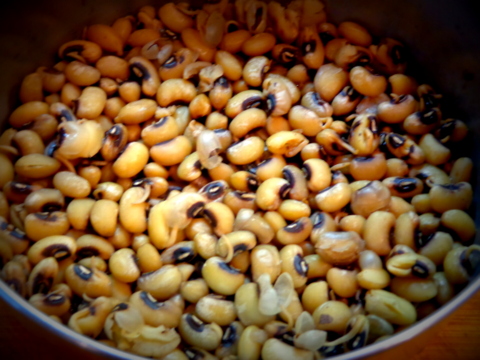 Now, for the actual snacks:
The Sweet Version:
Sweet Black Eyed Beans Sundal
Servings: 4
Time: 20 minutes
Difficulty: easy
 

Ingredients:

cooked beans- 1 1/2 cup

jaggery- 1/2 cup

water- 1 tsp.

cardamom powder- a pinch

coconut flakes- 2 tbsp. (optional)

Method:

1. In a pan, bring jaggery and water mixture to boil.

2. When most of the water has evaporated, add the beans, cardamom, coconut and stir to blend.

3. Remove from heat and allow to cool. That's it! The remaining water will be soaked up by the beans as they cool.

4. This can be served warm or cold.

 
The Savory Version:
Savory Black Eyed Beans Sundal
Servings: 4
Time: 15 minutes
Difficulty: easy
 

Ingredients:

cooked beans- 1 1/2 cup

salt- to taste

coconut or avocado oil- 2 tsp.

mustard seeds- 1/2 tsp.

turmeric powder- a pinch

for spice mix: (Note: Use only 2 tbsp. from this batch; smaller amounts are difficult to grind)

chana dal (split yellow lentil)- 1 1/2 tbsp.

urad dal (blackgram lentil)- 1 1/2 tbsp.

coriander seeds- 2 tbsp.

asafoetida- a pinch

dry red chilly- 2

Method:

1. Dry roast the spices till the lentils turn a light brown color. Use a spice grinder to make a coarse powder.

2. Heat oil in a pan and add mustard seeds. When they pop, add beans, salt, turmeric powder.

3. Add required amount of spice mix and stir.

4. Garnish with cilantro leaves and the snack is ready! Serve warm.

 
Sharing this recipe at Urban Naturale's Plant Based Potluck Link Up #105 and Healthy Vegan Fridays #119 hosted by Kimmy @ Rock My Vegan Socks and Mary Ellen of VNutrition. Also taking this dish to Fiesta Friday #139, where co-hosts Antonia @ Zoale  and Sandhya @ Indfused are greeting all blogger buddies at this weekend's party.
Happy Navaratri, everyone!
8s COMMENTS