27 September, 2016
Catching 'Em Young! A Kids' Cooking Workshop
Posted in :
Uncategorized
on
by :
apsara
Tags:
cooking with whole foods
,
cooking workshop
,
creative cooking workshop
,
healthy eating awareness
,
importance of fresh foods
,
involving kids in cooking
Last weekend, I had a great opportunity to bring two of my passions in life- teaching and cooking together in one place.
A few months ago I met Nisha Bansal, an ayurvedic practitioner at Exhale With Hope, our local wellness center. Nisha conducts workshops to spread awareness about Ayurveda and nutrition.
She had planned a workshop for kids (over the age of 9) to teach them to cook a fun and healthy meal from scratch. Being very passionate about healthy vegetarian cooking, I offered to help.
Together, we had a really fabulous time spending those three hours cooking and baking with our young chefs! 
Catch Them Young
Why is it important to get the knowledge of cooking at such a young age? Kids of that age usually have well developed taste and make clear demands of their parents to make meals of their choice. Inevitably, pizza and pasta are most popular among those. How about having them make their own pasta or bread but with organic, whole ingredients, not from processed, store-bought versions? This gives them a satisfaction of creating a meal they love AND learn the value of fresh food.
At The Worshop…
We made a minestrone soup, a cucumber-lettuce salad, baked whole-wheat bread sticks, and a whole wheat banana coffee cake.
No refined sugar or refined wheat was used in any of the recipes.
The kids chopped veggies, prepared the dough, kneaded and shaped their bread sticks into very imaginative pieces.
We had useful discussions on cooking technique, the various roles of a chef, the difference between processed and fresh food.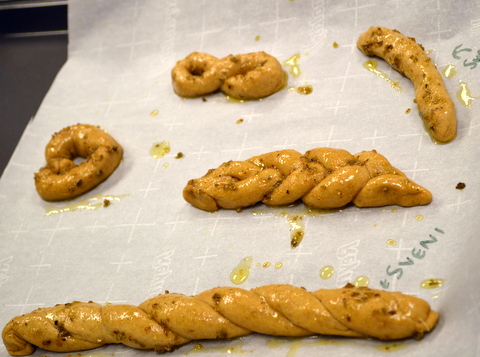 It is true that kids can learn all these lessons at home if the parents follow a healthy lifestyle and involve them in kitchen chores. But an environment away from home in a peer group of friends gives them a unique learning experience. And guess what, they were all happy to eat the food they had cooked, and gave us more ideas for a future cooking workshop!
I will leave you with a list of things to get creative with kids and keep them happy during a cooking workshop 🙂
Ingredients And Ideas For A Kids' Cooking Workshop
Plain paper and markers

A puzzle with ingredients and kitchenware for warm up

Cookie cutters of different shapes, to use like stencils
Fruit for a snack break
Several measuring spoons and cups for learning different measures
Copies of recipes that they will try out during the session
Real, washable tableware- to give the feeling of home, to reduce disposable waste and to learn cleaning them on their own
Goody bags with samples of the food they made
Have you done a workshop like this before? Do you have other suggestions to make it more fun? I would love to hear your thoughts!
Sharing this post at Urban Naturale's Plant Based Potluck Link Up #105.