19 September, 2016
Ragi and Brown Rice Idli (Steamed Multigrain Savory Cake with Finger Millet)-Meatless Monday recipe
Comments : 10 Posted in :
Breakfast
,
Easy lunch box recipes
,
Meatless Mondays
,
snack
on
by :
apsara
Tags:
diabetic friendly idli
,
Fiesta Fridays
,
finger millet
,
healthy idli
,
Indian breakfast
,
multigrain idli
Idli, the ubiquitous south Indian   breakfast,  or evening tiffin/snack can be made healthier by substituting some of the white rice with whole grains. An excellent low glycemic index food for diabetics as well as weight watchers. If you worry about a poor digestive system sensitive to whole grains, this is an excellent choice as fermentation makes it very easy on the stomach.
A particularly good combination is with brown rice and Ragi or finger millet. No, you do not have to work with the ragi grain, just ragi flour will do, as this recipe tagged Meatless Monday shows!
This recipe makes a big batch of batter that uses a wet grinder such as the model Ultra efficiently. Use this batter to make idli, mini-idli or dosa. A versatile batter that appeals to kids and adults alike.  Kids especially like the mini-idlis that I send in their lunch.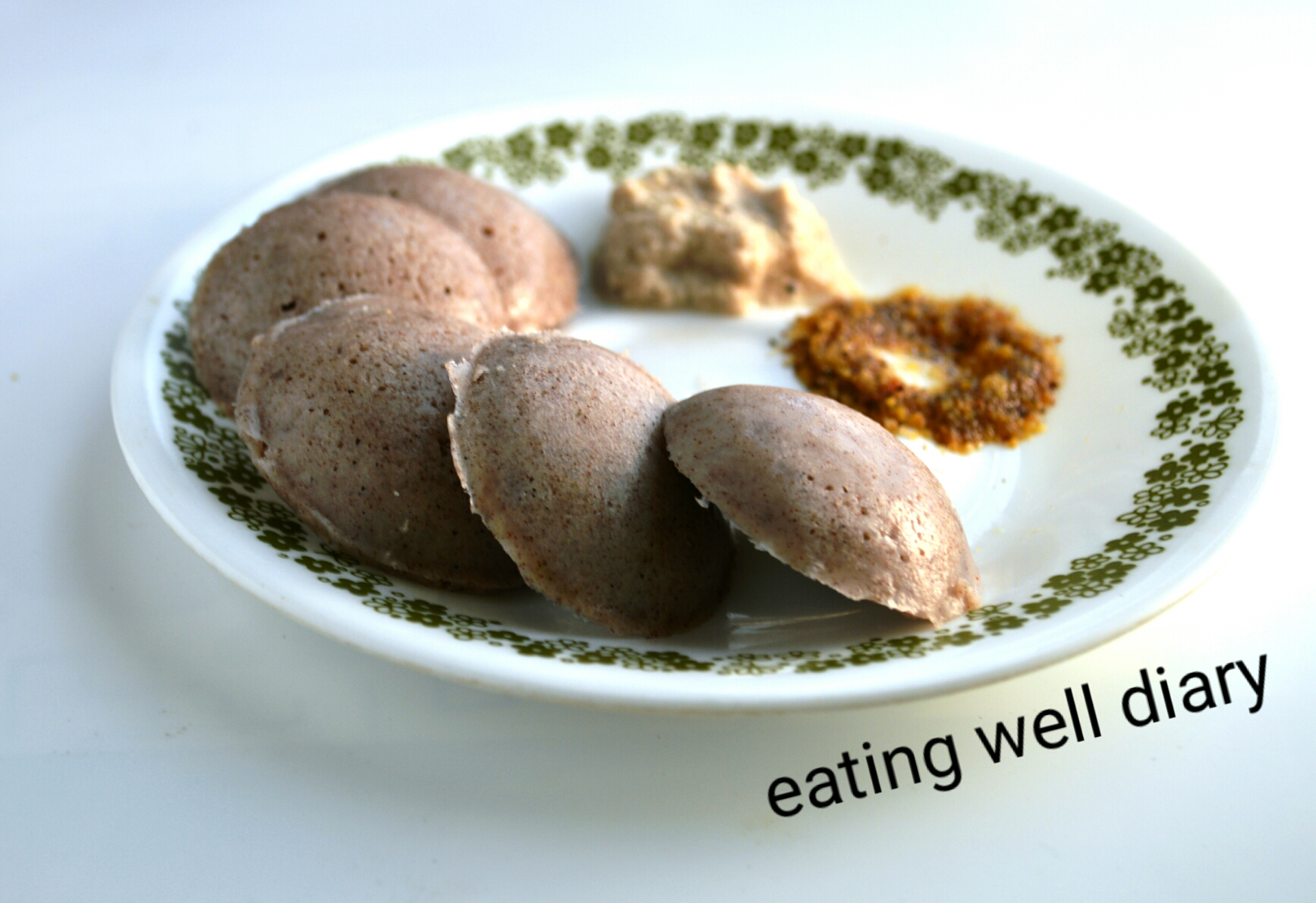 Ragi and Brown Rice Idli
Servings: 30-40
Time: soak+ ferment time + 40 minutes
Difficulty: easy
 

Ingredients:

Idli rice- 2 cup
Brown rice – 1 cup (I use organic Mantra 24 sonamasuri variety)
Ragi flour- 1 cup (I use organic Mantra 24  brand)
dehusked Urad dal or black gram – 1/2 cup
Urad dal with skin – 1/2 cup
fenugreek/ methi seeds- 2 tsp.

salt- 2 tsp. or to taste

Method:

1. Soak brown rice, idli rice together for 8 hours.  Soak urad dal and fenugreek seeds mixture separately for 4-8 hours.

2.Use a wet grinder to make a fine batter of urad dal, first. Transfer it to a large mixing bowl.

3. Next, discard the soaking water in the rice and with fresh water, grind the rice into a batter and transfer to the mixing bowl.

4. Add 2 tsp. salt, mix well and let the batter ferment for 6-8 hours in a  warm place. I put mine inside the oven with the light turned on. It is a good idea to place a tray under to collect any overflowing batter.

5. After the batter has risen and gets a sour smell, mix gently and use a ladle to fill greased idli plates.

6. Use a steamer to make fluffy idlis. Serve with your favorite chutney or molaga podi.

 
People partying over at Fiesta Friday #137, do taste these lovely steamed delicacies. I may have brought it as the party is drawing to a close, but hey, any time is a good time to have idli!! Thank you, lovely ladies Loretta and Natalie for co-hosting!
10s COMMENTS