6 May, 2016
My Mother's Mysore Rasam (Spice Mix recipe included)
Comments : 9 Posted in :
homemade spice mixes
,
Main course
,
side dish
,
soups and chili
on
by :
apsara
Tags:
Fiesta Fridays
,
Indian lentil soup
,
instant rasam
,
Mysore rasam
,
rasam recipe
,
south Indian authentic rasam
,
spice mix mysore rasam
It has been a couple of weeks since I posted a recipe. I hate when this happens; it is so hard to get back on track again! Well, since Mother's day is coming up and I take this opportunity to get over the inertia and  post something to celebrate  that occasion.
What better way to do it than post a recipe that always reminds me of her?
She is a pro at making Mysore rasam, a lentil soup that is made with freshly ground spices. She would make this on weekends and we would always look forward to savoring it.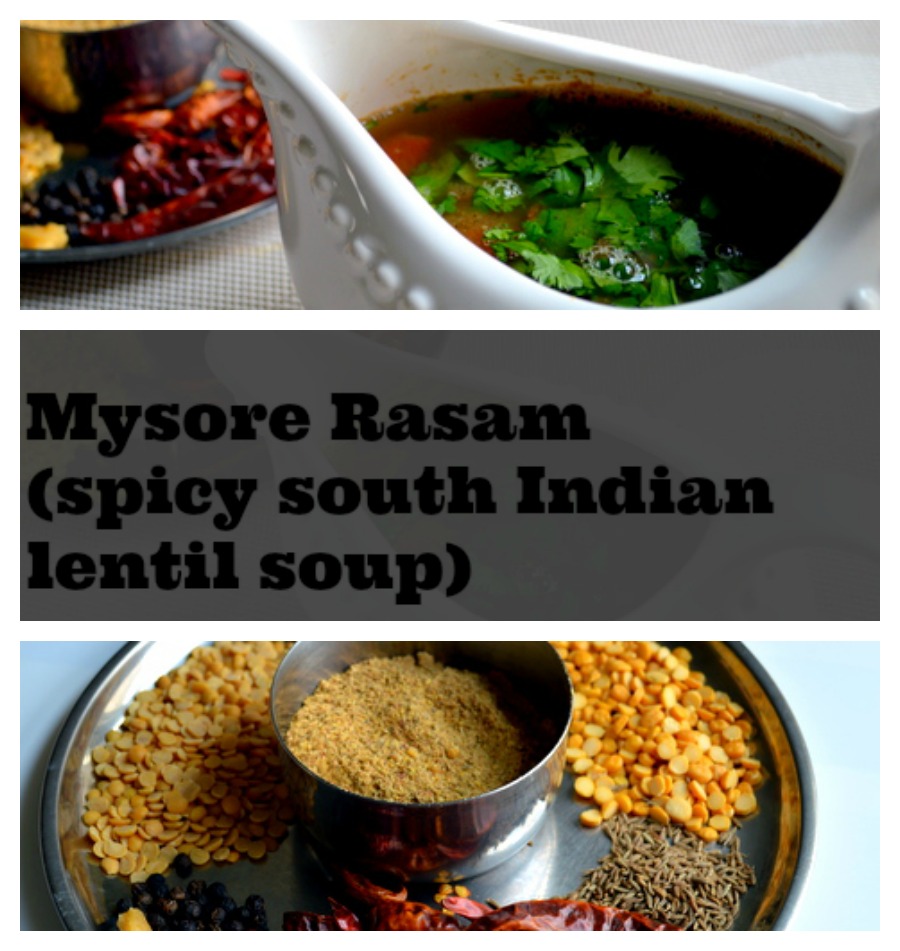 Rasam/ Ras is the Sanskrit word for extract or juice. We south Indians make different varieties of dilute lentil soups that go well with rice in a main course. Or these soups can just be enjoyed by themselves.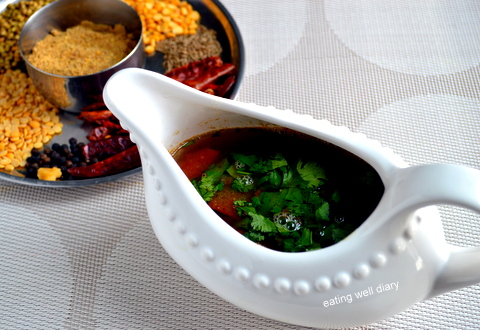 The recipe involves 3 main steps:
1. Spices that are used are roasted and ground using a dry spice grinder. I usually make a batch that lasts me a few weeks and can make multiple preparations of rasam.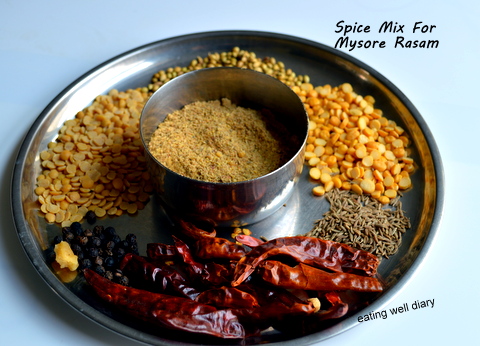 2. The lentil or toor dal that is used has to be cooked well in a pressure cooker to a paste consistency.
3. The rasam itself is made by first boiling and then simmering mixture of tamarind extract, tomato, the spice mix and a DILUTE solution of the cooked lentils.
Mysore Rasam
Servings: 4-5
Time: 40 minutes
Difficulty: easy
Ingredients:

Spice mixture:

Dry Toor dal- 2 tbsp.

Dry Chana dal- 2 tbsp.

Dhaniya/coriander seeds- 2 tbsp.

Dry whole red chillies- 6-8

Cumin- 1 tbsp.

Black pepper- 1 tbsp.

Asafoetida- 1/2 tsp. powder  or a small piece of the resin

For the rasam:

Tomato- 1 medium

Cooked Toor dal- 1/2 to 3/4 cup

Tamarind or kokum- a lime sized ball

Spice mix- 2 tbsp.

salt- to taste

Fresh cilantro for garnish

For tempering (optional):

Ghee/ coconut oil- 1 tsp.

Mustard seeds- 1/4 tsp.

Cumin seeds- 1/4 tsp.

Method:

1. Dry roast the ingredients in a pan and  allow it to cool. Then grind to a coarse powder.

2. Cook toor dal and a pinch of turmeric powder, along with some hot water in a pressure cooker. Allow the cooker to blow 7-8 whistles to get a really mashable consistency. 

3. Extract the juice of a lime size portion of fresh tamarind or kokum. It may need prior soaking with warm water.

4. In a pan add finely chopped tomatoes, asafoetida, tamarind extract, spice mix and 2 cups water, allow to simmer on medium heat.

5. When the mixture has boiled once, addwater to the dal and slowly add the dilute "dal mixture" making sure there are no lumps.

6. Add salt to taste and allow to simmer for 20 more minutes.

7. Prepare tempering: heat ghee/ oil in a separate pan, add mustard seeds. When they pop, add jeera or cumin. Add this to the rasam.

8. Garnish with cilantro after turning off heat.

9. Serve with some fresh rice and ghee, with a side of dry curry and appalam/ papad.

 
Sharing this recipe at Fiesta Friday #118 co-hosted by my blogger buddies Kaila @ GFLife24/7and Laurena @ LifeDietHealth. Also sharing at the Plant Based Potluck Link Up #84 at Urban Naturale.
9s COMMENTS