3 June, 2015
Spicy Jalapeno Cornbread Muffins for DFT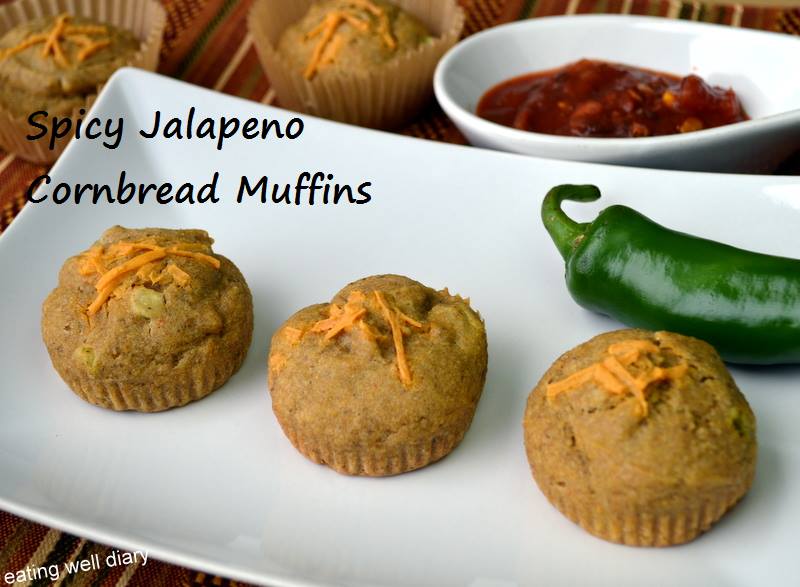 Comments : 36 Posted in :
Breads
,
Diabetes Friendly Thursdays
,
Gluten free baking
,
snack
on
by :
apsara
Tags:
corn meal corn flour difference
,
cornbread muffin
,
GF vegan cornbread
,
mexican cornbread
,
savory muffins
,
what corn is best for baking cornbread
Creating recipes with a cause!
I am a proud DFT blogger. To learn about DFT click here
To find more DFT recipes click here
Diabetes Friendly Thursdays goes Mexican this week!
I've always wanted to make cornbread, a spicy version. The "Mexican" theme for DFT this week gave me that opportunity, and I happily put on my baking hat!
Here area few facts about the different variations of dried corn in powdered form:
Corn meal or corn grits/ polenta is a coarse form. It is blue/yellow/white in color. It is a whole food; go for stone-ground cornmeal.
Corn flour is finely ground cornmeal. It appears white and is sometimes store bought versions are given an alkaline processing.
Corn starch is just the starch portion of corn. Not a whole food.
What I needed for making muffins was not very coarse cornmeal; that would be like making muffins out of broken wheat, the texture shows up in the baked good. I cannot use corn flour either, it is too fine and makes dense baked products. So I ground up some corn meal and sifted it for a uniform, medium texture.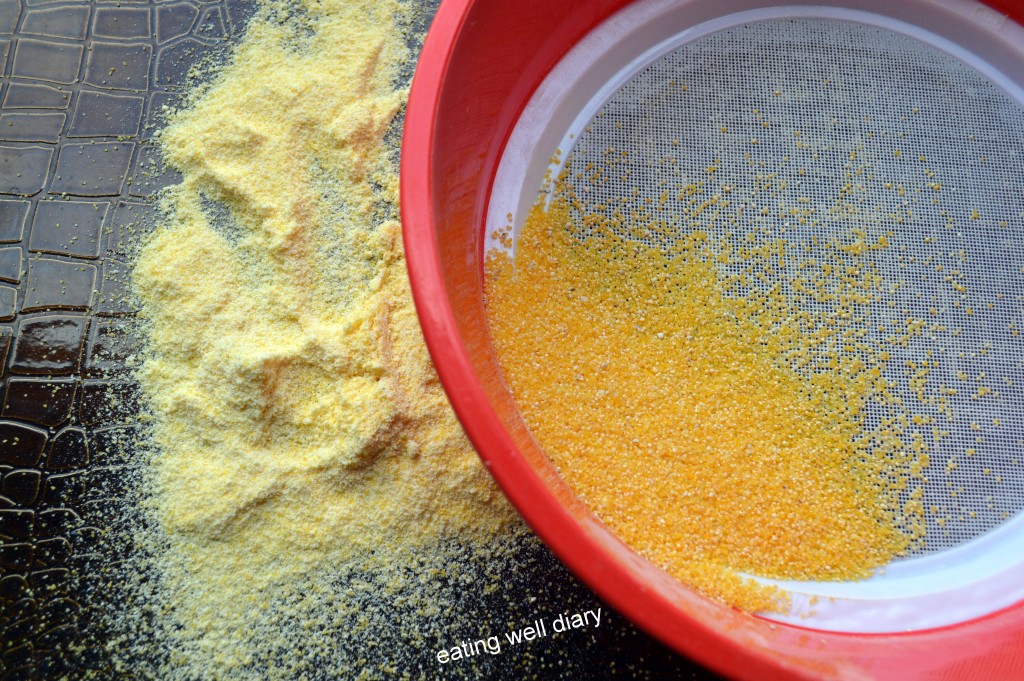 These whole grain cornbread muffins are the perfect diabetic friendly snack, very easy to make and delicious. This is the first time I've made a savory muffin and my family loved it! Packed with spice from jalapenos and onions, and just a hint of cheese on the top, we had a taste of Mexico at home.
If jalapenos are not available, a pickled version can be used. The onions are just my own addition, not sure if it is added in authentic Mexican cornbread.  Since my kids do not like peppers, I had to introduce that flavor so that they liked it. And it worked!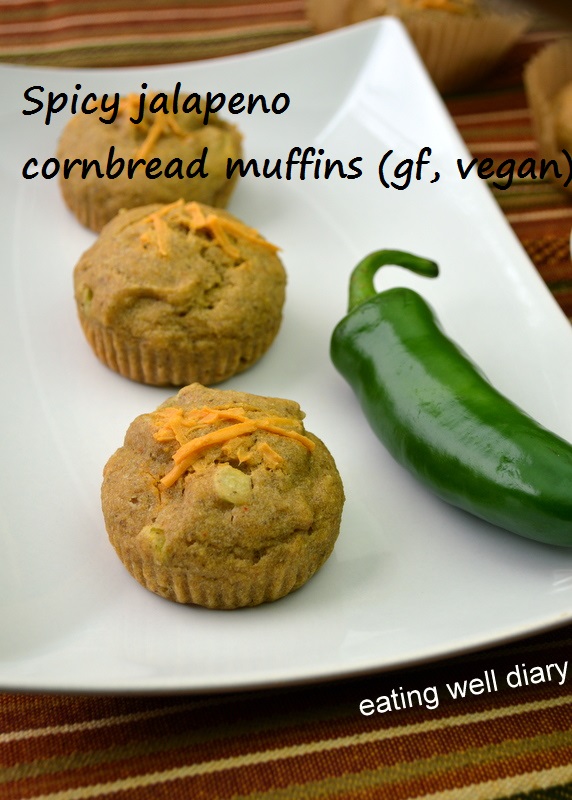 Spicy Jalapeno Cornbread Muffins (gluten-free, vegan)
Servings: 12
Time: 40 minutes
Difficulty: easy
Ingredients:
dry:
organic cornmeal- 3/4 cup; 103 g
oat flour- 1 cup; 83 g (I used gluten-free)
tapioca starch- 1/4 cup; 26 g
xanthan gum-1/4 tsp.
baking powder- 2 tsp.
baking soda- 1 tsp.
light brown sugar- 1/4 cup
salt- 1 1/2 tsp.
chili powder- 1/2 tsp.
wet:
unsweetened almond milk- 3/4 cup
vinegar- 2 tsp.
organic canola oil- 1/3 cup + 1 tsp. for roasting peppers
ground chia seeds- 1 tbsp.
water- 4 tbsp.
add ons:
chopped and roasted jalapenos- 2 tbsp.
chopped green onions- 2
vegan cheddar cheese- to sprinkle
Method:
1. Preheat oven to 350 °F.
2. In a little bit of oil, roast chopped and de-seeded jalapenos. Set aside.
3. In a bowl, combine ground corn meal, oat flour and tapioca starch. Add baking soda, baking powder, gum, salt and chili powder.
4. Combine ground chia seeds with water and allow it to stand for 5 minutes. Combine it with the other wet ingredients. Add brown sugar, stir and then add the dry ingredients to this bowl.
5. Mix well, then stir in jalapenos and onions. Spoon batter into a muffin pan lined with cupcake liners. Sprinkle some cheddar cheese on each.
6. Bake for 28 minutes or till a knife inserted in the middle comes out dry. Cool and store in an airtight container.
Sharing this at Swathi's Hearth and Soul Blog Hop this week. Also sharing at Deborah's Plant Based Potluck Party Link Up #48.
Check the other DFT recipes from my friends this week:
Sonal: Vegetable Fajitas Platter
Shailja: Tex Mex Black Beans Brown Rice Veggie Bowl 
Anupama: Curried Sweet Potato Fajitas
Prachi: Sopes Vegetarian
Srividhya: Zero Oil Vegetarian Chili
Swati: Quinoa and Bean Bites
Suchitra: Tacos Made Healthy
Chaahat: Creamy chicken Enchiladas
Parvathy: Lime and Cilantro Quinoa
36s COMMENTS