12 May, 2016
Kid's Friendly Lettuce Wraps for Diabetes Friendly Thursdays
Comments : 24 Posted in :
Appetizer
,
Diabetes Friendly Thursdays
,
Easy lunch box recipes
,
snack
on
by :
apsara
Tags:
gluten free wrap
,
kids lettuce wrap
,
lettuce wrap
,
quinoa filling wrap
,
sweet potato recipe diabetes
,
wrap
Creating Recipes with a Cause! I am a proud DFT blogger. To learn about DFT, click here!
Celebrate the month of May with Team DFT, indulging on some delicious and hearty wraps that are diabetic friendly and weight watchers friendly.
I have a delicious lettuce wrap that is even kid friendly, as it was well appreciated by kids in my house! The filling is made with quinoa and sweet potato, both very nutritious and rich in vitamins. What's more interesting is that you can make this as a snack, an appetizer or part of a meal. The lettuce makes it light enough to be a great snack.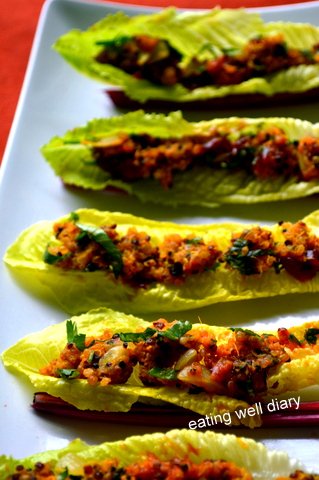 What is great about quinoa is that it is gluten-free for those who cannot eat wheat based wraps. It is also rich in protein and low in carbs, hence perfect for diabetic people. Sweet potato is a "super food" vegetable, high in beta carotene, vitamins A, B, C and minerals. Although it is sweet, has potential to reduce blood sugar. Check for more nutrition fact here.
The combination of quinoa and sweet potato is great because sweet potato acts as a binder for the quinoa and at the same time does not make it too mushy if the right amount is used. Mint and cilantro add enough flavor to make it appetizing.
Take a look at the filling preparation: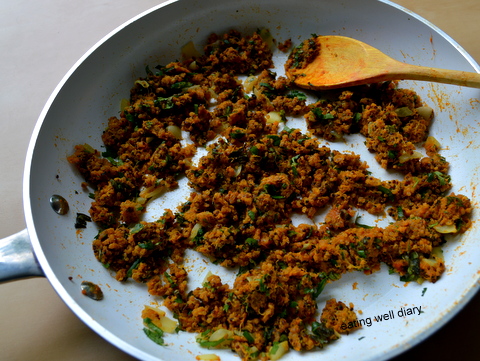 Lettuce Wrap with Quinoa-Sweet Potato filling
Servings: 8-10
Time: 35 minutes
Difficulty: easy
Ingredients:

Romaine lettuce- 1-2 bunches

quinoa- 1/2 cup

sweet potato- 1 small or a few pieces of a large one

chopped onion- 1/3 cup

grated ginger- 1/2 tsp.

chopped mint leaves- a few

chopped cilantro- a few

coconut oil- 1 tsp.

spices:

red chilly powder- 1/4 tsp.

coriander/ dhaniya powder- 1/2 tsp.

turmeric powder- a pinch

Sriracha sauce for garnish (optional, check for added sugar)

Method:

1. Cook the 1/2 cup of quinoa in a pressure cooker with 3/4 cup of water.

2. Also cook the sweet potato with the peel in the pressure cooker, with no added water with the vegetable. Allow the cooker to blow only one whistle. Alternatively, the sweet potato can be cooked in a pan.

3. Peel the cooked sweet potato slices and mash them. 

3. In a wide pan, add 1 tsp. oil, saute grated ginger and chopped onions; add turmeric powder. 

4. Add cooked quinoa, sweet potato and mix well. Make sure to spread the mixture so that it is not sticky.

5. Add the rest of the spices, salt, chopped cilantro and mint. Turn off the heat and mix till the filling is good enough to be spread inside the wrap.

6. Wash the tender leaves from the inside of a bunch of lettuce, arrange on a plate and spread the filling. Use beet stalks or slender carrots to prop them up.

7. Garnish with more cilantro leaves, and lightly add Sriracha sauce if needed. Kids may not like the added heat, though!

 
 Linking at the Plant Based Linky #85 at Urban Naturale. Also taking these beauties to Fiesta Friday #119 co-hosted by Ahila @ A Taste of Srilankan Cuisine and Dianne @ Goats and Greens.
Disclaimer
I am not a nutritionist or dietician. My knowledge and information is based on my research and reading from different resources. Please consult your doctor or dietician before making any changes to your diet.
Check out all the other DFT recipes from my friends:
1. Sonal: Moong Cheela with Tandoori Veg Filling
2. Swati: Egg White Salad with Whole Wheat Tortilla Wrap
3. Shailja:  Masoor Cheela Tex Mex Wrap
4. Suchitra: Pancharatan Dosa Wrap
5. Sarika: Moong Dal Kebab Wrap
6. Parvathy: Chicken and Pesto in Buckwheat Wrap
24s COMMENTS