12 August, 2016
Soft and Chewy Cranberry Almond Granola Bars (gluten-free, vegan)
Comments : 12 Posted in :
Eggless cookies
,
snack
on
by :
apsara
Tags:
chewy snack bar
,
Fiesta Fridays
,
fig granola bar
,
gluten-free snack recipe
,
real food granola bar
,
van's granola bar
It feels so good to be writing a recipe post again, after a long hiatus! I did not plan for the break to be this long… in fact I had "withdrawal symptoms" initially, but then life got so busy that I got used to not blogging after a few days. This summer has been a busy time.
I have so much to share that I do not know where to start! Some family heirloom recipes that I learned during my vacation trip to India, so many things that I tried, but just did not have enough time to write as a post. As I go about organizing them, here's a great granola bar recipe that I make often for the kids' evening snack.
I am big fan of Van's Chewy Almond granola bar. Unfortunately, they do not carry those anymore in our grocery store. So, here's my copycat version, and my family loves it!
Image source: https://theglutenfreeguru.wordpress.com/tag/granola-bar/
A bar made from whole figs, almond butter, dried cranberries and lightly sweetened  with maple syrup and coconut sugar- what is not to like in it? Make it easily with readily available ingredients, in under 40 minutes!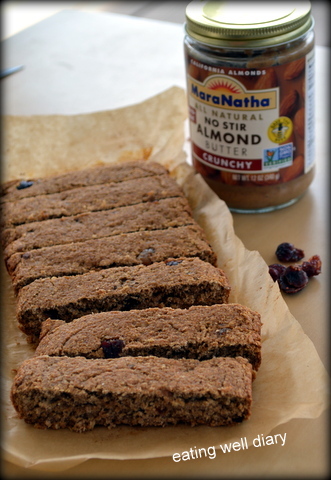 You can make the bars thick or slightly thinner according to your preference. Both varieties bake to perfection. Make a big batch and store it away in the fridge!
Soft and Chewy Cranberry Almond Granola Bars
Servings: 12-14
Time: 45 minutes
Difficulty: easy
 

Ingredients:

rolled oats – 2 1/2 cup (I used certified gluten-free)

flax seed powder/ psyllium husk- 1 tbsp

fig paste from 10 figs (I used Calmyrna figs)

unsweetened applesauce- 4 tbsp. (120 g) or approx. 1/3 cup

maple syrup or any liquid sweetener- 2 tbsp. 

almond butter- 2 tbsp.

coconut palm sugar (powdered)- 1/4 cup

dried cranberries- a few

sea salt- 1/4 tsp.

water- 1 cup

Method:

1. Cut figs into pieces and soften them by pouring 1 cup of hot water on it. Make a paste of it in a small blender or spice grinder.

2. Grind the oats in a blender or food processor to a coarse mixture.

3. Add flaxseed  powder or psyllium husk to the powder.

4. In a bowl combine wet ingredients: applesauce, fig paste, coconut sugar, maple syrup. Add sea salt to it and mix well.

5. Add the dry oat powder to the wet mixture. Add additional water if necessary to make a thick spreadable dough.

6. Pre-heat oven to 350 °F.

7. Spread the mixture in 2 loaf pans lined with overhanging parchment paper.

8. Bake for 20 -22 minutes or till the edges turn brown.

9. Cool completely and cut into rectangles. Store in a fridge to last a few weeks.

 
Taking these beauties to Fiesta Friday #132 co-hosted by Sandhya @Indfused and Nancy @ Feasting With Friends. Come on over and enjoy all the good food at the party! Also sharing at Plant Based Link Up #98 at Urban Naturale.
12s COMMENTS