10 June, 2015
Red Quinoa Salad with Lemon-Tahini Dressing
Comments : 26 Posted in :
Appetizer
,
Diabetes Friendly Thursdays
,
Easy lunch box recipes
on
by :
apsara
Tags:
diabetes salad
,
quinoa salad
,
red quinoa
,
sesame lemon dressing
,
tahini dressing
Creating recipes with a cause! Welcome to Delish and Fun Thursdays!!! A lovely red quinoa salad recipe today!
I am a proud DFT blogger. To learn about DFT click here
To find more DFT recipes click here
Cleanse your bodies with wholesome Salads with the DFT team, this week!
A salad gets interesting only when the dressing tastes good, don't you think?
I made some quinoa salad combined with some greens and celery, and decided to add some zing with a homemade dressing with sesame seeds and lemon juice. This salad is rich in protein and makes a meal by itself. No sugar in any form, so perfect for diabetics too!
Here are some facts that I found about Quinoa (pronounced "keen-wa")
What is Quinoa?
Quinoa is typically consumed in the same way as the cereal grasses like wheat, oats  etc.  Technically, quinoa is not a cereal grass at all, but rather a member of the same food family that contains spinach, Swiss chard, and beets. Many researchers refer to quinoa as a "pseudocereal." This term is typically used to describe foods that are not grasses but can still be easily ground into flour. (from whfoods.com)
It is a complete protein source, due to the presence of amino acids lysine and iso-leucine. It is also supposed to have health-supportive fats, in the form of oleic acid, a heart-healthy monounsaturated fat, and alpha-linolenic acid or ALA—the omega-3 fatty acid, associated with decreased risk of inflammation-related disease.
Red quinoa can be cooked easily on stove top by adding 2 parts water to one part of quinoa. I use a pressure cooker and add  1 1 /2 parts water for one part of quinoa.
Tip To Make your Salad interesting
Vegetables pickled in vinegar make an easy and tasty addition to salads. Make sure you buy something without added color and preservatives.
Ingredients to avoid are: yellow food color, sodium benzoate and sulfites.
Check This Awesome Post:
While you are here, do check out this comprehensive link from Cooking Detective to incorporate 23 different Superfoods in the diet.
Red Quinoa Salad with Lemon-Tahini Dressing (gluten-free, vegan)
Servings: 4
Time: 15 minutes
Difficulty: easy
Ingredients for salad:

cooked red quinoa- 3/4 cup

Romaine lettuce- 1 bunch (can use any lettuce variety)

celery stalks- 4-5

roasted red pepper- 2-3 chunks (I used pickled, Whole Foods brand)

artichoke hearts- 2-3 (also pickled in a jar, Whole Foods brand)

dried cranberries- 2 tsp. (Use the Whole Foods brand that is naturally sweetened with apple juice, no refined sugar)

toasted almonds (Find out in this post how to make it easily at home)

Ingredients for Dressing:

sesame seeds- 1/4 cup

juice from 2 large lemons

red chilly flakes- 1 tsp.

dried Italian spice blend- 1 tbsp.

sea salt- to taste

extra virgin olive oil- 2-3 tsp.

vinegar- 1 tbsp.

Method:

1. Toast sesame seeds in a dry pan on low flame till they turn light brown.

2. Blitz along with the other dressing ingredients in a small blender, till smooth. If needed, some water/vinegar can be added to blend it.

3. Toss the salad ingredients together except the toasted almonds which can be used as garnish while serving (to retain crunch).

4. Add a little of the dressing to the salad and serve the rest in small cups.

Note:

Ready made Tahini paste can be used instead of making it at home too.
Sharing this at the Vegan Potluck Link Up #49 at Urban Naturale.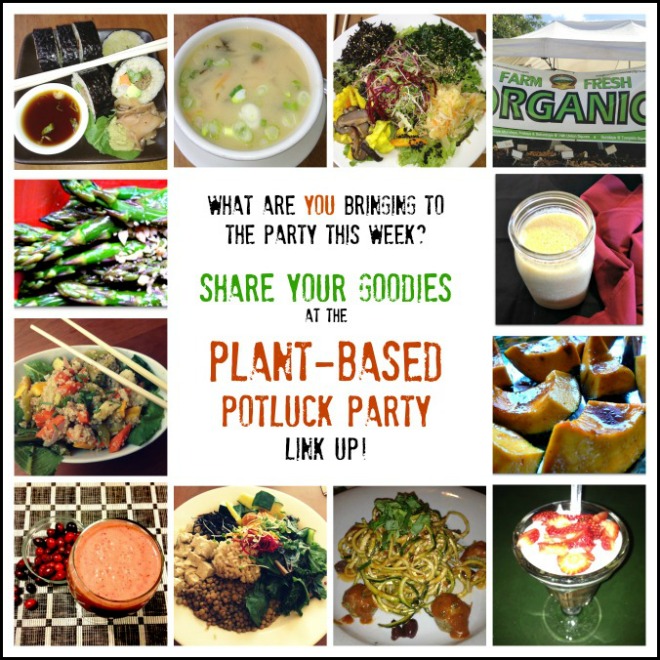 Check the other DFT posts this week from my friends:
Sonal: Asian Mung Sprouts Salad with Peanut-Ginger Dressing
Prachi: Mediterranean Barley Salad
Shailaja: Garbanzo Bean Salad
Anupama: Lettuce Salad Wrap with Tzaziki Sauce
Suchitra: Methi Sprouts Salad
Swati: Bulgur Wheat Salad- Tabbouleh
Chahat: Moroccan Carrot Orange Salad
Parvathy: Kale and Eggplant Salad with Cashew Habareno Dressing
26s COMMENTS