7 November, 2014
An Elmo themed vanilla birthday cake (whole wheat, eggless, natural colors)
Comments : 35 Posted in :
eggless cakes
on
by :
apsara
Tags:
healthy vegan cake
,
natural black icing color
,
natural frosting colors
,
natural ornage color icing
,
natural red color icing
,
vegan white cake
,
whole wheat vanilla cake
What's special about this cake? Not just that it is for a cute little munchkin, a friend's kid who loves Elmo.
This is my first vanilla-flavored birthday cake. I was able to decorate it with no synthetic food colors, just homemade plant-based colors!  Using natural colors was not a criterion, but I wanted to see if it could be worked out. My friend only wanted a non-chocolate cake, and so I took this opportunity to optimize a recipe for a basic vanilla whole wheat cake.
Till yesterday, I did not think it was possible to get a bright red color in frosting. Tried boiled cranberries, but it did not work. I have used natural pink color from beets before, and read on the internet that it can make red too. It was time to test that! I juiced a beet and reduced the juice by boiling, and voila! There it was, a nice red frosting with the humble beet.
What about Elmo's orange color nose? Surely carrots would work, wouldn't they? Yes, they did. 🙂 And they both taste delicious!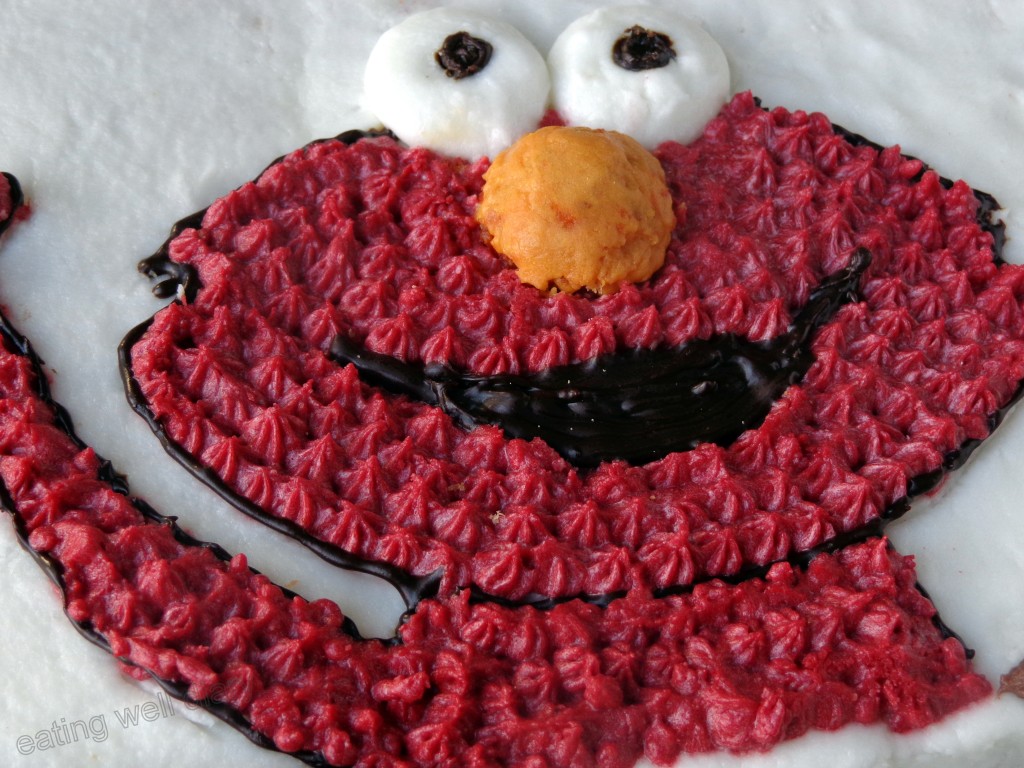 Wait, what about the black? Any amount of chocolate yields only brown. And guess what came to my rescue, while I was frantically searching for a natural black color… black-strap molasses! This discovery really made me giddy with joy. 🙂
This white cake can be easily made vegan by substituting regular yogurt with soy yogurt.
Folks at Fiesta Friday #41 party, there's one more cake that we can party with, as guilt-free as I could make it. Hope Angie and co-hosts Nancy and Loretta like it as much as we do!
Elmo themed vanilla cake
Ingredients: 
For basic 8″ square vanilla cake:
dry:
whole wheat pastry flour- 2 cup
sugar- 3/4 cup
baking powder- 1  1/2 tsp.
baking soda- 1/2 tsp.
wet:
yogurt- 1 cup (2% or fat free)
canola oil- 1/2 cup
vanilla- 1 1/2 tsp.
Method:
* Combine dry ingredients in a bowl.
* Mix wet ingredients in another bowl, add dry to wet in portions.
* Bake at 350 °F for 35 minutes or till a knife inserted in the middle comes clean.
Ingredients for frosting:
organic Spectrum shortening- 2 cups
powdered sugar- about 2 lb.
water- as needed
colors:
red – beet juice concentrate
orange- carrot juice concentrate
black- melted dark chocolate and black-strap molasses
brown- cocoa powder
35s COMMENTS