1 August, 2015
Carrot Orange Cupcakes with Coconut Cream Drizzle
Comments : 9 Posted in :
Desserts
,
eggless cakes
,
Gluten free baking
on
by :
apsara
Tags:
carrot cake gluten free vegan
,
carrot orange cake vegan GF
,
gluten free cupcake
,
gluten free vegan cake
,
no xanthan gum glutenfree cake
,
orange cupcake GF egg free
,
whole grain flour blend glutenfree
There has been another occasion to make cupcakes in my house; it was my husband's birthday this week! Not that I really need a reason to bake, but I just made it look special with some mild but interesting topping.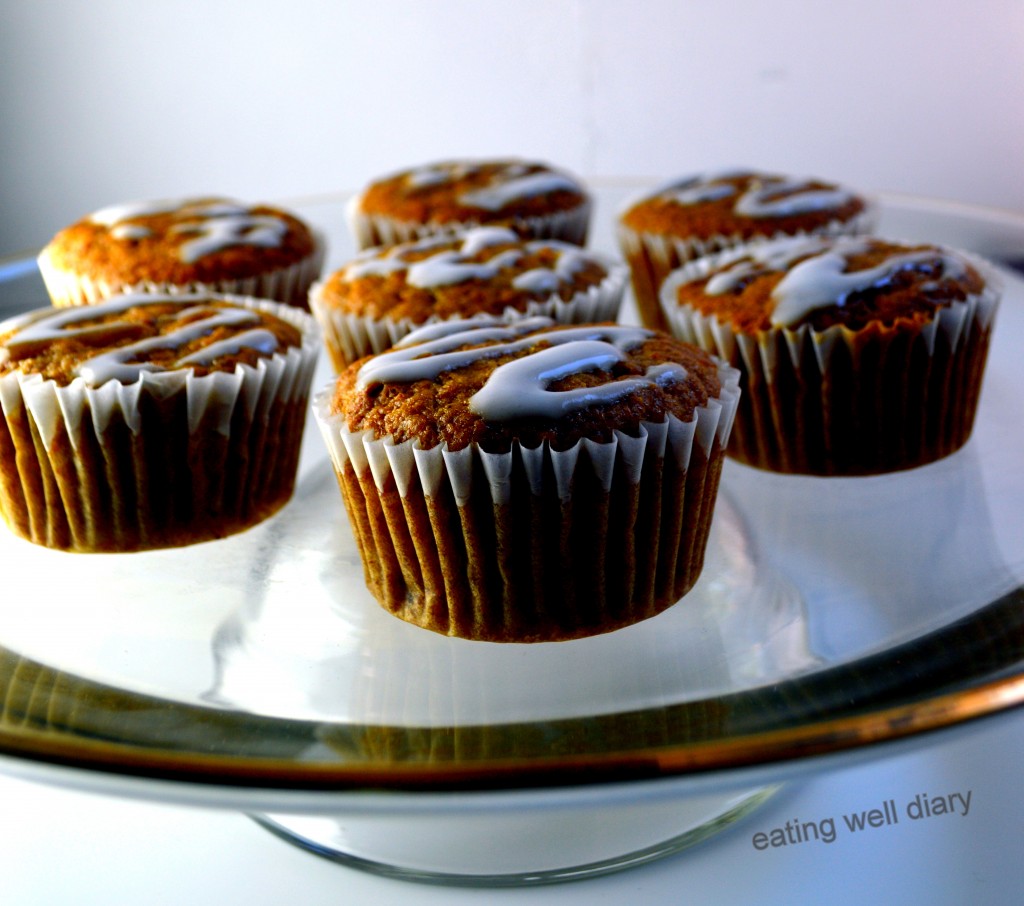 I decided to make a gluten-free version of my carrot orange cake recipe. These are super soft, fluffy and delicious cupcakes; all of them got devoured in a day! Not your regular GF dessert that has predominantly starchy flours and not much nutrition. I have used a homemade flour blend. These cupcakes have whole grains, and are filled with fiber from chia seeds and psyllium husk (isabgol). Here's a peek at it up close:
Here's how I made it.
Carrot Orange cupcakes with Coconut Cream drizzle (gluten-free, vegan)
Servings: 12
Time: 60 minutes
Difficulty: medium
Ingredients:
GF flour blend: 1 1/2 cup or 150 g
sorghum flour- 60 g, GF oat flour- 30 g, tapioca starch- 30 g, potato starch- 15 g, rice flour- 15 g)
medium orange- 1 1/2
grated carrot- 1 cup
psyllium husk- 1 1/2 tbsp.
baking powder- 1 1/2 tsp.
baking soda- 1 1/2 tsp.
ground cinnamon- 1/4 tsp.
ground nutmeg- 1/4 tsp.
chia egg- 1 (ground chia seeds- 1 tbsp. + 3 tbsp. water)
raw sugar- 3/4 cup
soy yogurt- 1/3 cup
organic canola oil- 1/3 cup
Coconut cream frosting:
thick coconut milk- 2 tbsp.
powdered raw sugar- 2 tbsp.
organic cornstarch- 1/2 tsp.
Method:
1. Puree orange, soy yogurt and oil in a blender.
2. Preheat oven to 350 °F.
3. Combine flours with baking powder, baking soda, psyllium husk in a bowl. Add cinnamon and nutmeg powder.
4. In another mixing bowl, take chia mixture, orange puree, sugar. Add dry mixture to wet in portions and mix thoroughly.
5. Spoon into a regular muffin pan lined with cupcake liners. Bake for 30 minutes or till a knife inserted in the middle comes clean.
6. Wait for them to cool before drizzling with the frosting mixture. Combine frosting ingredients in a small cup and drizzle over the cupcakes with a spoon.
Sharing this treat at Fiesta Friday #79. A big thanks to Angie and co-hosts Loretta of Safari of the Mind and Jess of Cooking is my Sport. Also sharing this at Deborah's Plant Based Link Up Party #56. Thank you Deborah, for the opportunity.
9s COMMENTS