18 July, 2015
Maple Walnut Granola- a Tribute to Selma (Fiesta Friday #77)
Comments : 14 Posted in :
Breakfast
,
Gluten free baking
,
snack
on
by :
apsara
Tags:
breakfast granola
,
healthy breakfast
,
healthy granola
,
maple granola
,
vegan gluten free granola
,
vegan granola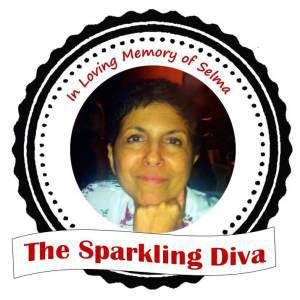 I have been very fortunate to have met Selma of Selma's Table through our Fiesta Friday Virtual Party. An excellent cook and a very passionate blogger, she has always left encouraging comments in my posts. She has co-hosted Fiesta Fridays numerous times, and readily offered her expert advice on everything related to cooking.
A quick tour of her blog reveals her extensive knowledge, generosity in sharing and her very kind heart. Her recipes are usually accompanied by a cute story that revolves around her family and mostly her son. Sometimes, I have just read the story and skipped the recipe!
In her blog, I particularly like her Tips and Tricks section which I found very useful. I will be visiting her Recipes page to make a vegan version of her novel cakes.
I came  to know of her demise early this month after a long battle with cancer. Even recently when I started to follow her on twitter, she sent me a warm message. Her passing has come as a shock to all the bloggers who have been associated with her in the virtual world.
Here's a simple granola that I made yesterday and decided to dedicate it to Selma at Fiesta Fridays #77. A crunchy snack that doubles as a great breakfast; with a hint of sourness from applesauce, the flavor of pure maple syrup and all the omega-3 boost from walnuts.  Note: You could replace maple syrup with honey if you cannot find it. The whole batch that I made disappeared in less than a day, it was so well liked! And seriously, making your own granola is super easy and saves so much money!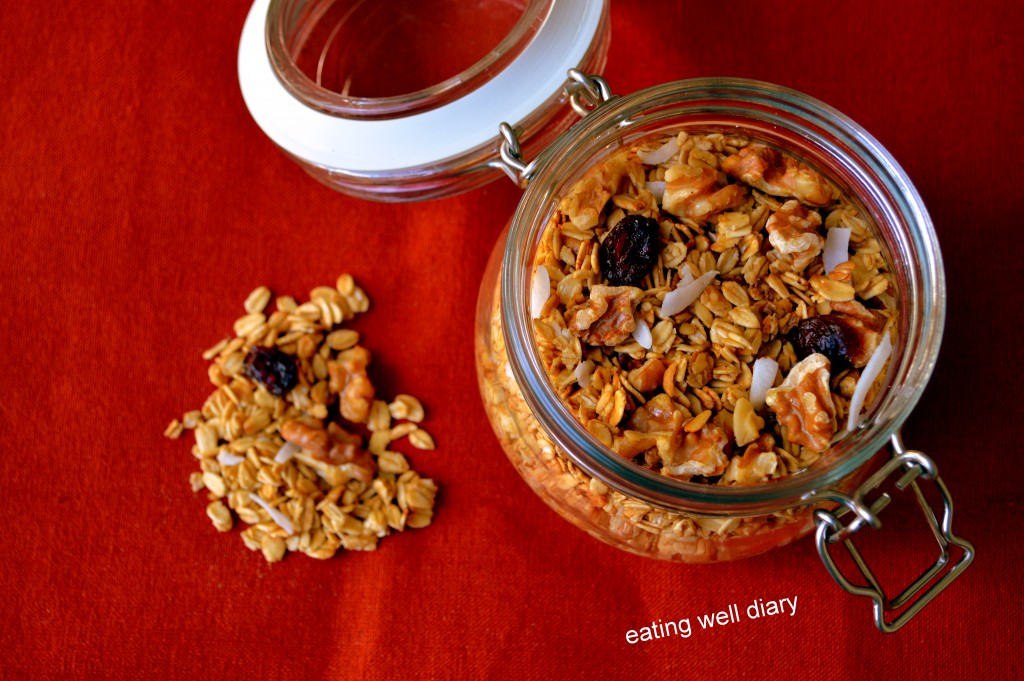 Maple and Walnut Granola (gluten-free, vegan)
Servings: 6
Time: 30 minutes
Difficulty: easy
Ingredients:
Rolled Oats- 2 cups (I used gluten-free)
maple syrup- 3 tbsp.
unsweetened applesauce- 2 tbsp.
coconut oil- 2 tsp.
sea salt- 1/2 tsp.
walnuts- a handful
coconut shavings (desiccated)- 2 tbsp.
dried cranberries- 2tbsp.
Method:
1. Preheat oven to 350 °F.
2. In a mixing bowl, combine applesauce, maple syrup, coconut oil. Add oats to it and mix to coat evenly. Sprinkle sea salt and fold in walnuts.
3. Spread on a baking sheet lined with parchment paper.
4. Bake for 15 minutes. Remove from oven and shake it around with a spatula.
5. Add desiccated coconut and bake for 10 more minutes or till crisp.  Add dried cranberries.
6. Allow to cool completely before storing in an airtight jar. Enjoy plain or with milk/yogurt of choice.
Sharing this at the Plant-based Link Up #54 at Deborah's Urban Naturale.
14s COMMENTS