25 September, 2014
Chocolate energy bars with superfoods (raw, grain-free)
Comments : 25 Posted in :
Breakfast
,
snack
on
by :
apsara
Tags:
chewy dry fruit and nut bar
,
goji berries
,
raw chocolate bar
,
superfood bars
When I visit a Health & Wellness store, I can go crazy buying unprocessed foods including superfoods. It is my aim to use as much of it in everyday food. Superfoods being loaded with antioxidants and minerals, are best consumed in raw or minimally cooked form to get the full benefits. After all, we pay so much to get these rare gems of food, right?
I have used them in a smoothie earlier. Here's another way to pack nutrients in healthy energy bars- call it breakfast or snack bars.
A tip: If your kids do not like to eat nuts or dried fruit but likes chewy granola bars, this is a great way to get them interested. A little bit of chocolate does the trick. 🙂
Also makes ideal gifts for your loved ones…
I guess, with a little added protein powder these can be made into protein bars. But I'm not sure about getting protein powders or isolated forms of protein. Maybe the naturally available amount of protein in these are enough? Here's the reason why:
I recently watched this interesting video that has been making its rounds on Facebook. "The Dangerous Truth About Protein" by Dr. Janice Stanger. She is very convincing in her argument that there is way too much emphasis on the macro nutrient and how excess protein can lead to harm.
I think these are perfect for sharing at the Virtual Vegan Potluck 13 hosted by Annie of An Unrefined Vegan. Hoping to get more thoughts on the protein subject too, from experts on the vegan diet!
Also sharing this at Fiesta Friday 35, hosted by the lovely Naina (Spice In The City) and Prudy (Basil Butter and Breadcrumbs).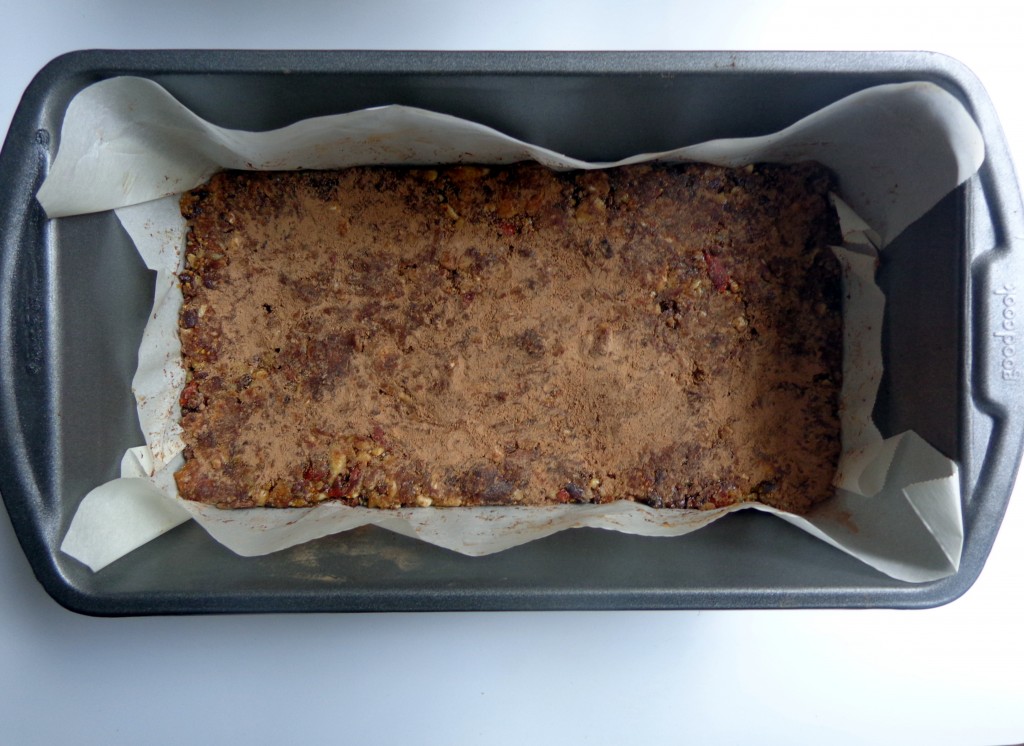 Chocolate energy bars
Time: 20 minutes
Difficulty: easy
Ingredients:
chopped dried figs- 1 1/2 cup
raw cashews- 3 cups
mixed seeds/nuts- 1 cup (I used walnuts, sunflower seeds)
goji berries- 2 tbsp.
maple syrup- 3-4 tbsp.
vanilla extract- 1/2 tsp.
cacao nibs- 2 tbsp. (can use broken dark chocolate)
cocoa/cacao powder- 2 tbsp. for dusting
 Method:
* In a food processor or blender, roughly grind cashews and other nuts. Add figs and goji berries, pulse a few times. Add maple syrup, vanilla extract to moisten and help the process.
* Add cacao nibs (raw chocolate bits). Blend till everything is mixed well.
* Line a loaf pan with parchment/wax paper. Dust with cacao powder.
* Add the mixture in and smooth out with a spatula. Add more cacao powder evenly to coat the top.
* Allow to set for an hour in the fridge and cut into bars of desired thickness.
 Note:
These can be stored outside. If stored in the fridge, the cacao nibs tend to become hard.
25s COMMENTS