12 August, 2015
Tricolor Paniyaram / Savory Pops – Independence Day Special (Diabetes Friendly Thursdays)
Comments : 9 Posted in :
Breakfast
,
Diabetes Friendly Thursdays
,
snack
on
by :
apsara
Tags:
Appe pan snack
,
diabetes paniyaram
,
Indian flag snack
,
multigrain idli
,
multigrain paniyaram
,
south Indian patriotic snack
,
vegetable appe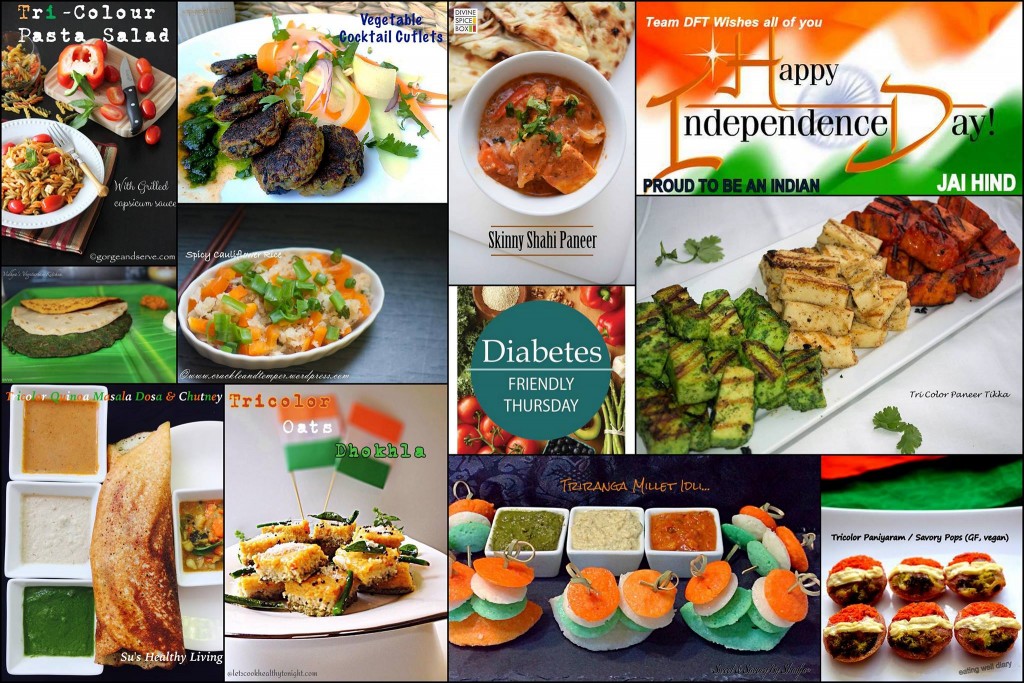 Let us celebrate the Independence of India, with some DFT recipes, cheering for the colors of the flag!
Paniyaram is a south Indian snack usually made from left over idli/dosa batter. When it is made in a Appe/Abelskiever pan, it is called "kuzhi" paniyaram.  With the DFT team celebrating India's independence day this week, I took the opportunity to make it colorful with veggies and (vegan) cheese. My family really loved these bite sized snacks. Quick and easy to make, they will please grown ups and kids alike!
Making idli batter using mostly whole grains like brown rice, oats and millet makes it suitable for diabetics and others too, since whole grains contain fiber, micro-nutrients and also digest slower than refined grains. The fermentation process itself adds probiotics helpful in digestion.
Broccoli is a 'superfood'. Loaded with vitamins A, C and antioxidants, it is a low calorie vegetable perfectly suitable for diabetics.
Read more here: http://www.everydayhealth.com/type-2-diabetes-photos/superfoods-for-your-diabetes-diet.aspx#01
Carrots do not have to be avoided in a diabetic diet, even though they are sweet. In fact, it is highly recommended for their beta-carotene and support for vision.
Read more here: http://healthyeating.sfgate.com/can-diabetics-eat-carrots-10947.html
Here's a quick picture tutorial of making tricolor paniyarams with minimal oil.
Tricolor Paniyaram/ Savory Pops (gluten-free, vegan)
Servings: 14
Time: 20 minutes with pre-made batter
Difficulty: easy
Ingredients:
For a large batch of the idli batter:
Brown rice- 1 cup
Idli rice- 1.5 cup
Quick oats- 1 cup (I use gluten-free oats)
Ragi (finger millet) flour- 1/2 cup
Urad dal/ lentil- 1 1/4 cup
Fenugreek seeds- 2 tbsp.
salt- to taste
For Paniyarams/ Savory Pops:
Fermented idli batter- 2 cups
Grated ginger- 1/4 tsp.
Finely chopped onion- 1 tsp. (optional)
Grated carrot- 1/2 cup
Broccoli (steamed)- 1/2 cup
Shredded cheese (vegan)- 1 tbsp.
Coconut oil  spray
Method:
1. Prepare idli batter using detailed directions in my recent Multigrain Idlis post. This requires the following steps:
a. Soaking the grains (brown rice and idli rice) and lentils/fenugreek separately overnight.
b. Using a good blender or wet grinder, the lentils are ground along with fenugreek seeds.
c. The soaked grains are ground next, and towards the end, quick oats and ragi are added.
d. Both the ground lentils and grains are mixed and the resulting batter is fermented for about 8 hours till it increases in volume and gets a slightly sour taste.
e. This fermented batter can be stored in a fridge for 3-4 days.
2. Take the required amount of batter in a bowl, mix in ginger and chopped onions.
3. Spray a heated paniyaram pan with coconut oil. Add a spoonful of batter to each hole.
4. Carefully arrange shredded carrots and steamed broccoli in each.
5. Close with a lid and cook for a few minutes on medium heat.
6. Flip each paniyaram and allow the other side to heat.
7. Flip back and arrange shredded cheese as a band in the middle. Wait till it melts and remove from the pan.
8. Serve warm with any chutney/dip. Recommended serving: 2-3.
Check out the other Tricolor Recipes from my friends in the DFT group!
Sonal: Vegetable Cocktail Cutlets
Prachi: Skinny Shahi Paneer
Chahat: Tri Colour Pasta Salad
Swati: Tricolor Oats Dhokla
Suchitra: Tricolor Quinoa Masala Dosa
Parvathy: Spicy Cauliflower Rice
Srividhya: Tricolor Wheat Dosa
Shailja: Tricolor Cocktail Millet Idlis
Sarika: Tricolor Paneer Tikka
9s COMMENTS