30 March, 2015
Winnie the Pooh Chocolate Birthday cake (gluten-free, vegan, natural icing colors)- Meatless Monday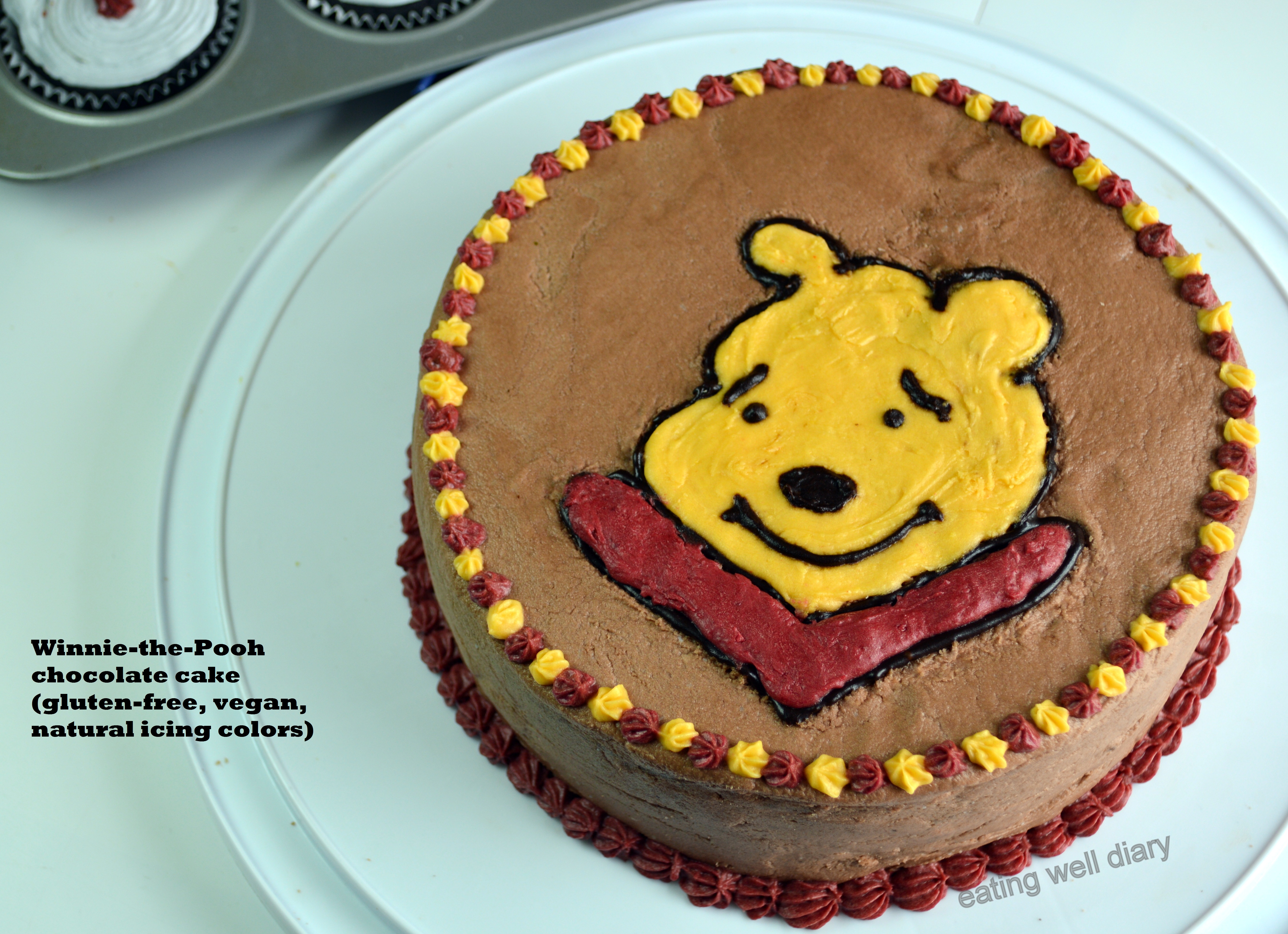 Comments : 20 Posted in :
eggless cakes
,
Meatless Mondays
on
by :
apsara
Tags:
allergy free cake
,
dairy-free egg-free cake
,
GF vegan cake
,
gluten free vegan chocolate cake
,
gum free gluten free cake
,
natural icing colors
,
Winnie the Pooh cake
,
Winnie the Pooh natural colors icing
It was time for another birthday cake in the family, this time for my son who turned four. As you would have guessed, Winnie the Pooh is his latest favorite.
This had to be a gluten-free, dairy-free and egg-free cake, owing to some food restrictions. And if you know me, I try to use homemade icing colors as much as possible. That way, this theme was do-able in a simple sense.
I know that you may be thinking: What is the big deal with gluten-free (wheat-free) and dairy-free, it does not affect me; why should I care! But only when there is a necessity that we truly appreciate the amount of that work goes on to create new recipes that cater to people with special diets. I'm putting this out there even if only a small percentage of readers actually look for a GF, vegan cake. It matters to my family now, and may be it will benefit somebody else too, some day.
I have been working hard to get a good GF, vegan chocolate cake recipe. Tried some recipes on the web; but they contain xanthan gum that makes a very chewy/ gummy texture. So here, I tried my own flour blend without the gum. It works to my satisfaction, at least! And many people liked it at the party too. They are all friends of mine with no food intolerance and did not guess that this cake has no wheat in it. I'm hoping that they truly enjoyed the cake. 😉
This is my second entry at Angie's Fiesta Friday #61 co-hosted by Selma and Margy, and Poppy's Virtual Vegan Potluck #32. I'm also linking this at Sweet and Savory Sunday #106 at Baking In Pyjamas and Tuesday's Table @ Love From The Kitchen.
Chocolate cake (GF, vegan)
Servings: 12 cupcakes or one 8-inch cake
Time: 55 minutes
Difficulty: easy
My Flour Blend:
Sorghum (Jowar) flour- 40 g
Oat flour- 20 g
Tapioca starch- 20 g
Rice flour- 20 g
Coconut flour- 1 tbsp.
Ingredients:
dry:
Flour blend- 1 cup
baking soda- 1 1/2 tsp.
cocoa powder- 1/2 cup
brown sugar- 1 cup
salt- a pinch
ground chia seeds- 2 tbsp.
wet:
applesauce- 1/3 cup
unsweetened almond milk- 1/3 cup
canola oil- 1/3 cup
vinegar- 1 tbsp.
warm water- 6 tbsp.
vanilla extract- 1 tsp.
Method:
1. Preheat oven to 350 °F. Soak ground chia seeds in warm water and let it sit for a few minutes.
2. Combine wet ingredients and chia mixture in a big bowl.
3. Combine dry ingredients in another bowl and slowly add to the wet mixture in portions with stirring.
4. Pour into a greased 8″ pan or divide into 12 cupcake liners in a muffin pan.
5. Bake for 40 minutes (cake) or 28 minutes (cupcakes). Ensure that a toothpick inserted in the center comes clean.
6. Allow to cool completely before frosting.
Frosting Ingredients:
Spectrum shortening, Powdered sugar, beet juice concentrate, carrot juice concentrate, cocoa powder, chocolate, black-strap molasses, water. Look at this Elmo cake post for more details.
20s COMMENTS