13 April, 2015
Homemade Toasted Almonds- Meatless Mondays
Comments : 20 Posted in :
condiments
,
Gluten free baking
,
Meatless Mondays
,
snack
on
by :
apsara
Tags:
activating nuts
,
almonds nutrition
,
best way to eat almonds
,
how to peel almonds
,
oven baked almonds
Almonds– one of the healthiest foods on the planet. High in mono-unsaturated fat, almonds actually lower the risk of weight gain, offers protection against diabetes, heart disease and also decreases HDL  (source: here) It is a wonderful source of micro-nutrients magnesium, copper, phosphorous, vitamin B2 and biotin.
We love toasted almonds! I always get some slivered almonds from the store to use in oatmeal breakfast, cereal or just as plain snack. But it is just so much fresher and cheaper when toasted nuts are made at home! This way, I can make sure that the almonds are "activated" meaning the enzymes in the nuts that inhibit digestion are removed by soaking and that we eat it in the most nutritious form.
While making almond milk too, I have started to use peeled almonds after discovering this easy method to do it!
A super simple recipe, yet, something that has versatile uses. Here's the EASIEST way to make toasted almonds at home, a very healthy snack or a crunchy addition to any dish.
Sharing this Meatless Monday tagged post at Angie's party, Fiesta Friday #63 co-hosted by Julianna and Hilda. Also sharing at the vegan  link up #40 at Deborah's Urban Naturale.
Toasted almonds (gf, vegan)
Time: soak time + 50 minutes
Difficulty: easy
Ingredients:
Raw almonds
Method:
1. Soak almonds in water overnight or at least 8 hours.
2. Drain water. Add fresh boiling water to the soaked almonds and let it sit for 10 minutes or till the water is warm to touch.
3. Now the almonds can be peeled easily.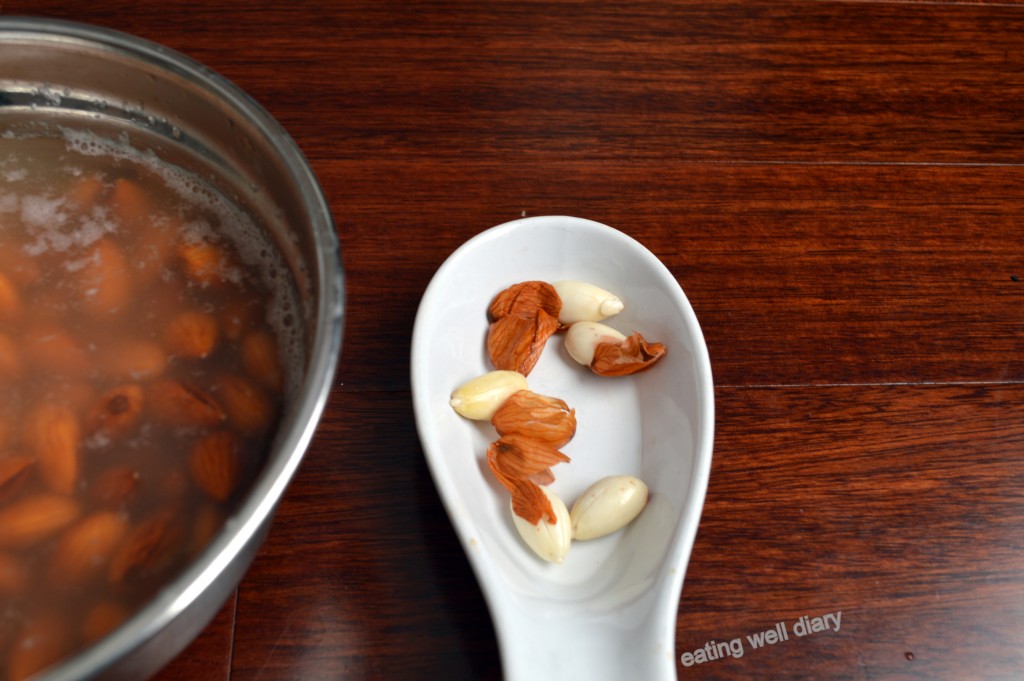 4. Collect the peeled almonds and halve them with hands, which is easy to do when it is still wet.
5. Preheat oven to 375 °F.  Arrange on an aluminum baking sheet lined with parchment paper.
6. Bake for 30-40 minutes. Shake the almonds to rearrange once or twice during the baking process, to ensure that they are toasted evenly.
7. Allow to cool and store in an airtight jar.
Notes:
1. Baking time will be less if a non-stick baking sheet is used.
2. Care has to be taken not to burn the almonds.
20s COMMENTS