15 December, 2014
Easy Homemade Almond milk with Omega juicer
Comments : 22 Posted in :
Juicing
,
Tips to make daily food healthy
on
by :
apsara
Tags:
activating nuts
,
masticating juicer
,
nut milk with juicer
,
omega 8006 juicer
,
vegan milk juicer
Yay! I have been able to make creamy almond milk in just 20 minutes- no blending, no messy straining with cheesecloth overnight, and no nut-milk maker. Just used my Omega 8006 juicer! One more reason why an Omega juicer is totally worth it- making mess-free nut milks. If you are looking to buy a juicer, do buy a masticating type that has many uses like this one.
Homemade almond milk is SO MUCH better than the store bought version; in fact, I can consume the latter only in smoothies and baked goods. But when you make it at home, just with a little bit of natural sweetener, it tastes so delicious by itself. (Lately, I have noticed that I have some intolerance to dairy and have been avoiding regular milk)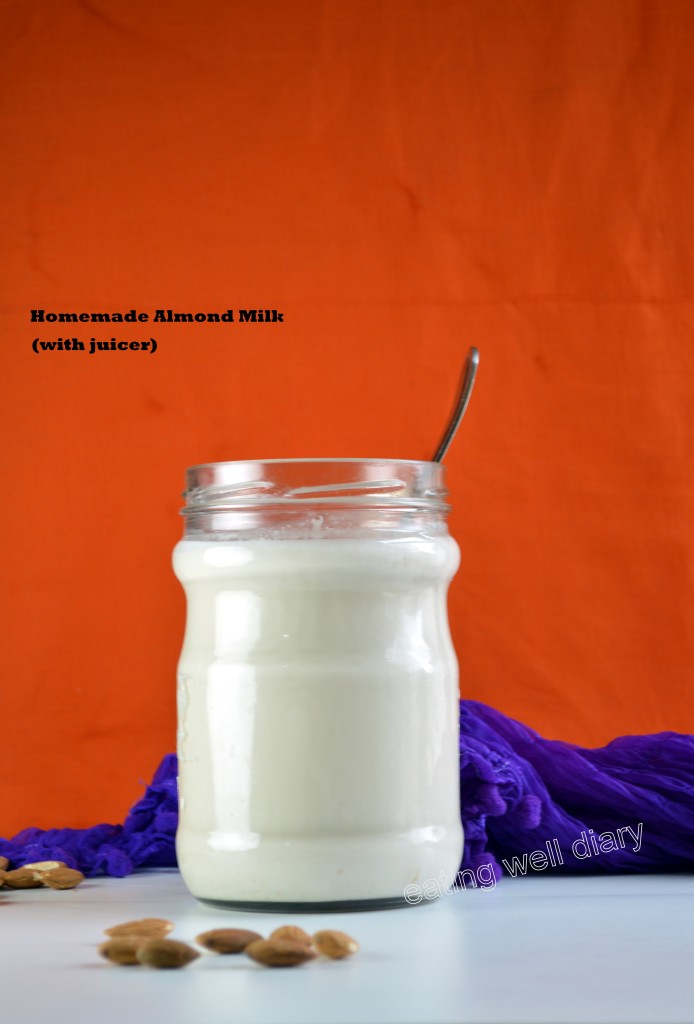 I bought a good masticating juicer 2 years ago to make vegetable/green juice. The (Omega 8006) manual says that it makes good nut butters too. But only recently I found out from here that nut milks can be made too. When I tested it out, I found it so easy and the milk so delicious, that it has become a regular practice. The milk stays fresh for even 7-10 days stored in an airtight container in the fridge. The juicer parts are super-easy to clean as long as it is done right away or the parts are at least left soaked in water.
Sharing this at the Tuesday Blog Hop over at Swathi's Zesty South Indian Kitchen.
Also sharing this at VVLP #25 at Annie's blog An Unrefined Vegan.
Now, getting to the method:
Homemade almond milk with Omega juicer
Time: 20 minutes + soak time
Difficulty: easy
Ingredients:
Raw almonds- 1 1/2 cup
water- to soak almonds
filtered water- 3 1/2 to 4 cups
sugar/ agave syrup- as required, to sweeten the milk
Method:
1. Soak almonds overnight (or 8 hours) in water. Discard water. This removes some enzyme inhibitors (phytic acid) and makes the almonds easier to digest.
2. Keep 3-4 cups of fresh filtered water ready in a bowl and use to juice the soaked almonds over 3 cycles.
After the first juicing cycle, this is what it looks like: lots of pulp and some milk.
Put the pulp through the chute one more time with extra water and you get a lot of creamy milk:
Notice how the pulp in the left container gets smaller in amount? It still has some moisture. Run it through the juicer a third time and we get the last bit of milk extracted. The remaining pulp is dry.
3. Strain and transfer to a glass jar with tight-fitting lid. I refrigerate the milk in a re-purposed glass pickle jar, you don't even need a fancy mason jar. The milk does not remain homogeneous, it separates out over time. But once stirred well, it is good to be used in anything!
Note:
The almonds can be peeled before juicing, makes whiter milk.
How to use left over almond meal/ pulp, stored in the freezer:
22s COMMENTS