23 January, 2015
Healthy Festive Baked Crackers (gluten-free, oil-free, vegan)
Comments : 39 Posted in :
Appetizer
,
Crackers
,
Gluten free baking
on
by :
apsara
Tags:
baked crackers
,
gluten free crackers
,
healthy snack
,
psyllium husk in baking
,
psyllium husk snack
It is a special party at Angie's place this week as the Novice Gardener's Fiesta Fridays weekly potluck party completes one year since it began! What a lovely journey it has been. This has been the most enjoyable blogger's party ever, and Angie is so good at making it THE BEST. Check out the link if you haven't already for gorgeous food ideas, and if you're a blogger, join us!
This week at Fiesta Friday Anniversary part 1, we all bring appetizers and I have got some really irresistible and guilt-free crackers. Filled with healthy stuff like psyllium husk (see my earlier post on this) and cashews (yes, I know, I put cashews in everything!) and completely devoid of oil. I do hope our lovely co-hosts Hilda @ Along The Grapevine and Julianna @ Foodie on Board love these as much as I do.
Also linking this up at the Virtual Vegan Linky Potluck Part 28 hosted by Poppy and Angela.
Watch out, they are filling too, and if you eat too many, you will not have space for other eats! 😉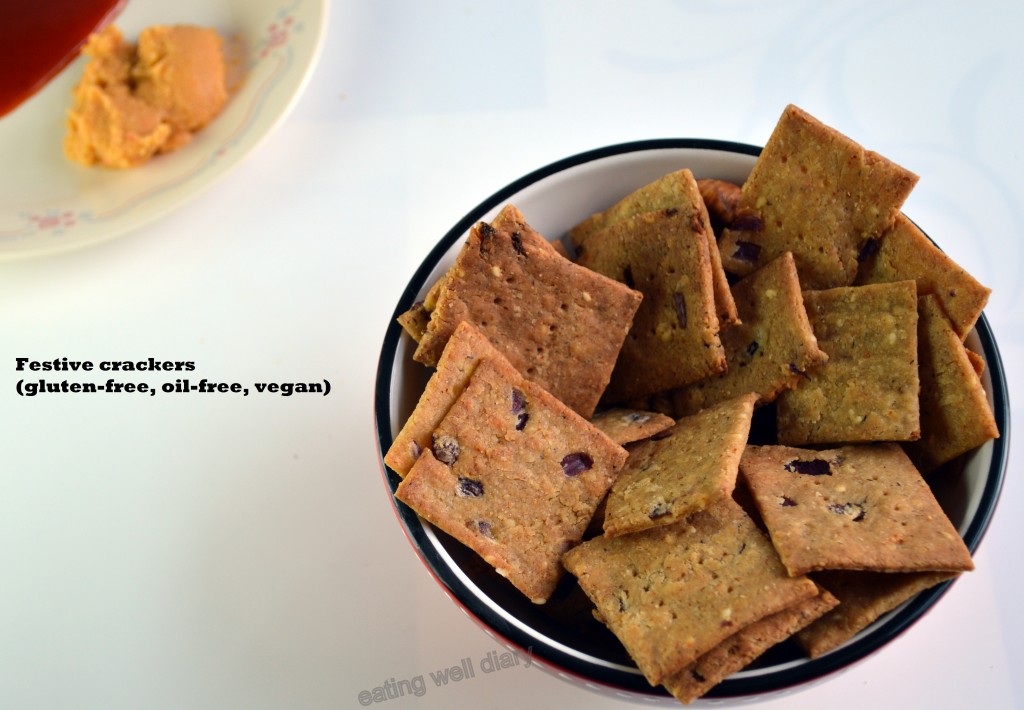 Ingredients:
cashew meal- 1 cup (cashews ground finely in a blender)
sorghum (Jowar) flour- 1/2 cup
amaranth (Rajgara) flour- 1/4 cup
psylliium husk- 1 1/2 tbsp.
tapioca starch- 5 tbsp.
baking powder- 1/4 tsp.
water- 4-5 tbsp.
spices:
chilly powder- 1/2 tsp.
salt- to taste
sesame seeds- 1 tbsp.
finely chopped onion pieces- 1-2 tbsp.
Method:
1. Preheat oven to 350 °F. Combine flours, cashew meal and psyllium husk in a bowl. Add salt, baking powder.
2. Add finely chopped onions, sesame seeds. Slowly add water while mixing by hand to form a firm dough.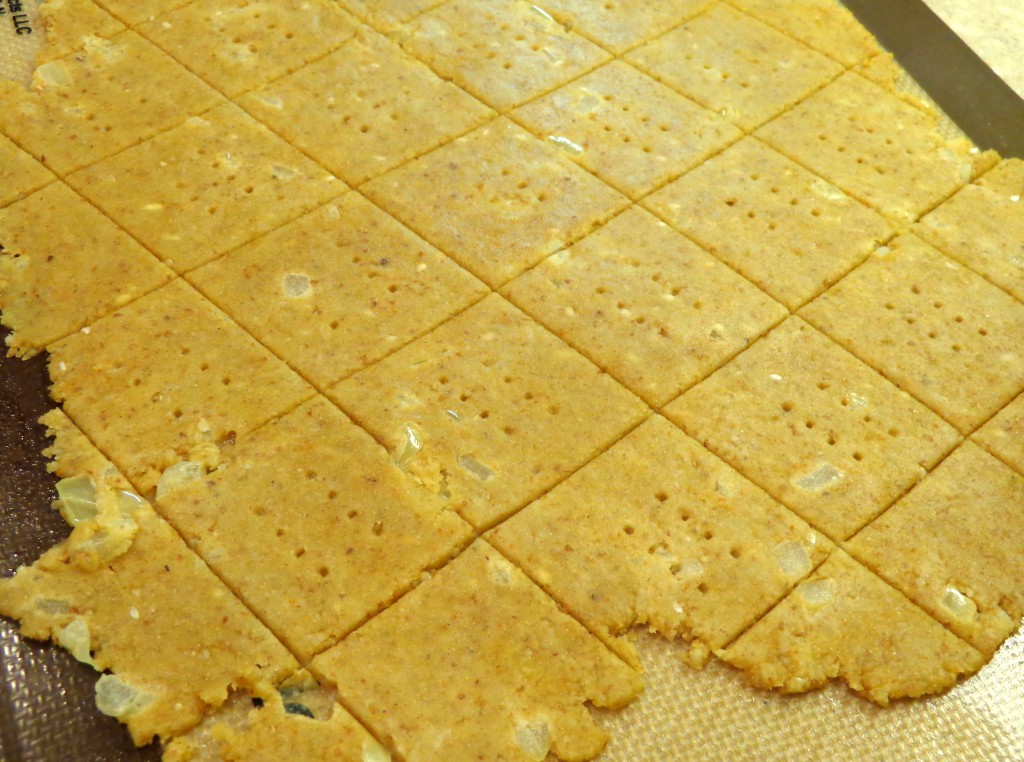 3. Using a silicone mat and wax paper, roll out with a rolling pin into a sheet as thin as you can get it. Use a pizza knife to make squares and make holes with a fork.
4. Place on a baking sheet lined with parchment paper. Bake for 18 minutes (rotate tray once, halfway).
5. Check if all the pieces are fully baked. If the thickness is not even, some tend to be still soft. You can bake them a little longer after removing the crisp ones.
6. Store in airtight container and enjoy!
39s COMMENTS