13 February, 2015
Easy Beetroot and Carrot Fudge/ Halwa- Valentine's Day Special (Gluten-free, Vegan)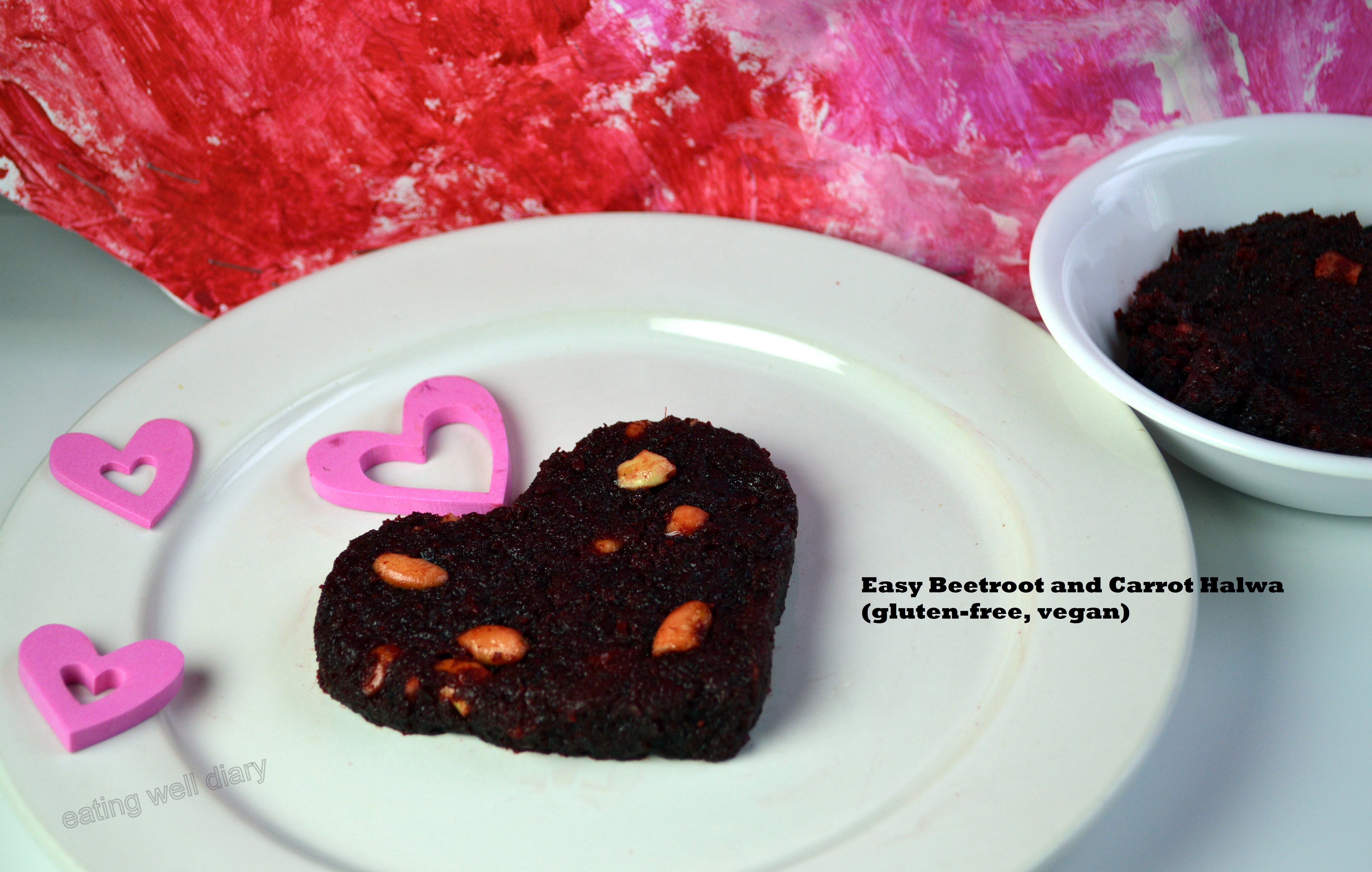 Comments : 22 Posted in :
Uncategorized
on
by :
apsara
Tags:
almond meal fudge
,
beet fudge
,
beetroot halwa
,
carrot halwa
,
vegan halwa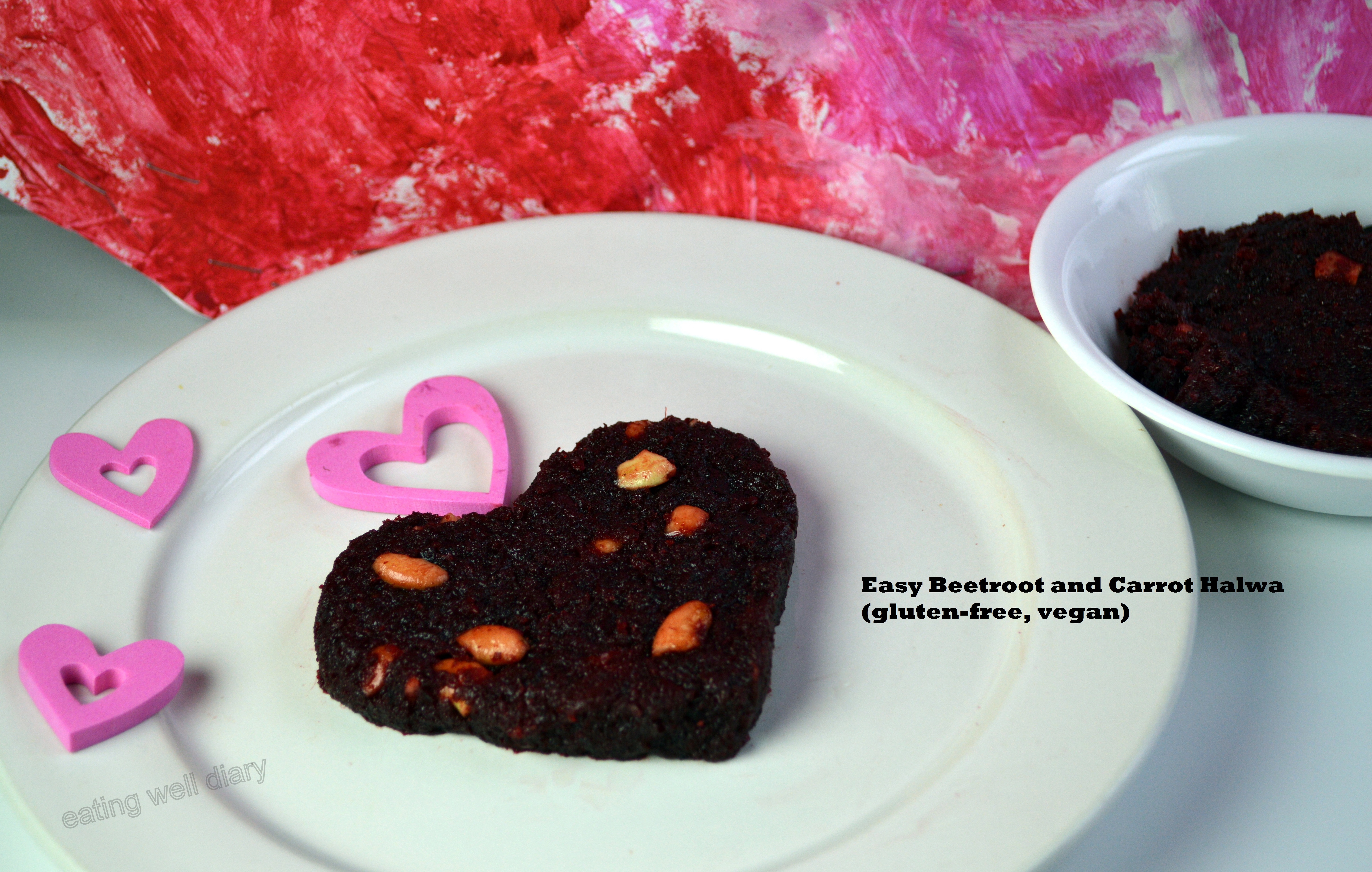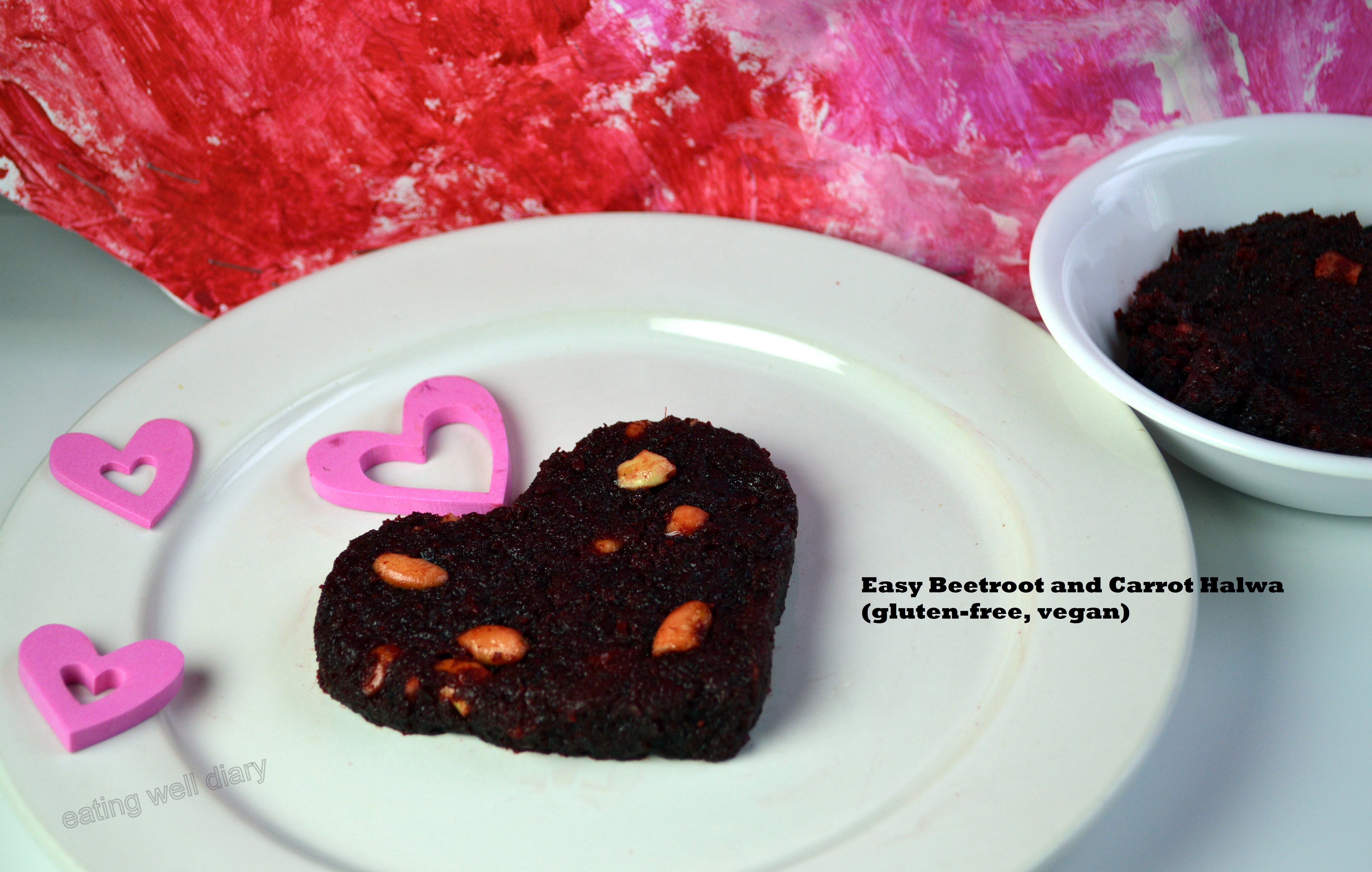 It has been a while since I posted anything on the blog, I can't believe it! Life does sometimes get in the way of wonderful hobbies. Harsh winter weather does not help either. I got so busy, that at first I just kept postponing writing, and when I finally got time to breathe, I realized that I had missed out so much of the fun. So here I am, making use of Valentine's Day to inspire myself into making this delectable pink 'heart' dessert with beet and carrots.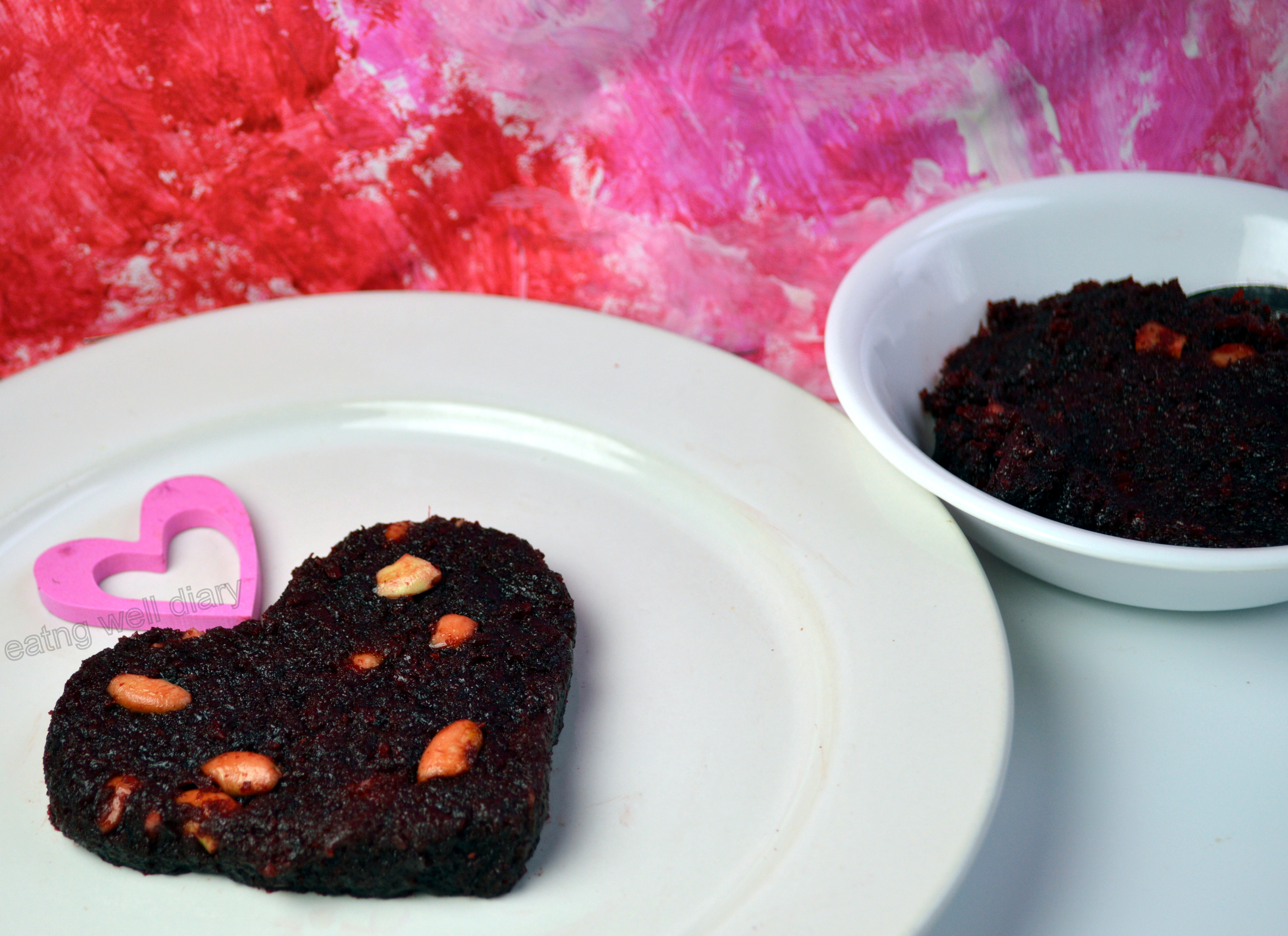 The reason why I make this dessert (often) is two-fold:
1. I am regularly making almond milk at home and end up with a lot of almond fiber or almond meal. I just stick it in the freezer every time I make it and always have packets falling off when the freezer door is opened. So I have to invent ways of using it and here's my first idea.
2. I recently got myself a good ceramic coated non-stick pan from Bed Bath and Beyond. This is the first dish I tried in it and it came out so well, I have made it three times already.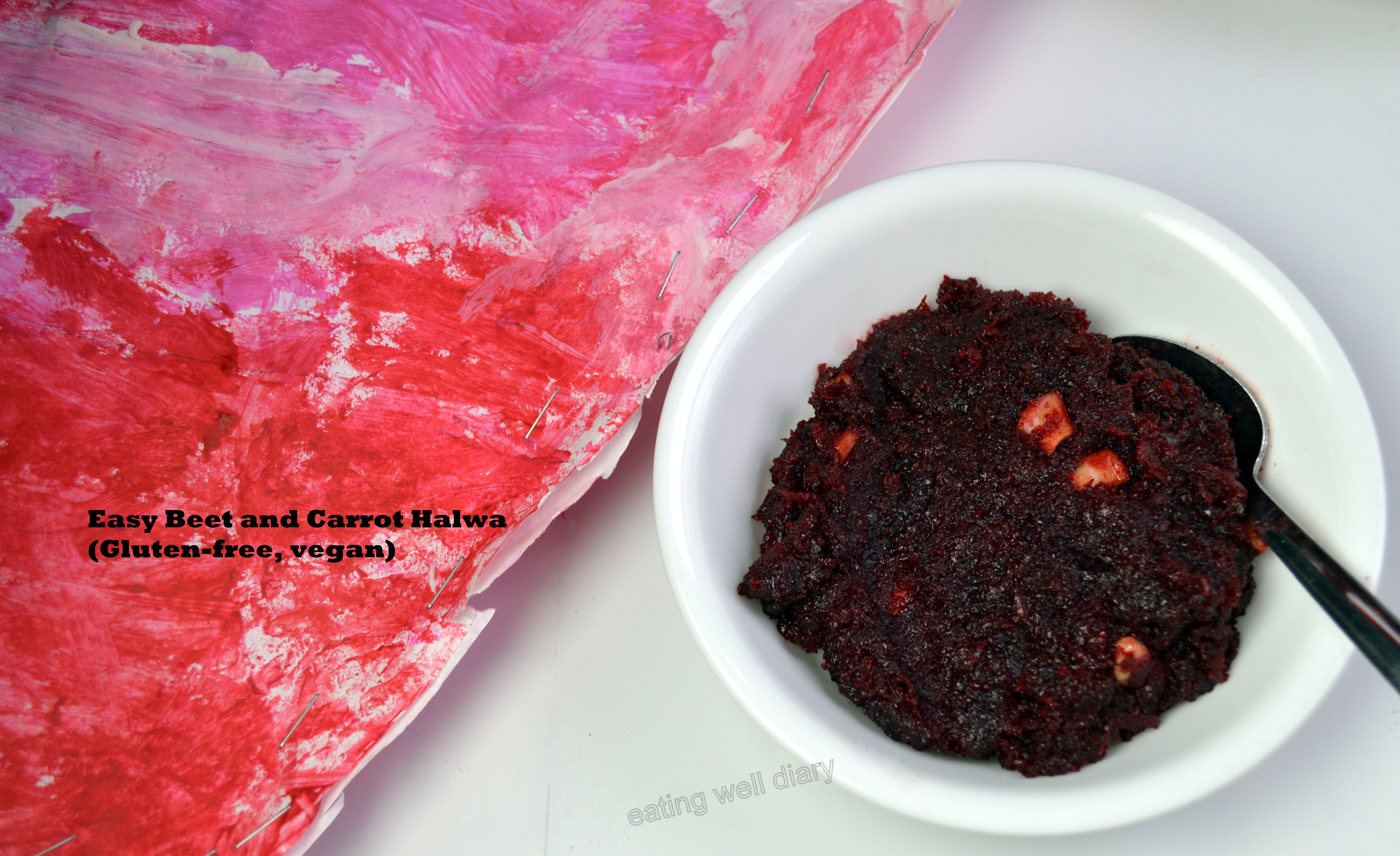 I'm taking this to Fiesta Friday #55 at the Novice Gardener's blog, co-hosted by Sue of Birger Bird and Suzanne of A Pug In The Kitchen.
Also submitting this to the Virtual Vegan Potluck #29 hosted by Poppy and Angela. This will be my first submission at Allergy Free Wednesdays at Nancy's Real Food, Allergy Free blog.
Beet and carrot Fudge or Halwa (gluten-free, vegan)
Servings: 10
Time: 20 minutes
Difficulty: easy
Ingredients:
finely grated beet- 1 cup
finely grated carrot- 1 cup
raw sugar- 1/3 cup
milk of choice- 1/2 cup (I used almond milk)
almond flour/ meal- 1/3 cup
coconut oil- 1-2 tbsp.
cardamom powder- a pinch
chopped cashews- 2 tbsp.
Method:
1. Cook the grated beets and carrot in almond milk. I used a pressure cooker (two whistles) to do this really fast. This removes the 'earthy' taste from beets in the fudge.
2. Heat your non-stick pan, toast cashews in a tsp. of oil till they brown and set them aside in a bowl.
3. Add the beet mixture, sugar, stir. Let it boil and reduce a little. Next, add almond meal, cardamom, coconut oil and stir with a silicone spatula on medium heat.
4. When the mixture leaves the sides, turn off heat, add cashews and transfer to a container. Allow to cool completely before storage.
22s COMMENTS