1 July, 2015
Grilled Black Bean Veggie Patties
Comments : 16 Posted in :
Diabetes Friendly Thursdays
,
Easy lunch box recipes
,
Main course
on
by :
apsara
Tags:
black bean burger vegan
,
gluten free patties
Grill away the summers with team DFT!
I have made some black bean burger patties using my panini grill for this grill theme! They are great in a sandwich or just eaten plain with some ketchup.
Beans in general are one of the best sources of protein in a vegetarian/vegan diet. Black beans, just like other beans like kidney and lima beans, contain B vitamins, lots of fiber and antioxidants to make this a great filler in a meal for diabetics too (read my source here). Be aware though that they are rich in carbohydrates as well, so combining them with plenty of vegetables is necessary.
Here's a trick that people use for making the beans more digestible (meaning less gassy): adding a little bit of seaweed while cooking it. Read this article for more information.
Any combination of vegetables can be used in a burger and here I have used cabbage, bell peppers and red onion to go with the black beans.
Some more stuff in there to thicken the mixture for making patties: oat flour, isabgol or psyllium husk that add healthy fiber but do not compromise the taste!
Black bean veggie burger patties (gluten-free, vegan)
Servings: about 12
Time: 60 minutes
Difficulty: medium
Ingredients:
soaked black beans- 1 1/2 cup (need to be soaked at least 8 hours and the water drained)
red onion- half of a big sized onion
bell pepper- 1
shredded cabbage- 1 cup
peeled ginger- 1 inch piece
oat flour- 1/2 cup
psyllium husk– 1-2 tbsp.
bread crumbs- as needed (I used Ian's gluten-free bread crumbs)
coconut oil spray
seaweed- 1/2 tsp. (any seaweed like kombu, kelp. I used dulse flakes) (Optional)
spices:
red chilly powder- 1/2 tsp.
coriander powder- 1 tsp.
amchur or dry mango powder- 1/2 tsp.
salt- to taste
Method:
1. Cook black beans in a pressure cooker with some water and some dulse flakes (optional). They need to be cooked through, so this may require 6-8 whistles if using a pressure cooker with that option.
2. Chop onions, bell peppers and cabbage into small pieces. Grate or chop ginger finely.
3. Drain excess water from the beans and mash with a potato masher.
4. Add all the ingredients (except bread crumbs) to a food processor and process till it forms a uniform mixture.
5. Transfer the mixture to a bowl and add bread crumbs as necessary to absorb moisture so that patties can be shaped with hands.
6. Spray your grill with come coconut oil, grill the patties a few minutes on each side till browned nicely.
7. Serve hot in a whole grain sandwich with some vegan cheese and greens (I use "Follow Your Heart" dairy-free cheddar slices).
Suggested serving- 1 or 2.
Notes:
1. The vegetables can also be sauted lightly before combining with mashed beans.
2. If the mixture is too wet to be shaped and flattened, refrigeration for an hour will help.
Disclaimer: I am not a nutritionist or dietitian. My knowledge and information is based on my research and reading from different resources. Please consult your doctor or dietitian before making any changes to your diet.
Sharing this at the Plant Based Potluck  Party #52 at Urban Naturale.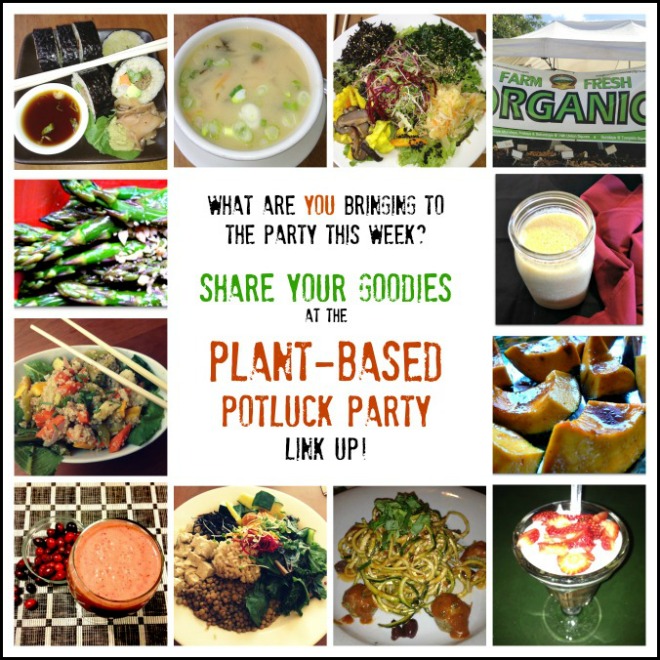 Check the other DFT posts from my friends:
Sonal: Hibachi Tofu Steaks
Anupama: Grilled Veg Stuffed Peppers
Shailja: Grilled Summer Vegetables
Prachi: Grilled Tandoori Masala Tikka
Vidhya: Baked Asparagus with Balsamic Vinegar
Suchitra: Blackened Chicken
Chahat: Achari Chicken Tikka
16s COMMENTS