10 February, 2016
Stuffed Sweet Pepper Poppers
Comments : 16 Posted in :
Appetizer
,
Diabetes Friendly Thursdays
,
Gluten free baking
on
by :
apsara
Tags:
baked vegetables
,
diabetes sweet peppers
,
healthy easy snack
,
mini pepper snack
,
sugar free snack
,
sweet pepper
,
sweet peppers baked snack
,
vegetarian easy snack
Creating Recipes with a Cause! I am a proud DFT blogger. To learn about DFT, click here!
Celebrate the Valentines Day with Team DFT's weight watchers and diabetes friendly appetizers.
Sweet peppers are one of those nutrient rich vegetables- containing high amounts of vitamin C and antioxidants. The more brightly colored they are, the better since deeper color means more phyto-chemicals. Can diabetics eat them? Yes, of course! Peppers are considered a non-starchy vegetable, high in fiber, vitamin K and a host of other minerals. Read this article for more information.
 I've brought you an easy and delightful way to eat these little peppers. Just slice into two, fill with a simple stuffing and bake for 25 minutes.
That's it! From this: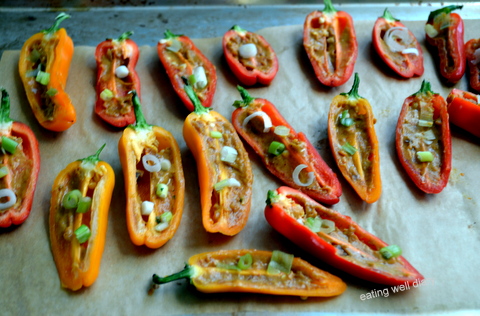 to this!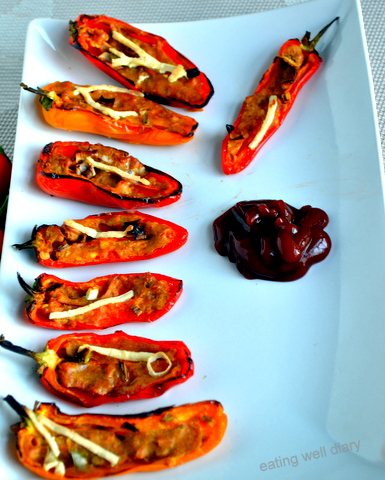 Stuffed Sweet Pepper Poppers
Servings: 10
Time: 35 minutes
Difficulty: easy
Ingredients:

Mini sweet peppers- 10

Besan/ gram flour- 4 tbsp.

almond butter- 2 tbsp. (can use any nut butter, crunchy)

chopped spring onions- 2-3

vegan cheese shreds- as needed to sprinkle (optional)

coconut oil- 2 tsp.

spices:

red chilly powder- 1/2 tsp.

turmeric powder- 1/2 tsp.

dry mango powder- 1 tsp.

coriander powder- 1 tsp.

salt- to taste

Method:

1. Soak and thoroughly wash the mini peppers in water containing a few drops of vinegar.

2. Preheat oven to 350 °F and line an aluminum tray with parchment paper.

3. Prepare the filling by combining besan, almond butter, spices, oil. Add water as necessary to make an almost runny batter.

4. Spoon the filling into the peppers, arrange on the tray, sprinkle spring onion pieces, cheese shreds and pop into the oven.

5. Bake for 15 minutes and then broil on low for 3 minutes till the edges turn brown.

6. Serving Size and Suggestion: These are very light but yummy snacks. Serve 2-4 sweet pepper popper halves with some low-sugar ketchup or cilantro-mint chutney.
Disclaimer:
I am not a nutritionist or dietitian. My knowledge and information is based on my research and reading from different resources. Please consult your doctor or dietician before making any changes to your diet.
Check these other DFT posts from my friends:
Sonal: Grilled Spicy Paneer Skewers
Shailja: Oats Spinach and Yellow Moong Kabobs
Parvathy: Black Chickpea Falafel Bites
Sarika: Cajun Cauliflower Bites
Swati: Dhaniya Methi Muthiya
Suchitra: Zucchini Boats
16s COMMENTS