10 May, 2015
Strawberry Mini-cheesecakes – a Mother's Day Special (gluten-free, vegan)
Comments : 28 Posted in :
Desserts
,
Gluten free baking
on
by :
apsara
Tags:
dairy free egg free cheesecake
,
easy vegan dessert
,
gluten-free cheesecake
,
mother's day easy dessert
,
strawberry vegan dessert
,
vegan cheesecake
The very first time I tried a mini cheesecake was after getting inspired by my blogger friend Josette's (The Brook Cook) post. She gave some helpful hints and beautifully presented the dish. I tried an egg-free version of that and fell in love with cheesecake in general.
Now that I have shifted to a dairy-free and gluten-free regime, it has become more of a dream- making something that would suit my family and still be delicious. But now, I have succeeded in making a good version that even my husband liked! He said this is very close to a "real" cheesecake and very delicious. I know that he means it, because the mini- treats are fast disappearing from the fridge!
Why do I call it a mother's day special? Because, for once I made something for myself and enjoyed the result. What a coincidence that it is right around Mother's Day! These are just the perfect treat that any mother would love. I'm sure my mom would also have liked it too, I wish I could send her some across the oceans!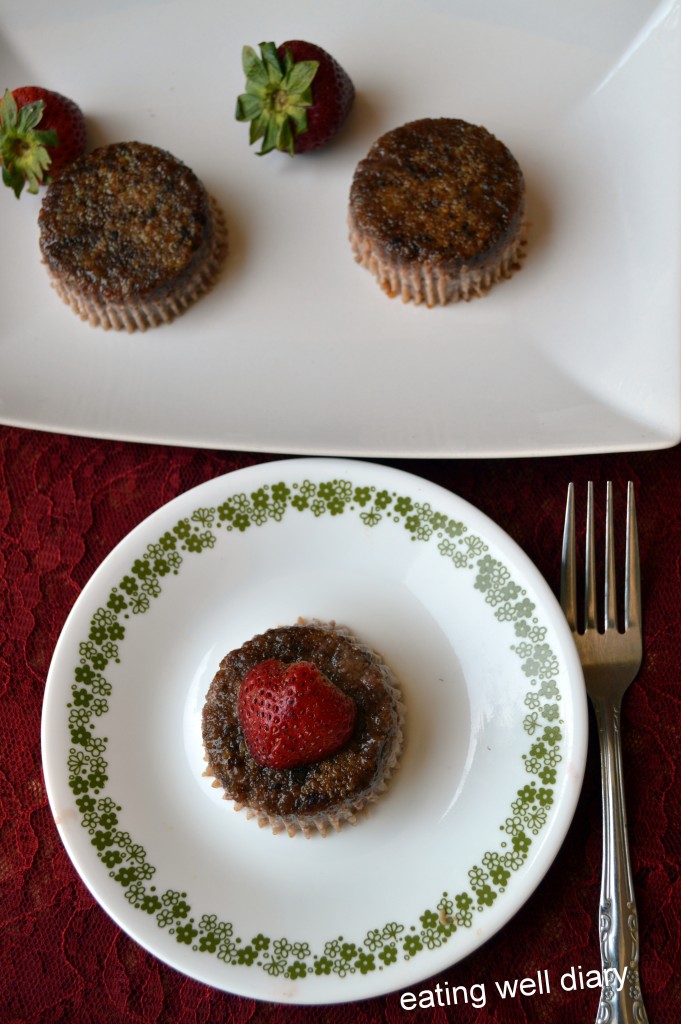 Of course, these can be made with dairy by using regular cream cheese and sour cream. But these are some dairy free choices I used here: Daiya cream cheese and Vegan Gourmet sour cream.
Excited to share these at Angie's Fiesta Friday #67 co-hosted by Caroline and Jess. Happy Mother's Day to everyone out there! Also sharing at Urban Naturale's Plant Based Link Up #44.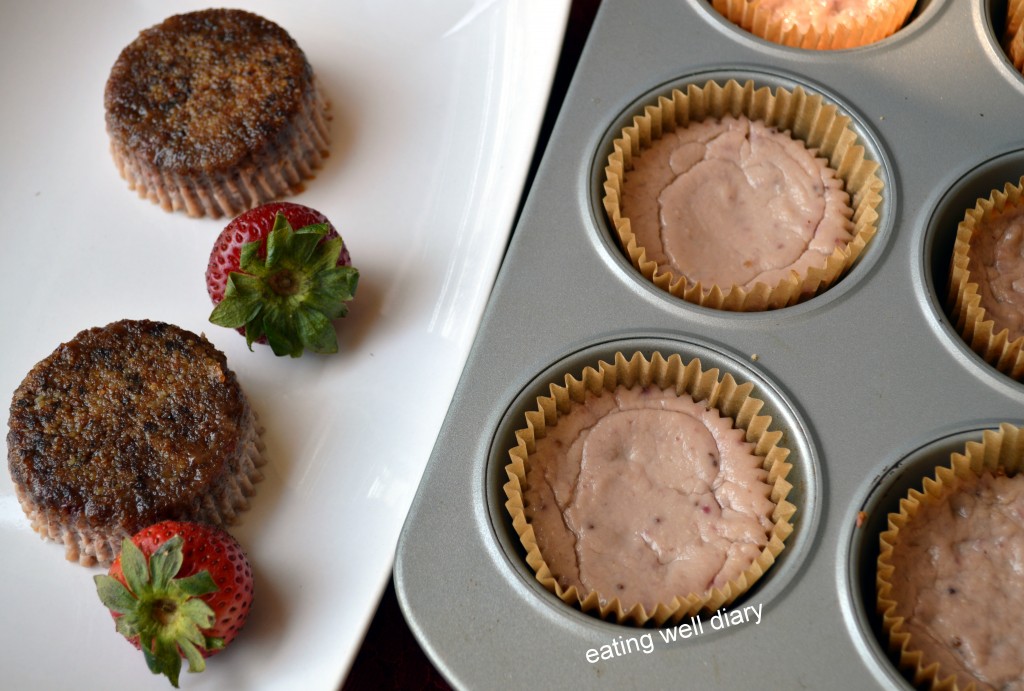 Strawberry mini-cheesecakes (gluten-free, vegan)
Servings: 12
Time: 50 minutes + chill time
Difficulty: easy
Ingredients:
for crust:
pecans- 1 cup
pitted dates- 9
for filling:
extra firm Tofu- 6-7 oz.
vegan sour cream- 1/3 cup
vegan cream cheese- 1/3 cup
strawberries- 4
raw sugar- 1/3 cup
Method:
1. Allow cream cheese to come to room temperature while you make the crust. Pre-heat oven to 350 °F.
2. To make crust: Pulse pecans and chopped dates in a food processor to get a coarse texture. Spoon them into a muffin pan lined with cupcake liners. Use the back of a tumbler to press it down.
3. Drain tofu and cut into big chunks. Blend with sugar, cream cheese, sour cream and strawberries. Spoon the mixture into the liners carefully to fill them about three quarters.
4. Bake for 35-38 minutes. You'll notice that the cheesecake puffs up and then falls as the baking nears completion. When you get the whiff of strawberry cheesecake and the edges have browned slightly, it is done!
5. Cool to room temperature and chill for 2 hours. Serve inverted with a strawberry on top!
28s COMMENTS