27 June, 2014
strawberry chocolate chip ice cream with Greek yogurt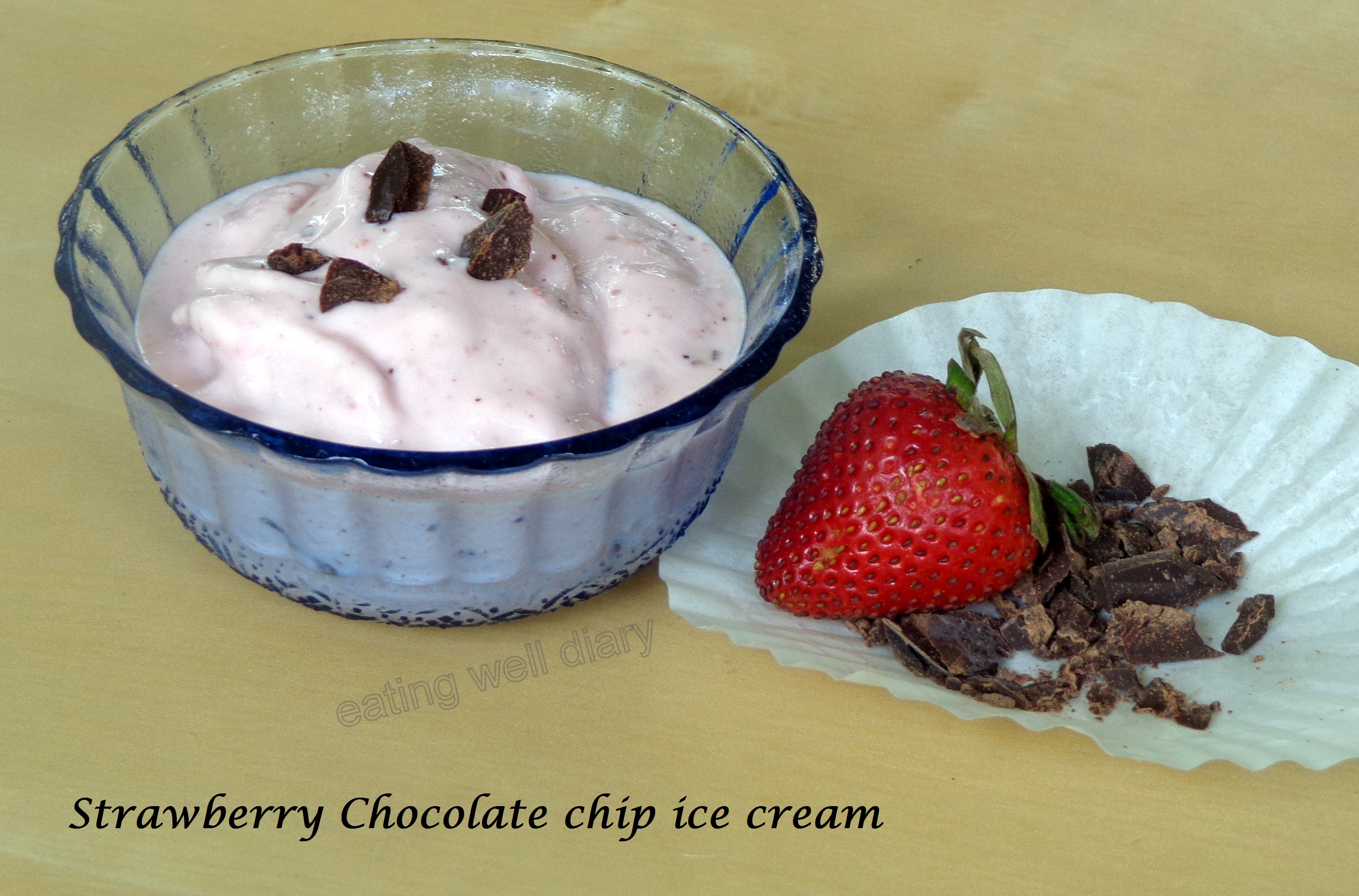 Comments : 32 Posted in :
Desserts
on
by :
apsara
Tags:
egg-free ice cream
,
frozen yogurt
,
greek yogurt ice cream
I do not have much of a sweet tooth, but I have a weakness for ice cream and stock up the freezer with the 'good' choices that are available out there. This summer I wanted to get a good ice cream maker to experiment with and make my own healthier versions. Following some advice from Brandi at The Vegan 8, I recently bought a Cuisinart ICE-21 machine. If you are thinking of making healthy ice cream/desserts, do check out her mouth-watering recipes!
It is a wonderful little product, maybe an indulgence on my part (I thought, do I really need an ice cream machine?) but it has been keeping me busy and my kids happy so far. I will make sure that it is used often 🙂 The picture above has not done full justice to the dessert, but it tasted really good! I'm taking this to the virtual party  Fiesta Friday #22 at The Novice Gardener's hosted this week by Elaine and Prudy.
Here's the ice cream maker in action:
Strawberry choclolate chip ice cream with greek yogurt
Servings: 5-6
Time: 35 minutes
Difficulty: easy
Ingredients:
plain Greek yogurt- 1 1/2 cup (thick, hung yogurt could be used instead)
full fat coconut milk (with cream)- 1 cup
organic strawberries- 10 (about 200 gm)
Baker's semi-sweet chocolate- 1 oz.
Raw sugar (I used Demarara)- 1/2 cup
Method: 
* Scoop out cream from a can of chilled coconut milk and measure out 1 cup along with the milk.
* Wash and hull berries, puree with sugar and gently heat on stove top till it reduces a little bit, about 10 minutes.
* Add Greek yogurt, strawberry mixture and coconut milk into your ice cream maker and churn according to instructions on the machine (mine took 25 minutes for a nice consistency).
* Cut chocolate into small bits and add it towards the end of the churning process.
* Serve immediately with more chocolate for garnish or freeze for later.
32s COMMENTS