18 August, 2015
Honey sweetened Mini Chocolate Chip Cookies (gluten-free, egg-free)- Meatless Mondays
Comments : 9 Posted in :
Eggless cookies
,
Gluten free baking
,
Meatless Mondays
on
by :
apsara
Tags:
chocolate chip cookie
,
gluten free vegan cookies
,
healthy chocolate chip cookie
,
honey cookie
,
sugar free cookie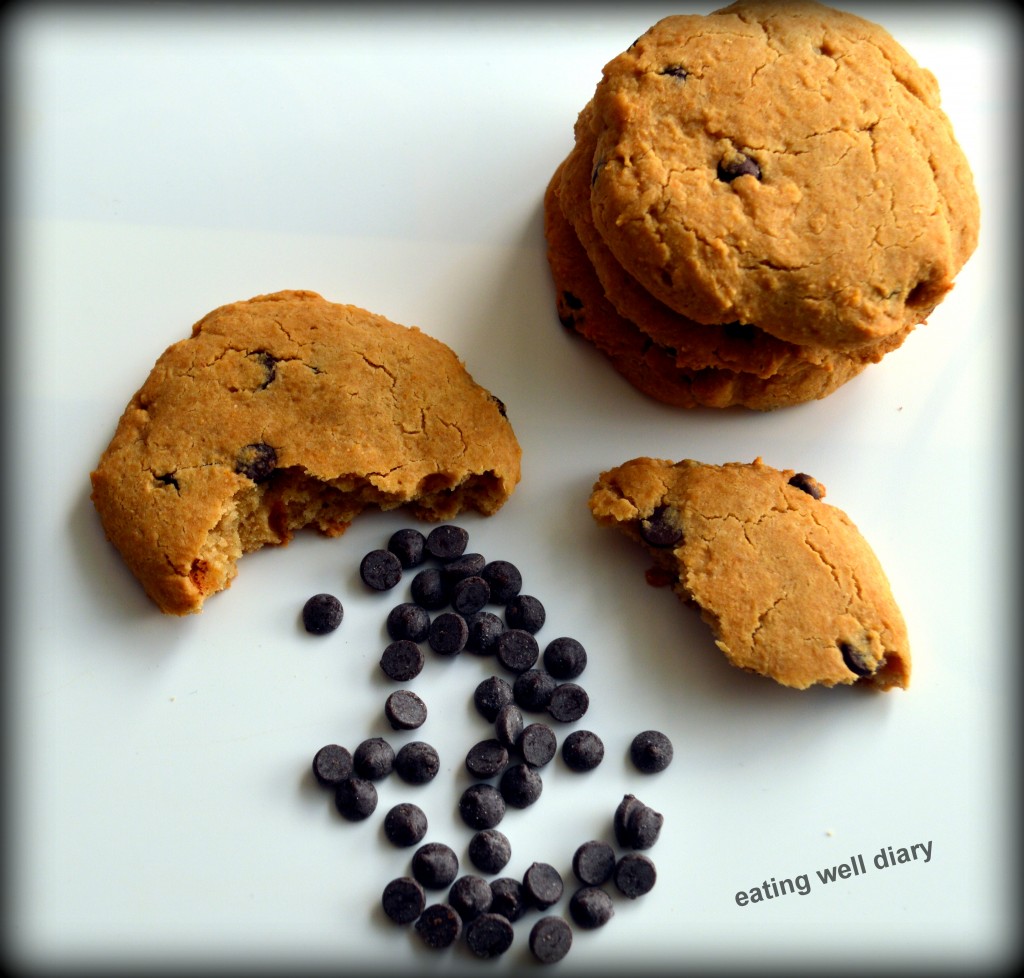 It was time to make some cookies at home; kids were craving chocolate chip cookies… And then I saw these awesome gluten-free cookies on Michaell's blog. Using that as an inspiration, we (my kids and I) came up with this very simple recipe! Not the traditional sugary type. Just honey sweetened, with additional sugar from mini chocolate chips. We loved it!
Taking these treats to Fiesta Friday #81 over at Angie's blog. Also sharing this at Swathi's Hearth and Soul Tuesday Blog Hop. 
Honey sweetened Mini Chocolate Chip Cookies (gluten-free)
Servings: 14
Time: 40 minutes
Difficulty: easy
Ingredients:
dry:
oat flour- 1 cup; 90 g.
Jowar/ Sorghum flour- 3/4 cup; 68g (can use any whole grain flour)
cornstarch/ tapioca starch- 2 tbsp.
baking soda- 1 1/2 tsp.
wet:
honey- 1/3 cup
applesauce- 2 tbsp.
ghee/coconut oil- 1 tbsp.
milk of choice- 1/3 cup (I used unsweetened almond milk)
vanilla flavor- 2 tsp.
Mini chocolate chips- 1/3 cup (I used Enjoy Life)
Method:
1. Preheat oven to 350 °F. Combine flours in a mixing bowl.
2. Make a well in the center and pour in the wet ingredients. Using a spatula, mix the dry and wet ingredients. Warning: The batter is sticky!
3. Line a baking sheet ( I use aluminum) with parchment paper. Add a spoonful of batter to make roughly uniform cookies.
4. Use a spatula to flatten the top and form rough circles.
5. Bake for 20-22 minutes. Cool on a wire rack. Store in an airtight box.
9s COMMENTS