12 November, 2013
Slow cooked sprouted moong curry with tomato gravy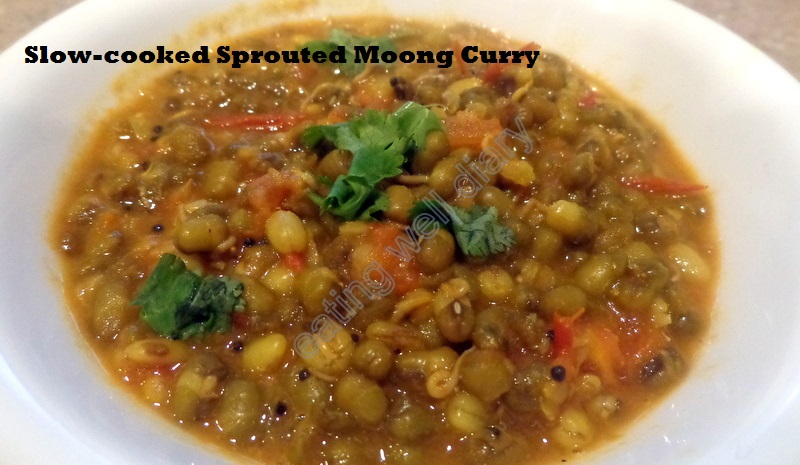 Comments : 5 Posted in :
side dish
,
slow cooker recipes
on
by :
apsara
Tags:
curry
,
Mung bean
,
sprouted beans
,
tomato gravy curry
Slow cooking is, in my opinion, the best way to cook moong beans. Takes 4-5 hours on low setting, requires no stirring. The froth build-up on top can be removed with a ladle (this will remove any residual toxins that were not removed by soaking). The flavor is amazing. The slow-cooked beans can be stored in the fridge for 2-3 days.
One favorite dish of mine is a simple sattvik curry by combining with tomatoes. 
Preparation time: 15 minutes
Ingredients:
cooked moong sprouts- 1 1/2cup
tomatoes (big)- 2
small green chillies (cut lenghtwise)- 1 0r 2
turmeric powder- 1/4 tsp.
coriander powder- 1 tsp.
dry mango powder- 1/2 tsp.
salt- to taste
canola oil- 1 tbsp.
For tempering:
mustard seeds- a few
curry leaves- 2
asafoetida (hing) powder- 1/4 tsp.
Method:
* In a pan, heat oil, add mustard seeds and asafoetida. When the seeds pop, add curry leaves and chillies.
* Add chopped tomatoes, salt turmeric powder and coriander powder. Cook till tender.
* Add cooked moong sprouts, blend well, simmer for 2 minutes.
* Add dry mango powder, blend and turn off the heat. Garnish with coriander leaves.
Chopped onions may be added in the first step for more flavor.
5s COMMENTS