20 October, 2013
Brown Rice for Everyday Meals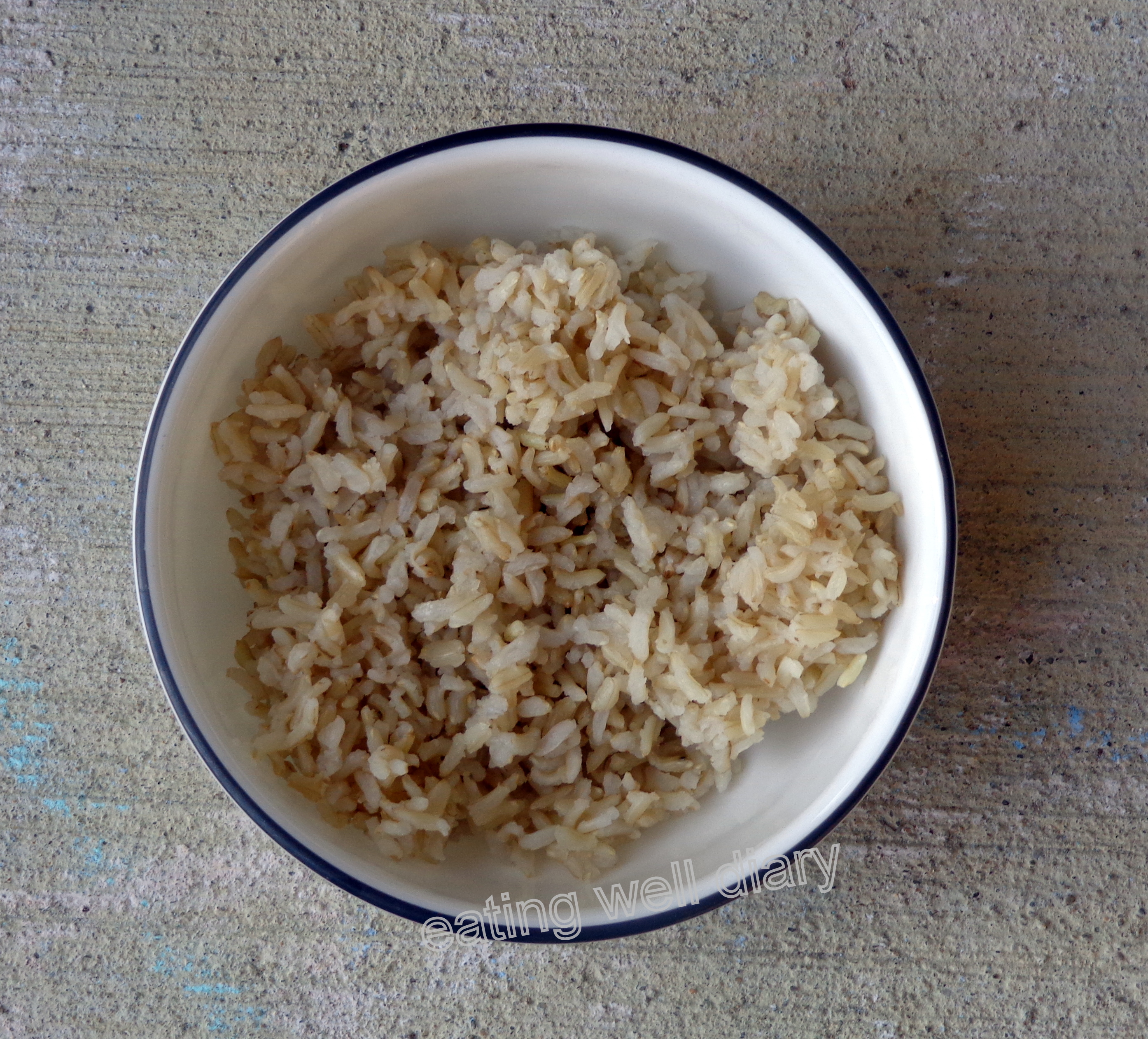 Comments : 28 Posted in :
Main course
,
Tips to make daily food healthy
on
by :
apsara
Tags:
best way to cook brown rice
,
Brown basmati rice
,
brown rice
,
how to cook brown rice
,
Indian brown rice
,
pressure cook brown rice
,
pressure cooker
,
whole grain
,
whole rice
Switching from white rice to whole rice or brown rice is one of the most fundamental changes that can be made in a diet that is rice-based. Brown rice contains both the bran and germ in addition to the endosperm part of the grain. It is more nutritious than white rice. Since it is a complex carbohydrate or a 'slow carb', it will not lead to a spike in sugar level and digests slower than white rice. Brown rice contains magnesium, selenium, manganese and fibre. For more information on the full benefits, the following webpage is useful.
http://www.whfoods.com/genpage.php?tname=foodspice&dbid=128 
Brown rice is more chewy than white rice and it may take some effort to make the switch from white to brown, but I recommend going cold turkey. Just do the switch and don't turn back! Even young kids won't complain if you don't give them a choice. It all depends on the variety/brand of rice that we choose to eat and how well it is cooked. Try soaking before cooking the rice, read further to learn why it is good… Once you settle on the type of brown rice that is most suited for you and your family, it is easy to stick to the routine and replace all of your white rice with it.
IMPORTANT:
Soaking whole grains for at least 6 hours prior to cooking is very important to improve digestibility of many whole grains.
I cook brown rice after soaking it overnight in water. Discard the water used for soaking! This, in my opinion is the BEST WAY TO COOK BROWN RICE. The long soaking time (6-8 hours) allows for the grains to become soft and also removes the harmful enzyme inhibitors that would hinder its digestion. It helps busy families pack lunch in the morning, if it requires fresh rice.
The different varieties that I have tested: 
Updated 2015: I use 24-Mantra Organic Brown Sona Masoori rice from a local Indian mart and highly recommend the brand.
pic courtesy: Amazon.com 
Brown Basmati Rice
Brown basmati rice available as a 10 lb bag in the Indian store is available in 3 or 4 different brands. The one that I like the most is the Laxmi brand since it cooks easier than the other varieties and is softer in texture. After soaking over night, I use 1 and 2/3 cups of water for every 1 cup of basmati brown rice cooked in a pressure cooker. I let the cooker blow 5-6 whistles before turning off the stove. Allow the pressure cooker to cool slowly on the same electric coil/burner in order to get a nice soft texture.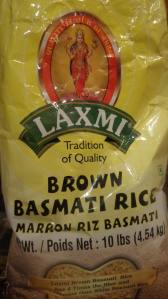 The Kohinoor brand of basmati brown rice also gives grains with soft texture, but is more expensive. I have also tried the Royal brand, which although is very aromatic, dries up so that it becomes harder to chew when kept for a second meal a few hours after the first meal.
Long Grain Brown Rice
Long grain brown rice, Nishiki brand (available in Chinese stores), is the sticky variety. It cooks best after soaking in water overnight. Pressure cook with 1 1/2 cups water to a cup of rice in a pressure cooker. Allow the cooker to blow at least 7 whistles to ensure completion of cooking. The texture is softer than basmati rice but is also sticky. Ideal for yogurt rice.
Sona Masoori Brown Rice 
Sona masoori brown rice is also available in the whole form in the Indian store (20 lb bag). This is the medium/short grain variety and is cheaper than the basmati variety. After soaking overnight, it requires 1 and 2/3 cups of water to 1 cup of rice, cooked in a pressure cooker. Allow 5-6 whistles. If any water remains after cooking, it can be drained or put it back in the cooker and allow a couple more whistles.
The texture is more discrete, non-sticky, not as soft as long grain. Dries up easily for a subsequent meal and is best stored in a pot kept inside a closed vessel (or pressure cooker) with some water in the vessel/cooker.
I regularly use Laxmi brand of basmati brown rice and 24-Mantra Organic sona masoori brown rice as well.
Some facts:
1.  Brown rice spoils faster than white rice which is why it is more expensive than white rice. It is better not to buy in bulk from places like Costco, it may be rancid.
2.  Brown rice has a lower glycemic index of around 24 compared to white rice which is 29. Among the different varieties of brown rice, basmati is supposed to contain the least amount of carbohydrates and hence has very low glycemic index. The GI of sona masoori brown rice is much higher.
3.  There are concerns about higher arsenic content in brown rice. Look up my thoughts in this updated post for more information.
28s COMMENTS