15 July, 2015
Mixed Vegetable Brown Rice Pilaf for Diabetes Friendly Thursdays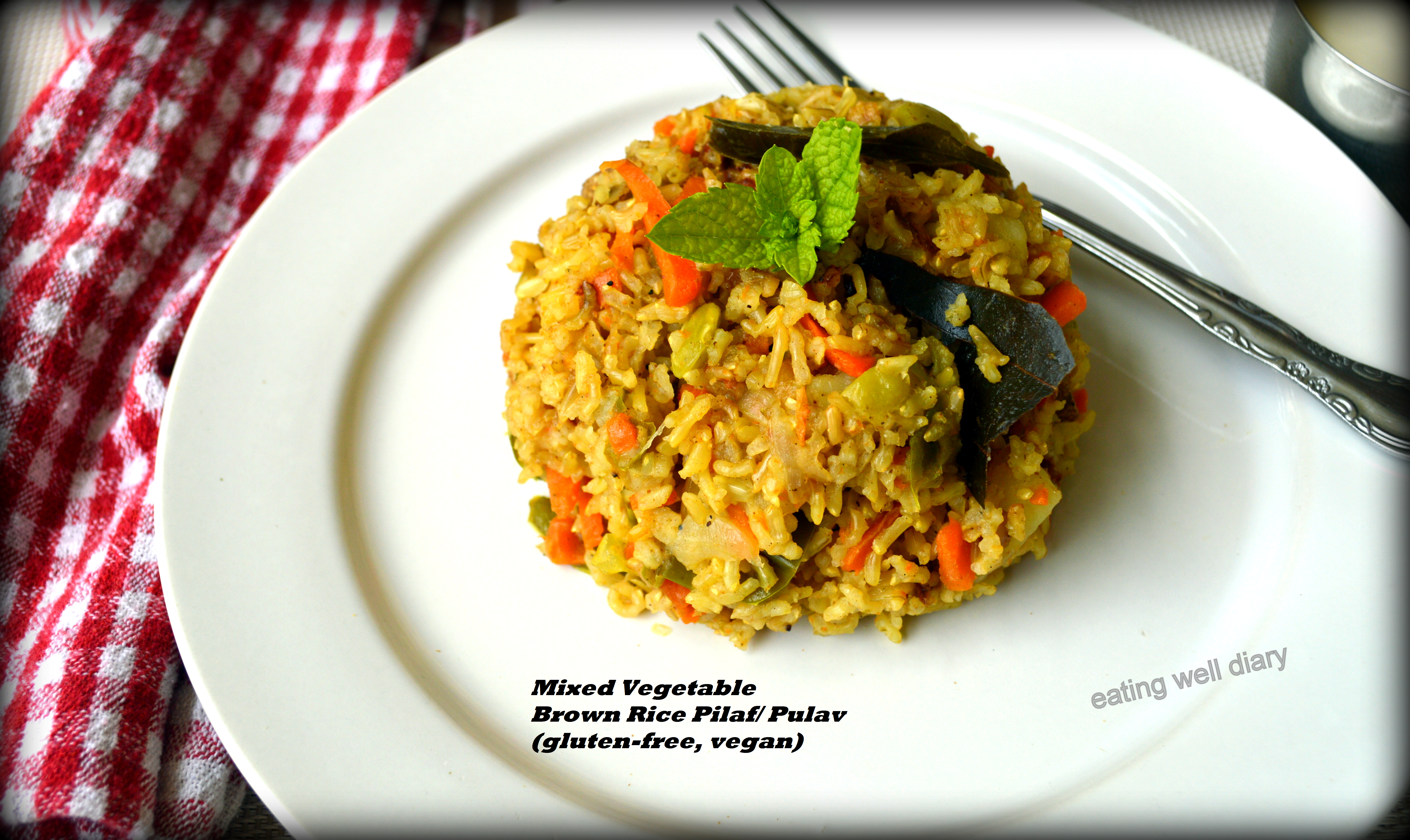 Comments : 9 Posted in :
Diabetes Friendly Thursdays
,
Easy lunch box recipes
,
Main course
on
by :
apsara
Tags:
brown rice pulav
,
on-pot rice meal
,
vegetable rice diabetes
,
whole rice pilaf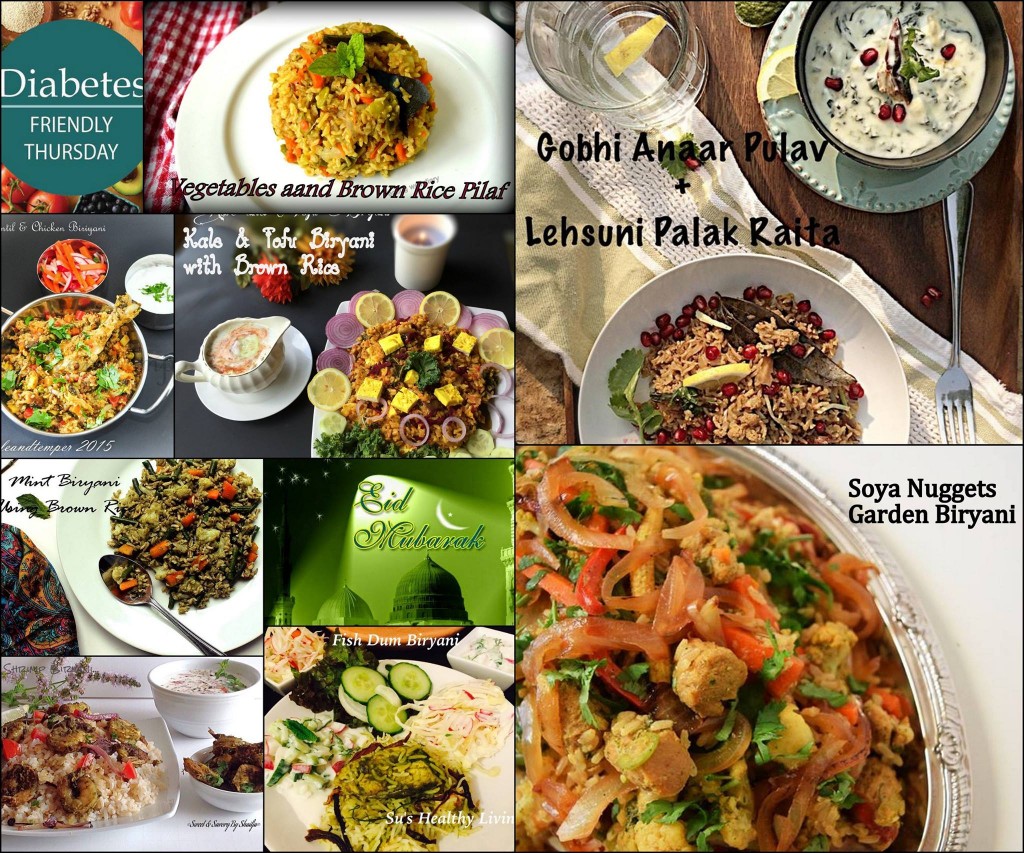 To all my Muslim Friends: Celebrate the Eid Dinner with Team DFT's Biryanis and Pulavs! Eid Mubarak! Celebrate the Eid Dinner with Team DFT's Biryanis and Pulavs! Eid Mubarak!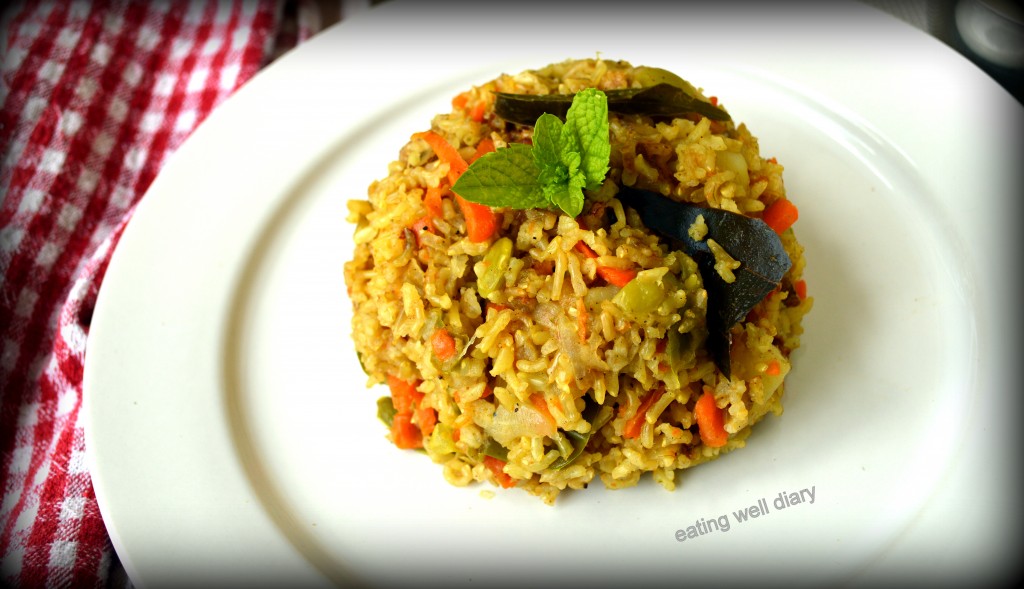 We are a "brown rice family". Having switched to whole rice two years ago, brown rice has become our daily staple. In fact, I started to blog with a tutorial, "Brown Rice For Everyday Meals" being my first post in this blog! The theme for DFT this week being diabetic friendly pulavs and biriyanis, I'm bringing a quick fix pilaf that can be easily made in an electric rice cooker.
Brown rice contains the germ portion of the grain and is more slowly digested than white rice. The glycemic index is 24 as compared to 29 of white rice. It contains magnesium and fiber that help with controlling blood sugar. The ideal portion size of brown rice is 1/2 cup per day. It is best to combine it with a lot of beans and veggies to make a balanced meal for preventing and managing diabetes.
For more information, read this useful article from Full Plate Living.
Brown rice is best cooked after soaking for a few hours that removes harmful enzyme inhibitors that interferes with its digestion in our system. It is recommended that it is soaked for a few hours prior to cooking. This also makes it soft and easy to cook, almost like white rice. If, due to lack of time, soaking cannot be done, additional water needs to be added during the cooking process.
Here's a simple, no-frills pulav made with mixed vegetables and lima beans. Spiced lightly with whole Indian spices and low in oil, this is an excellent lunchbox idea too; a one-pot meal for those busy days.
Lima beans are an excellent source of protein and is a great combination with any rice dish. They add essential micro-nutrients and fiber, stabilizing blood sugar. Bell peppers offer antioxidants in addition to sulfur compounds that protect against cancer. Onions contain a compound called quercetin that has beneficial anti-inflammatory and anti-cancer properties.
Mixed Vegetable Brown Rice Pilaf (gluten-free, vegan)
Servings: 6
Time: soak time + 90 minutes
Difficulty: easy
Ingredients:
Basmati brown rice- 1 1/2 cups
water- scant 3 cups
medium carrots- 3
bell pepper- 1
onion- 1/2
frozen lima beans- 3/4 cup
small potato- 1 (optional)
Thai green chilly- 2
salt -to taste
coconut oil- 1 tbsp.
curry leaves- 2
spices:
turmeric powder- a fat pinch
asafoetida powder- a pinch
bay leaf- 1-2
cardamom powder- 1/4 tsp.
cinnamon- a small piece
whole cloves- 2-3
pulav masala- 1 tsp. (optional)
Method:
1. Soak brown rice in water for 2 hours.
2. Prepare veggies in the meanwhile- julienne carrots, bell peppers to desired size. Chop onion and cube the potato. Slit green chilly lengthwise.
3.  Heat oil in a pan, add all the whole spices and cardamom powder. Lightly saute onions and bell peppers.
4. Add the other vegetables and soaked rice after draining the water. Mix well, add salt to taste and pulav masala if necessary.
5. Transfer to an electric rice cooker, add water and cook at "brown rice" setting. Once cooked, mix lightly, garnish with cilantro.
6. Serve hot with some raita or dip. Recommended serving size: 1 1/2 cup.
Disclaimer: I am not a nutritionist or dietitian. My knowledge and information is based on my research and reading from different resources. Please consult your doctor or dietitian before making any changes to your diet.
Sharing this at the Plant-Based Potluck #54 at Deborah's Urban Naturale.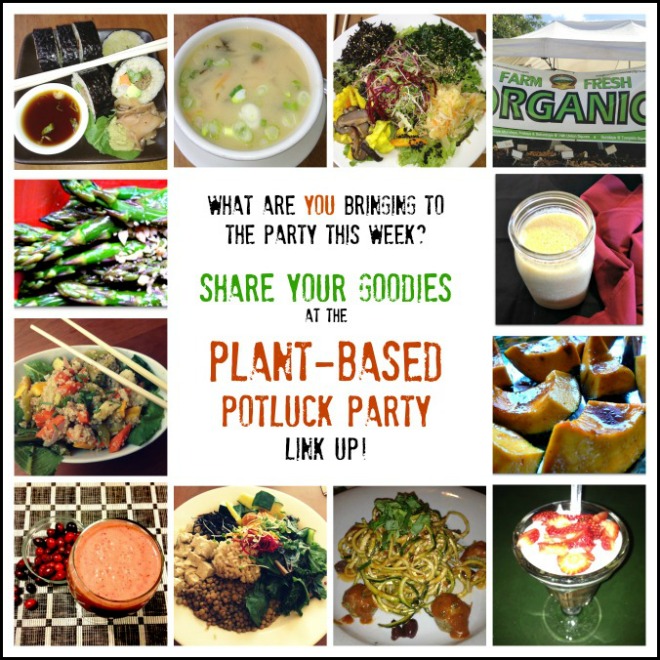 Check the other DFT posts from my friends:
Sonal: Gobhi Anaar Pulav with Spinach Garlic Raita
Shailja: Shrimp Biryani 
Prachi: Soya Nuggets Garden Biryani
Parvathy: Quinoa Lentil Chicken Biryani
Anupama: Mint Biryani Using Brown Rice
Swati: Kale and Tofu Biryani With Brown Rice
Suchitra: 
9s COMMENTS