4 March, 2016
Healthy Cranberry Orange Chocolate Bark, and An Exciting Giveaway!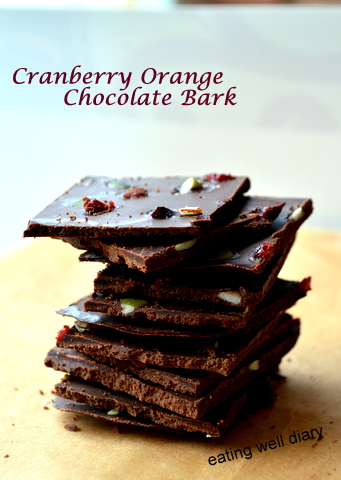 Comments : 45 Posted in :
Desserts
,
snack
on
by :
apsara
Tags:
easy chocolate bark
,
gluten free vegan chocolate
,
homemade chocolate
,
orange flavored chocolate
,
raw chocolate bark
,
real chocolate
,
vegan superfood chocolate
I made this wonderful chocolate bark using raw cacao powder,

flavored with orange and cranberries

. I should tell you, it is one of the easiest things you can make at home-

with real ingredients!

Making an easy dessert with superfoods- cacao powder, coconut oil and a natural sweetener has never been more rewarding…

What is the difference between

cacao powder

and

cocoa powder

?
Both are made from the cocoa bean, but cacao powder is the one that is made by cold-processing of the bean, wheareas cocoa powder is made by roasting the beans at high temperatures and further processing. Such processing destroys all the beneficial enzymes and some of the antioxidants. Cacao powder also retains micro-nutrients, including magnesium, iron, calcium, potassium. Read more from Food Matters here. You may not find it at regular food stores. Local health food stores, Whole Foods or online markets such as Amazon or Thrive Market carry this superfood. I highly recommend checking out Thrive Market. They are a natural and organic online store that sell at wholesale prices which are cheaper than even regular grocery stores. It is worthwhile getting a membership with them; I am one happy customer. (I'm not getting paid to say this, it is my true opinion!)
After learning this fact about cacao, I have only been using cacao powder in my home.  Regular chocolate milk can be made with almond milk, cacao powder and a sweetener, gently heated on the stove. Tastes rich and wholesome, and you can enjoy it knowing that it is better for the body than any other type of chocolate milk.
Now, for the chocolate bark- you only need to gently mix the ingredients at low heat- since you need melted coconut oil. Add the toppings and freeze it till set. Voila, you made chocolate at home! I use this super delicious orange extract: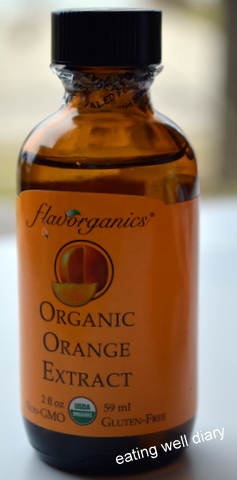 I know that you want to try out this simple chocolate bark recipe. I take this opportunity to host my

FIRST GIVEAWAY

ever! I have

two brand new 8 oz. packets of Navitas cacao powder

to give away! This is open only for U. S (mainland) residents, since I will be personally mailing it to the winners, selected by a random pick.

What do you need to do to enter this giveaway? Just

enter  your email address in "Subscribe to the Blog via email", and confirm by following the link in your email inbox

. NO SPAM, I promise! If you are already an email subscriber,

just leave a comment on this post. Simple as that!

This giveaway will end at 8 p.m on Monday, March 7th evening (E.S.T.) The lucky winners will get the packet of cacao powder by mail from me!
Look at these easy instructions and tell me that you do not want to try and make it soon!
Cranberry Orange Chocolate Bark
Servings: about 8
Time: 20 minutes + freeze time
Difficulty: easy
Ingredients:

Cacao powder- 1/2 cup (cocoa powder will work just as well)

Refined coconut oil- 1/4 cup (unrefined oil can be used if you like the smell  of coconut oil in chocolate)

powdered coconut sugar- 1/3 cup  (or use finely powdered jiggery or unrefined sugar)

fine sea salt- a pinch (table salt can be used)

natural orange extract- 1/4 tsp.

choppped dried cranberries- a few

pumpkin seeds- a few

Method:

1. Powder coconut palm sugar using a spice grinder. Make it as fine in texture, as possible.

2. Melt coconut oil and measure out 1/4 cup into a saucepan.

3. At low heat, add cacao powder, powdered sugar, orange extract and salt.

4.  Stir till combined. Taste and add more sugar, if necessary.

5. Pour it into a flat dish lined with parchment paper, add the cranberries and pumpkin seeds on top and stick it in the freezer for a few hours till set.

6. Score lines with a knife, carefully cut into pieces and enjoy cold. It tends to melt at room temperature,  so it needs to be refrigerated.
I am so excited to be taking these treats to Fiesta Friday #109 co-hosted by our experienced blogger buddies Josette @ TheBrook Cook and Lily @The Sweet Baker.  Also sharing this at the Plant-Based Linky #78 over at Urban Naturale by Deborah, Real Food Fridays #129  at organic4greenlivings and FoodieFriDIY #85 at a Dish Of Daily Life.
45s COMMENTS