7 March, 2016
Coconut Almond Chocolate Bark And Extending The Giveaway Deadline!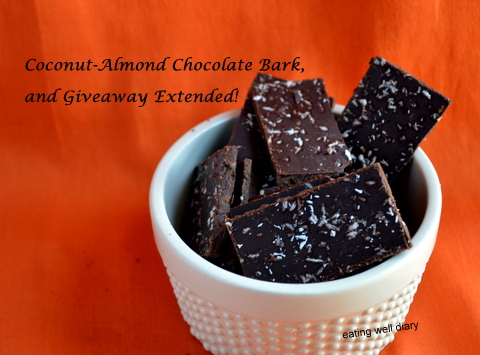 Comments : 12 Posted in :
Desserts
,
Meatless Mondays
,
snack
on
by :
apsara
Tags:
almond chocolate
,
coconut chocolate
,
healthy chocolate bark
,
vegan gluten free chocolate
I have been bitten by the chocolate-making bug! After the huge success in making my cranberry orange chocolate bark, I "embarked" on this new flavor! Simple and easy- mixing almond flavor and coconut gives this delicious homemade chocolate. We could never have enough of these!

Remember in my cranberry-orange chocolate post last week, I announced a giveaway of 2 of these packets of cacao powder? I'm

extending the deadline for the freebie, to 8 p.m. on Friday of this week (March 11)

. All you have to do is,

if you have not already signed up for email notifications

of my blog, (and you will not regret it, because I only post once or twice a week)

is to subscribe

. Let me know by leaving a comment in this post or the earlier one. I have a handful of entries for the contest, so far! (reminder: it is open to U.S residents only, since I will mail them personally) 
I will announce the winners of the raffle on Saturday in a separate post and mail the cacao packets to the 2 lucky winners! 
Coconut Almond Chocolate Bark
Servings: about 8
Time: 20 minutes + freeze time
Difficulty: easy
Ingredients:

cacao powder- 1/2 cup

coconut oil- 1/4 cup

coconut sugar- 1/3 cup

salt- a pinch

almond extract- 1/4 tsp (can use 1 tsp. almond butter, instead)

unsweetened coconut powder- 1 tsp.

Method:

1. Powder coconut palm sugar using a spice grinder. Make it as fine in texture, as possible.

2. Melt coconut oil and measure out 1/4 cup into a saucepan.

3. At low heat, add cacao powder, powdered sugar, almond extract and salt.

4.  Stir till combined. Taste and add more sugar, if necessary.

5. Pour it into a flat dish lined with parchment paper, add the coconut powder/flakes on top and stick it in the freezer for a few hours till set.

6. Score lines with a knife, carefully cut into pieces and enjoy cold. It tends to melt at room temperature,  so it needs to be refrigerated.
I heard that folks really liked the chocolate bark that I brought on Friday, so I'm taking these treats as well to Fiesta Friday #109 Thank you, blogger buddies Josette and Lily for co-hosting.  I hope you like this flavor too!
Also tagging this as a Meatless Monday post!
12s COMMENTS