20 December, 2013
sprouted chana masala curry
Comments : 1 Posted in :
side dish
,
slow cooker recipes
,
sprouting
on
by :
apsara
Tags:
Chana masala
,
chickpea sprouts
,
sprouted chana
Everybody is familiar with chana masala curry, that can be made from canned chickpeas with the spice mix from any Indian/international food aisle in a store. Simply cooked beans, however, can cause stomach discomfort in children especially when given in the evening. I once gave beans to my 15-month-old (by accident) and had her suffer from gas in the night.
Sprouting is a way to increase vitamins and fiber as well as make beans more digestible. It just takes that extra planning to make the protein-rich food that much easier on our system.
To sprout: Soak chickpeas overnight and sprout in a sprouter or using cheesecloth. These are sprouts after 36 hours.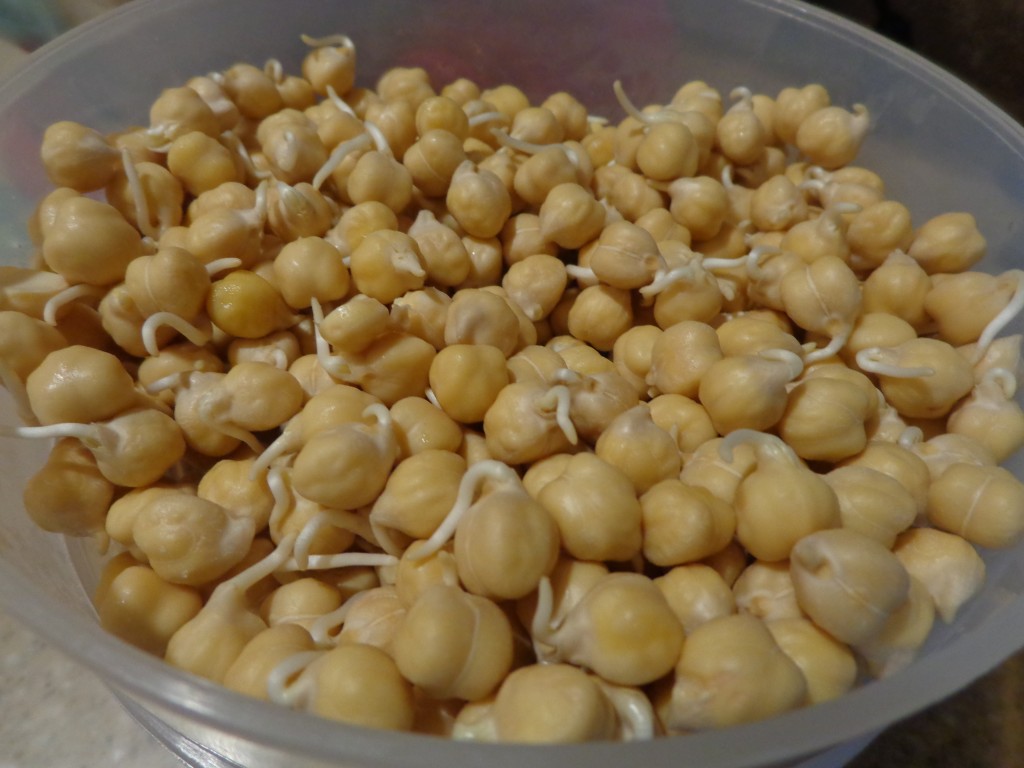 I choose to slow cook the beans, although that is not necessary; they can be cooked in a pan or pressure cooker. After cooking in a slow cooker at low setting for 7 hours, I add some salt to the beans and store them in the fridge for a day or two. This is necessary to lessen the cooking time of the curry, or the salt will not be fully incorporated in the beans.
It is advised to not leave slow-cooked beans at room temperature for more than 2 hours.
Now for the curry,
Ingredients:
cooked sprouted chickpeas- 2-3 cups
tomato- 3
chopped onion- 1/2 cup
ginger- a small bit
green chilly – 1
cashews- 1/3 cup (optional)
canola oil- 1 tbsp.
curry leaves- a few
bay leaf- 1
spices for gravy:
cloves- 2
cinnamon- a bit
cardamom- 1
poppy seeds- 1/2 tsp.
turmeric powder- a pinch
salt- to taste
to be added later:
mustard seeds- 1/2 tsp.
asafoetida powder- a pinch
Chana masala powder- 1/2 tsp. (optional, I use it to make up for spices I don't have)
chili powder- 1-2 tsp.
dry mango powder- 1/2 tsp.
Method:
1. Add the spices for gravy in heated oil (1/2 tbsp.) in a pan.  Lightly saute ginger, onions and green chilly in it. Add tomatoes and cashews, cook till tomatoes are slightly tender.
2. Use a blender to make a paste of the above along with 1/2 cup of cooked chickpeas. Now, the gravy is ready.
3. Heat 1/2 tbsp. oil in the same pan, add asafoetida, bay leaf and  mustard seeds. When the seeds pop, add curry leaves followed by the gravy .
4. Add to this the cooked beans, chili powder, salt and let it simmer for a while till all the ingredients blend together well.
5. Add dry mango powder and chana masala powder towards the end.
6. Garnish with cilantro leaves. Enjoy with rice or your favorite Indian flat bread.
Notes:
* Vegetables such as cooked potato make an excellent combination with the chickpeas in this dish. I use it to increase volume when chana sprouts are low in amount.
1 COMMENT