23 September, 2015
Gongura leaves Chutney or Thuvaiyal with A Healthy Tip! – DFT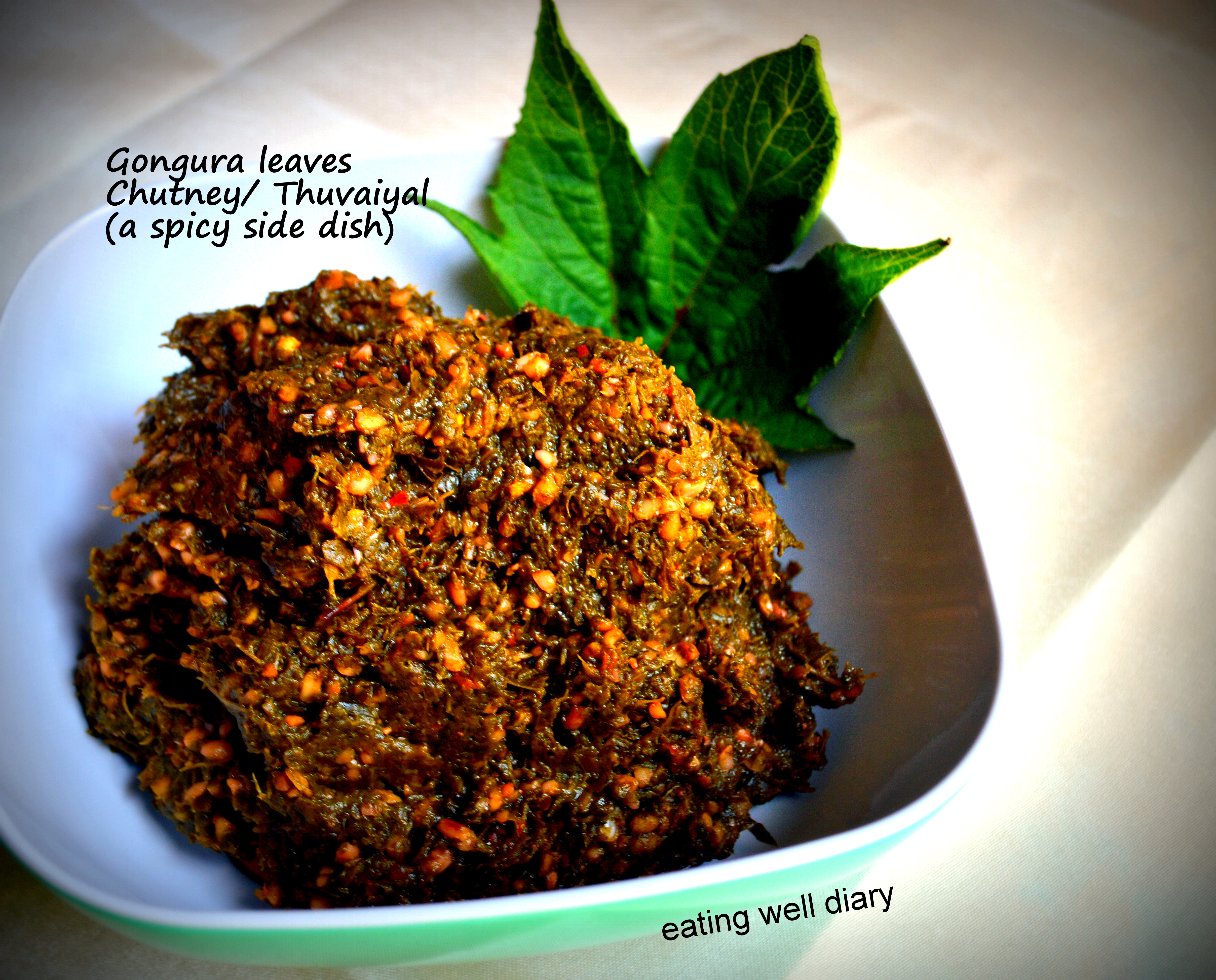 Comments : 11 Posted in :
chutneys
,
side dish
on
by :
apsara
Tags:
gongura oxalic acid
,
gongura pachadi
,
gongura thogayal
,
greens and oxalic cid
,
Indian sorrel leaves recipe
,
pulicha keerai
,
sorrel leaves nutrition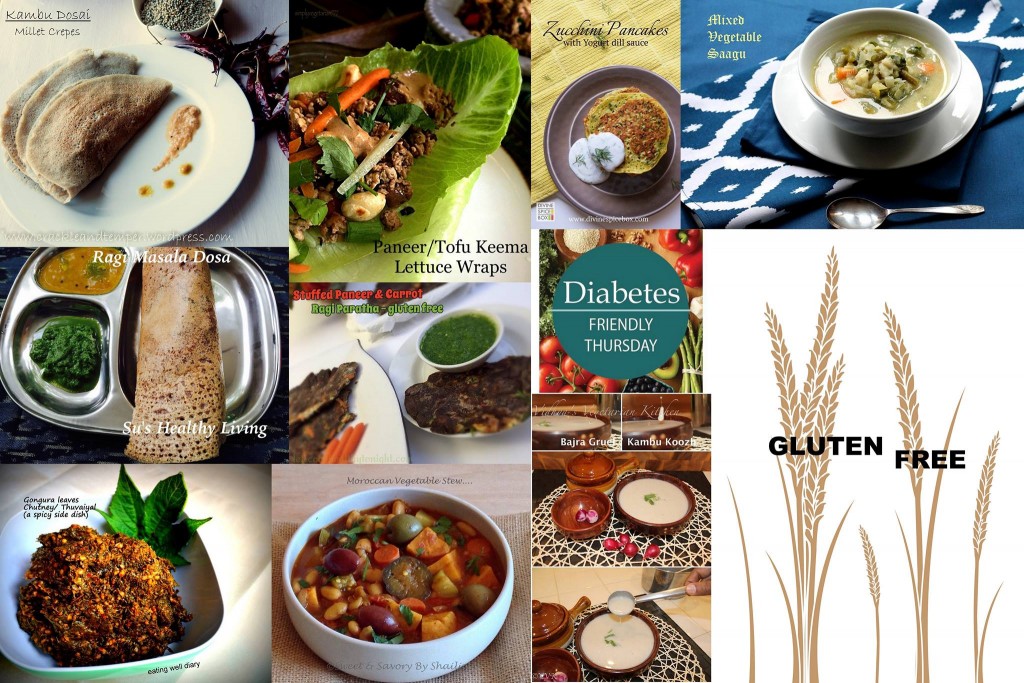 Creating recipes for a cause!  To learn about DFT, read this link. To view more DFT recipes, Click here!
DFT is not only diabetic friendly but has stepped up to go "GLUTEN FREE" also this time! Enjoy the Gluten free diabetic friendly recipes from the DFT Bunch!!
Gongura or Red Sorrel is a culinary herb  widely used in the Andhra and Telengana regions of India. The greens of this plant have a slightly bitter taste and are hence called "pulicha keerai" in Tamil. They have a cooling effect on the body and are rich in iron, folate, vitamins, A and C and other phyto-nutrients. According to this source, they also improve the immune system, help in cardiovascular health and control diabetes.
Gongura pachadi as it is called in Telugu or thuvaiyal in Tamil, is one popular way to consume this delicious herb. This side dish is good with plain rice, with gluten-free roti or with rice mixed with plain yogurt. Tangy, spicy and finger licking good, with amazing health benefits! Find it in your market (Indian grocery) today!
A word of caution, though: Just like spinach, gongura leaves contain lots of oxalic acid, which can bind with calcium to form calcium oxalate. This can lead to the growth or formation of kidney stones in those who are prone to this condition. Those people who need to control oxalates in food should consume this in moderation. Since I make this very often while it is in season, I partly cook this in water and discard the resultant liquid. This method removes some of the harmful oxalates.
Read about the connection between celiac disease (intestinal damage triggered by gluten) and type 1 diabetes here:
http://www.diabeticlivingonline.com/food-to-eat/nutrition/gluten-and-diabetes-there-connection
In this picture, the leaves are washed, chopped and ready to go!
Gongura Chutney or Thuvaiyal
Servings: 10
Time: 40 minutes
Difficulty: easy
Ingredients:
Gongura leaves- 500 g. approx.
water- 1/3 cup
Urad dal- 3-4 tbsp.
whole red chillies- 7-8 (reduce depending on size of the chillies and heat tolerance)
hing/ asafoetida- a small bit (make sure it is gluten free)
salt- to taste
sesame oil- 1 tbsp.
garlic cloves- 1 or 2 (optional)
Method:
1. Remove leaves from the stem, wash and chop roughly. I had roughly 500 g. of chopped leaves.
2. Take a pan, add 1/3 cup water along with the leaves. Cover and cook on low flame till the leaves wilt. Drain the water.
3. In a saucepan, add 1/2 tbsp. of oil,  urad dal, asafoetida and red chillies. Shallow fry till the lentils turn brown.
4. Cool the leaves and grind along with the fried chilly/lentil mixture.
5. Return to the saucepan with another 1/2 tbsp. of oil. Shallow fry on low heat till any excess moisture evaporates. This helps in preservation.
6. Add some minced or finely chopped raw garlic and mix well. This not only adds flavor; raw garlic is very nutritious and the taste completely blends in that you'll hardly notice it. This step is optional.
7. When stored in the fridge, it stays for a week to 10 days. This recipe made about 520 g. of this spicy relish, about 10 servings.
Note:
This recipe makes a spicy chutney. If your tolerance for spice is low, use lesser number of red chillies accordingly. With less spice, the amount of oil can also be reduced to 1/2 or 1/4 tbsp.
Disclaimer: I am not a nutritionist or dietitian. My knowledge and information is based on my research and reading from different resources. Please consult your doctor or dietitian before making any changes to your diet.
Check the other DFT posts from my friends!
Sonal: Paneer/ Tofu Keema Lettuce Wraps
Shailja: Moroccan Vegetable Stew
Parvathy: Kambu/ Bajra Dosa
Prachi: Zucchini Pancakes with Yogurt Dill Sauce
Srividhya: Kambu koozhu/ Pearl Millet Gruel
Anupama: Mixed Vegetable Saagu 
Suchitra: Ragi Masala Dosa
Sharing this at Deborah's Vegan Potluck Linky Party #63 at Urban Naturale.
11s COMMENTS