5 November, 2018
Quick and Easy Moong Dal Laddu (gluten-free, low glycemic)
Posted in :
Desserts
,
Indian sweets
on
by :
apsara
Tags:
Diwali sweet
,
indian sweet
,
moong flour
,
mung balls
,
mung flour
Happy Deepavali/ Diwali!! I'm here again with a new Diwali sweet to celebrate the festival of lights this year.
Mung dal or lentil needs no introduction. It is widely used in various dishes in India and desserts make no exception. 
This year, I wanted to make a really quick gluten-free sweet and settled on a laddu because it is so decadent and every kids favorite. But given the high amount of sugar, I decided to use a lower-glycemic option with coconut sugar. Coconut sugar has a glycemic index of 35 as compared to refined sugar which has a value of 68.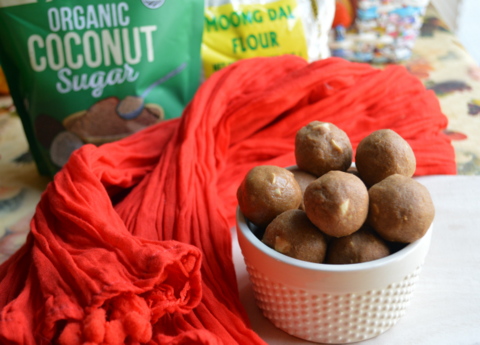 Coconut sugar is a whole food rich in zinc, iron and contains a prebiotic called inulin. It is not guilt-free though, it is still a sweetener and has to be consumed in small or moderate amounts. But in a festive season, some indulgence is good, right?
Quick and Easy Moong Dal Laddu (GF, low glycemic)
Servings: 16 balls
Time: 50 minutes
Difficulty: easy
 

Ingredients:

Moong flour- 3/4 cup

Powdered coconut sugar- 3/4 cup

Ghee (clarified butter)- 4-5 tbsp.

Cashew pieces- 2 tbsp.

Method:
Dry roast moong flour on low heat till it turns slightly brown and gives off a roasted aroma
While it cools, powder some coconut sugar in a blender
Use a small bowl with a ladle and melt the ghee, to be used soon.
Roast some cashew pieces in 1/2 tsp. ghee till they turn brown
Mix powdered sugar with the roasted flour, add in the cashew pieces. Add melted ghee slowly in portions.
Use hands to make balls. Add ghee as required in portions and use all the flour mixture to make balls.
Store in an airtight container for a few days.