3 March, 2017
Homemade Whipped Body Butter/ Lotion
Comments : 6 Posted in :
Ideas For Non-Toxic Living
on
by :
apsara
Tags:
body butter
,
body lotion
,
DIY body lotion
,
easy body lotion recipe
,
essential oils lotion
,
natural skin lotion
,
non-toxic living
,
shea butter
,
skin cream
Ok, I know I've taken a very long break from blogging. It was time to give it some love!
I have been making new things in the kitchen, but just have not taken the time to document them, take pictures and create a new post. 
Lots of fun-filled DIY projects. Yes, it is a great feeling when you make things yourself and know exactly what goes into them. Like this body lotion. I just had to document this here, it is so exciting!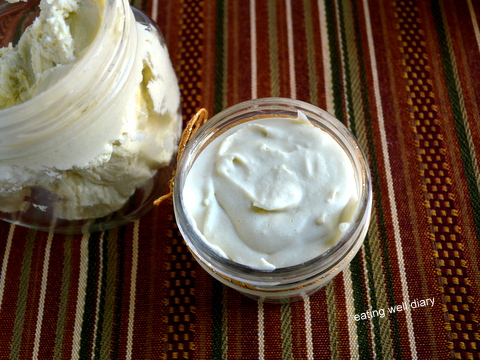 It is so cool to see the liquid mixture turn into a smooth and creamy lotion when it is whipped. A beautiful experience.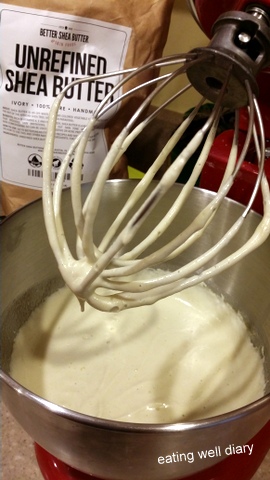 I mixed in some therapeutic essential oils that increases the "face" "skin" value of this lotion. 🙂 Both lavender and frankinscence are good for the skin and lavender also has a calming effect. Not to mention the lotion smells fantastic!
Whipped Body Butter/ Lotion
Servings: about six 4 oz jars
Time: 4 hours
Difficulty: medium
 

Ingredients:

Unrefined shea butter- 1 1/2 cup (I get mine here)

Cacao butter- 1/2 cup ( I get mine here)

coconut oil- 1 cup

organic extra virgin olive oil- 1 cup (I get mine here)

lavender essential oil- 20 drops (I get my essential oils here)

frankinscence essential oil- 10 drops

Method:

1. Grate or cut cacao butter into small pieces.

2. Melt shea butter, cacao butter using the double boiler method. I just dumped the butters in a small steel vessel and placed it in a hot water bath on the stove

 3. Measure out melted coconut oil and olive oil, pour them in the mixture

4. Once combined, take off heat and allow to cool to room temperature.

5. Add essential oils and transfer to a big bowl or use the bowl of a stand mixer

6. Store in the fridge till it begins to harden. Mine took about 2 hours

7. Whip the semi solid mixture on medium speed till fluffy

8. Carefully transfer with a ladle into desired glass jars and store for a long time.

 
Useful Tip:
I found this by experimentation: Even if the liquid does not solidify after refrigeration, mixing in a tsp. of melted shea butter will help with the process. This is similar to a technique used by chemists to speed up crystallization.
Sharing this at Fiesta Friday #161, at Angie's, where I have been missing the party for many weeks. So glad to be back there! A big thanks to Laura @ Fiest Wisely for co-hosting! Also sharing at Healthy Vegan Friday #141.
6s COMMENTS