16 March, 2016
Protein packed Edamame Salad with Almond, Hemp & Cilantro Dressing
Comments : 19 Posted in :
Appetizer
,
condiments
,
Diabetes Friendly Thursdays
on
by :
apsara
Tags:
coriander dressing
,
edamame
,
hemp dressing
,
hemp hearts
,
hemp pretein
,
organic edamame salad
,
protein vegan salad
Creating Recipes with a Cause! I am a proud DFT blogger. To learn about DFT, click here!
March is the month of start of Spring and cleansing of house and yards and discarding the old and welcoming the new. Let's begin the onset of spring with some healthy PROTEIN PACKED Salads!
Have you heard of edamame? It is just another name for soybean that is harvested early with the pod. At this stage they are tender and edible and contain a lot of protein, and many nutrients while being low in calories. They are one of the few sources of complete plant protein, and one cup contains 20-40 % of recommended daily intake of iron, magnesium, phosphorous, thiamine, folate and vitamin K. Truly a powerhouse of nutrition! Read more here.
What are hemp hearts? They are shelled seeds of the hemp plant, nature's most balanced source of proteins, essential fat and vitamins. Read more from this source. Their protein content is second only to soy.  For further information about hemp, read this interesting article from PBS.org. 
The dressing also contains soaked and peeled almonds, also a great source of good fat, protein, calcium and other minerals. Cilantro or coriander leaves add anti-oxidants, vitamins and fiber. I have paired edamame in the salad with some grated carrot for vibrant color, cucumber and spring onion for complementing flavor.
So, here you have the most protein packed plant-based salad recipe, that will just fill you up for hours and give a lot of energy. Give it a try!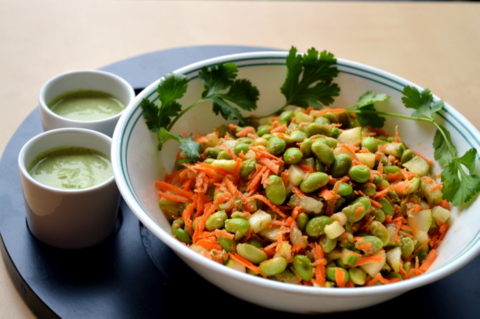 Edamame Salad with Hemp-Cilantro Dressing
Servings: 2-3
Time: 20 minutes
Difficulty: easy
Ingredients:

frozen shelled edamame- 10 oz or about 250 g (use organic, if possible)

carrot- 1 or 2 

cucumber- 1

spring onion- 2-4

Ingredients for dressing:

peeled almonds- about 15

hemp hearts- 2 tbsp. (omit if not available)

cilantro leaves- 1/3 cup (packed)

garlic powder- 1/4 tsp.

sea salt- to taste

ground black pepper- 1/4 tsp.

juice of 1/2 lime

rice vinegar- 1 tsp. (optional)

Method:

1. Thaw edamame from freezer and steam cook it or saute with 1 tsp. coconut oil, till it  gets cooked thoroughly. Season with salt.

2. Prepare dressing by blending together almonds, hemp hearts, cilantro leaves with required amount of water. When it is a ground to a smooth paste, add all the spices, salt and adjust according to taste.

3.  Wash carrots, cucumber and spring onions. Grate carrots and slice cucumber and onion into small bits.

4. Combine all the salad ingredients in a bowl, mix in a tablespoon of dressing in, and serve with extra dressing on the side.
Disclaimer
I am not a nutritionist or dietician. My knowledge and information is based on my research and reading from different resources. Please consult your doctor or dietician before making any changes to your diet.
Linking this up at Throw Back Thursday #30.
Also taking this power-packed salad to Fiesta Friday #111, at Angie's blog co-hosted by Naina of Spice in the City and Julianna of Foodie On Board. Thank you, ladies for a wonderful party!
Check out all the other DFT recipes from my friends:
1. Sonal: Kosumbari, Raw Vegan Mung Salad
2. Swati: Grilled Chicken, Spinach and Quinoa Salad
3. Shailja:  Asian Tofu Salad
4. Suchitra: Horse Gram Salad
5. Sarika: Nam Sod
6. Parvathy: Curried Turkey Apple Salad
19s COMMENTS