1 March, 2015
Bittergourd in spicy, tangy gravy (Pavakkai gojju)- Meatless Monday
Comments : 19 Posted in :
Main course
,
Meatless Mondays
,
side dish
on
by :
apsara
Tags:
bitter gourd
,
pavakkai gojju
,
pavakkai gothsu
,
sattvik curry
,
south-Indian gravy curry
Bitter gourd is one of those vegetables that I have a love-hate relationship with. I always disliked it in childhood, but as I learn to cook it in interesting ways, I've begun to love it. I have started cooking it more for its immense health benefit (lowering blood sugar) and the folates and phyto-nutrients it contains.
"Gojju" is a typical gravy dish from the state of Karnataka and I first got to taste this in my mother-in-law's place. This is an adapted "gojju" recipe; I cannot say it is the authentic version, but I love the combination of flavors in it- spicy, tangy and a hint of sweetness! Taking this to Meatless Mondays, the global movement to skip meat, one day of the week.
For those of you wondering what a bitter gourd is, this is what the green vegetable looks like, when cut lengthwise and de-seeded:
Check my other bitter gourd recipes:
Ingredients:
bitter gourd- 2 medium
tamarind- a piece about the size of a ping-pong ball
grated jaggery- 2 tsp.
turmeric powder- a pinch
for masala:
chana dal/split yellow lentil- 1 tbsp.
coriander seeds- 1 tbsp.
red chilly- 1 big
sesame seeds- 2 tsp.
cumin seeds- 2 tsp.
shredded coconut- 2 tbsp.
for tempering:
oil- 1 tbsp.
mustard seeds- 1/4 tsp.
asafoetida- a pinch
curry leaves
Method:
1. Dry roast ingredients for the masala (except for cumin, coconut), cool, and grind in a small spice grinder along with cumin and coconut.
2. Soak tamarind in warm water and extract its juice by crushing with fingers.
2. Wash, de-seed bitter gourds and chop into small pieces.
3. In a pan, heat oil. Add asafoetida and mustard seeds. When the seeds pop, add curry leaves and bitter gourd.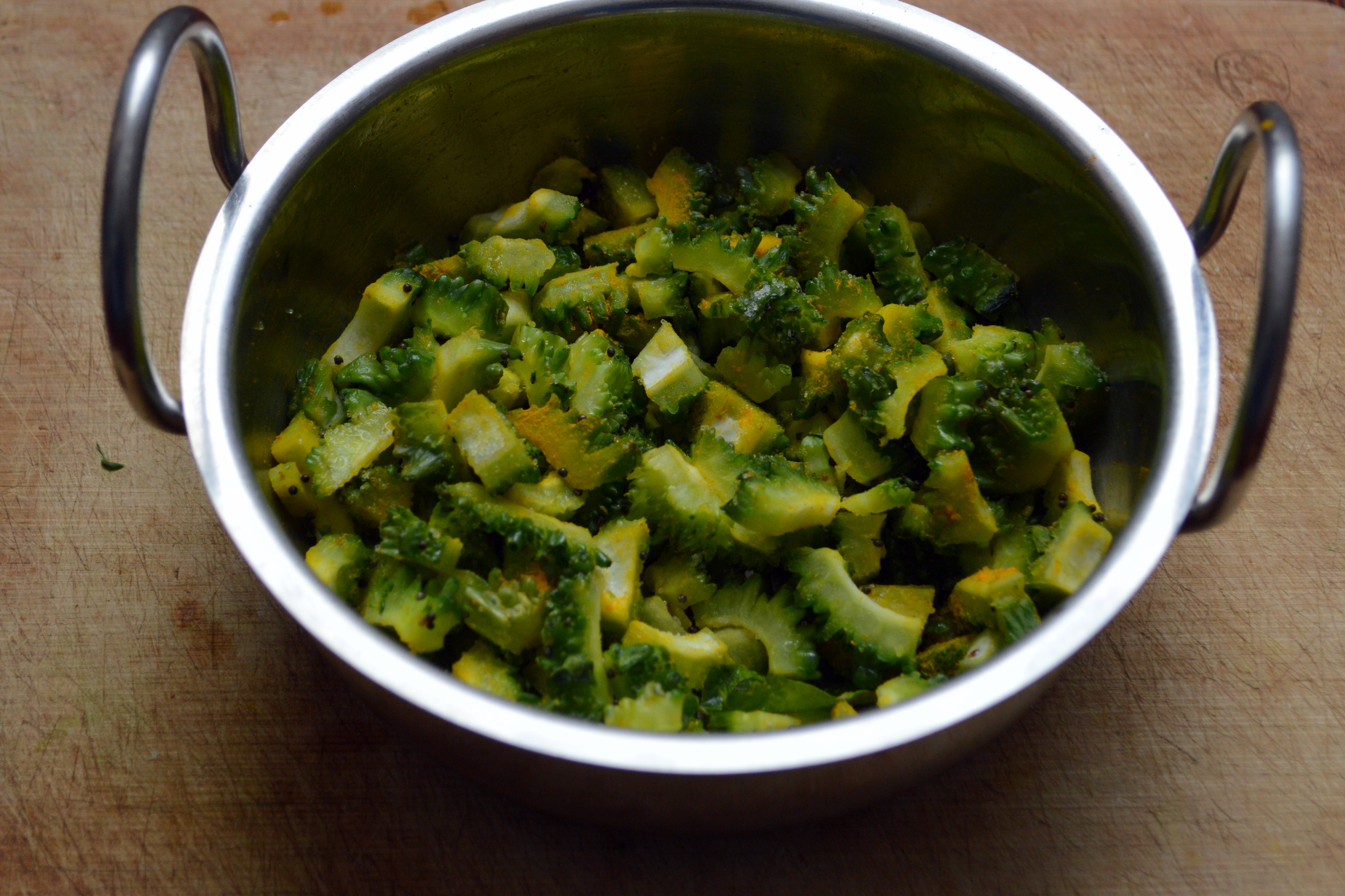 4. Add salt, turmeric powder and some water. Close with a lid and cook till the gourd is tender.
5. Add tamarind extract, ground masala, grated jaggery and let it come to a boil. Simmer for 10 more minutes till gravy thickens.
6. Serve warm with rice.
19s COMMENTS