22 December, 2019
Spicy Molasses Cookies For Santa (GF, vegan, no refined sugar)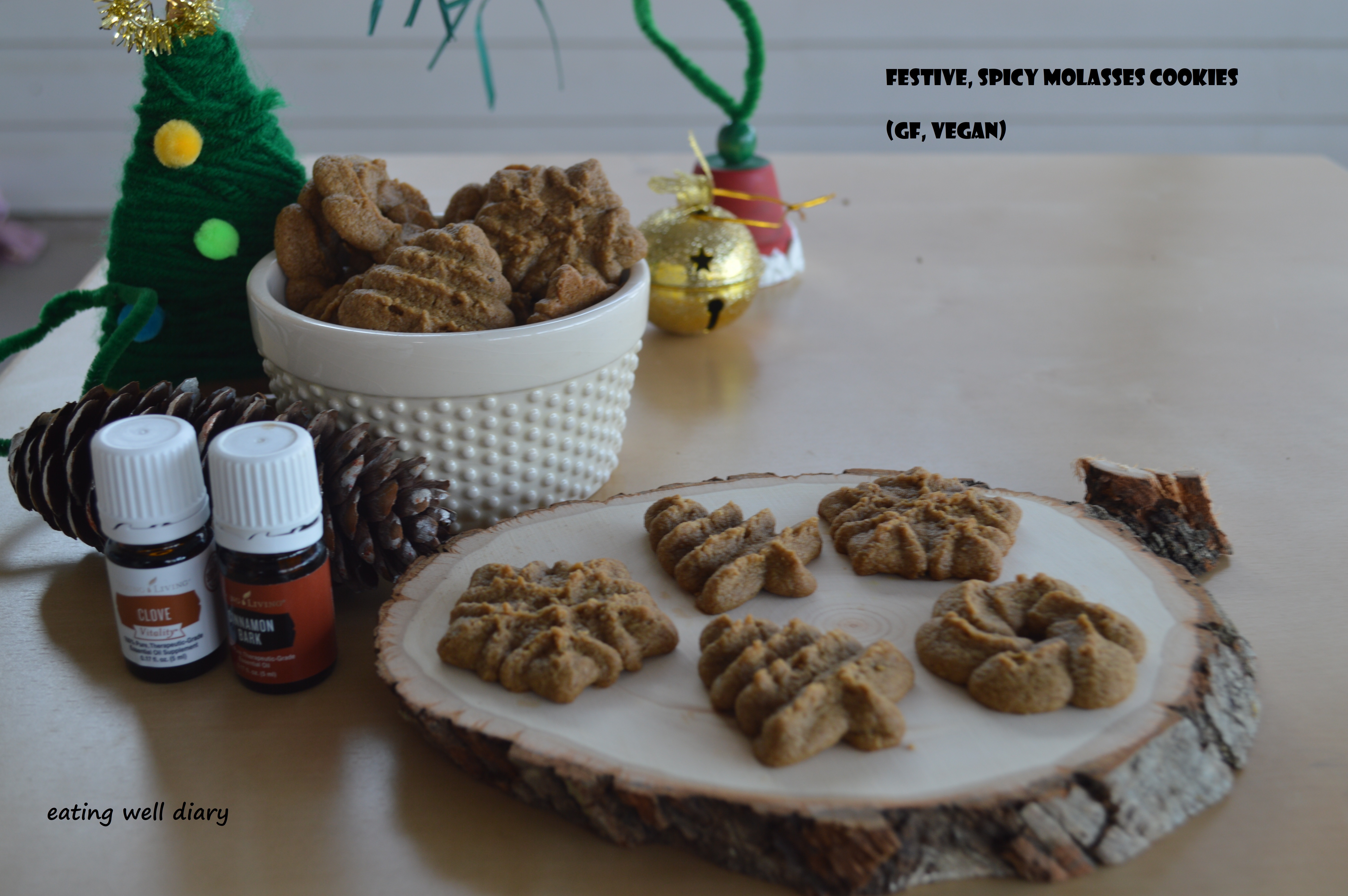 Posted in :
Uncategorized
on
by :
apsara
For Santa this year, we made some festive cookies with a cookie press. The kids enjoyed making fun shapes- Christmas trees, snowflakes and wreath shaped ones!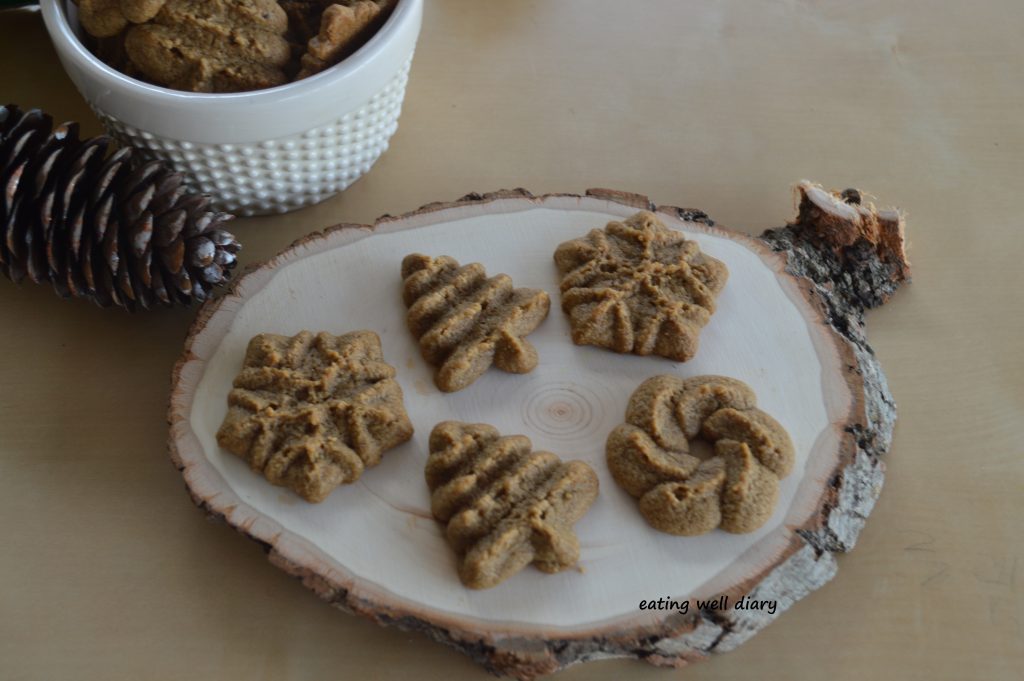 These spicy cookies will be enjoyable for any time of the year, especially in Fall and winter. The essential oils take it up a notch with the aroma and flavor! I would use only Young Living essential oils, since I trust the Seed to Seal purity that they offer. If not available, use extra powdered spices.
Involve kids and make this a fun activity using a cookie press! I highly recommend Oxo brand of cookie press. I have had it for over 4 years and they always make excellent shapes and are easy to use and clean.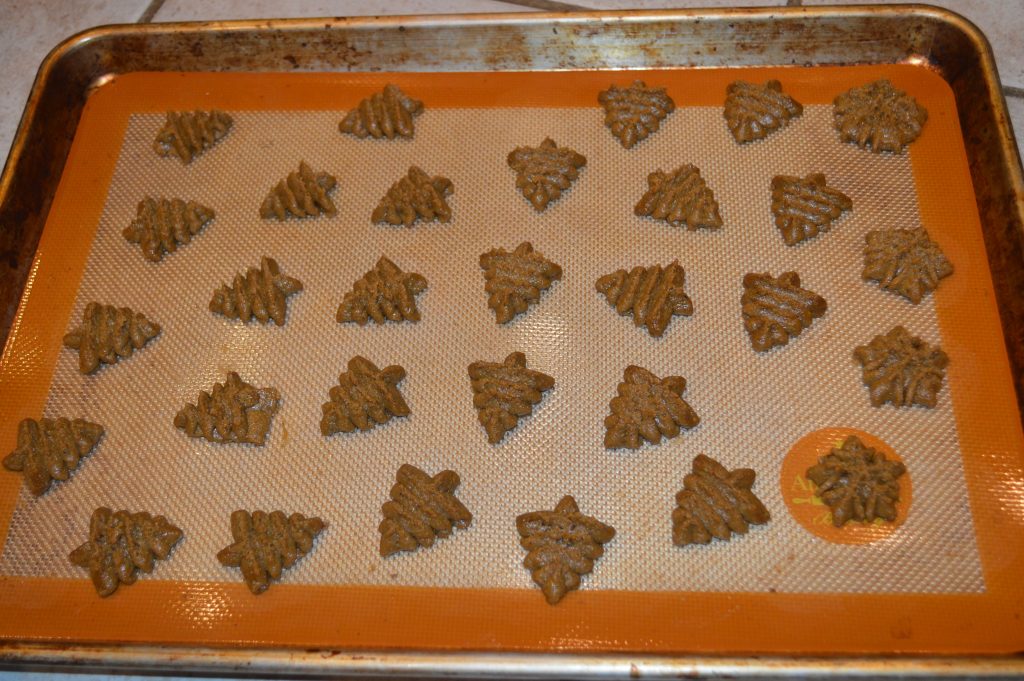 Festive Spicy Molasses Cookies (GF, vegan, no refined sugar)
Servings: 12 regular cookies or 35 small ones
Time: 30 minutes
Difficulty: easy
 

Ingredients:

Dry:

1/2 cup oat flour

1/4 cup almond flour

1 tsp baking soda

1/2 tsp ground ginger

1/2 tsp ground cloves

1/2 tsp cinnamon powder

pinch of sea salt

Wet:

1/2 cup cashew butter (can use any creamy nut butter)

5 tbsp maple syrup

1 tbsp molasses

1 tbsp melted coconut oil

1/2 tsp vanilla extract

2 drops cinnamon bark vitality oil (use Young Living oils or substitute with extra cinnamon powder)

2 drops clove vitality oil (use Young Living oil or substitute with more ground cloves)
Method:
Line a baking sheet with parchment paper. Preheat oven to 350 °F
In a large bowl, mix wet ingredients: cashew butter, molasses, maple syrup, vanilla, coconut oil, essential oils
In another bowl, mix the dry ingredients flours, salt, baking soda, ground spices
Add wet ingredients to dry mixing with a spatula till a sticky dough forms.
Optional: add the dough to a cookie press and make desired shapes on the baking sheet. Alternatively, drop dough in small amounts onto cookie sheet and flatten with a spoon
Bake for 7-8 minutes, and allow to cool completely before taking out of the tray. Cookies will firm up as they cool
Transfer to an air-tight jar for storage
Happy Holidays!