4 January, 2016
Zucchini Cardamom Cupcakes- Meatless Monday, Fiesta Friday #100 (GF, vegan)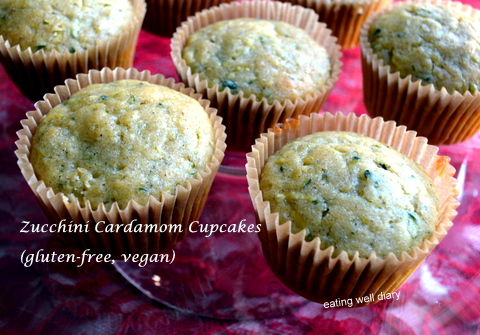 Comments : 11 Posted in :
Desserts
,
eggless cakes
,
Gluten free baking
,
Meatless Mondays
on
by :
apsara
Tags:
hiding veggies in cupcakes
,
zucchini in baked sweet
,
zucchini muffin
After a break of a couple of weeks, I am back here with a new recipe, wishing you all a very Happy New Year!!!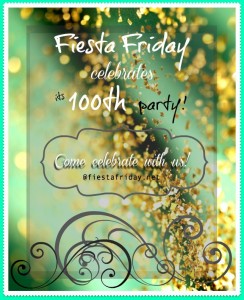 What better way to celebrate than some guilt-free, delicious cupcakes? With a green vegetable in it… wait a minute, did I say a VEGETABLE in a cupcake? Yes! Absolutely, and you wouldn't guess it except for some green specks in the yummy dessert. I was thrilled that this recipe worked out, that too with store-bought flour blend.
 Here is the recipe with less than 10 ingredients (not counting salt). Try it out when you can still find fresh zucchini in the market!
 

Zucchini Cardamom cupcakes

Servings: 12
Time: 50 minutes
Difficulty: easy

Ingredients:

GF all-purpose flour- 1 1/2 cup (I used Bob's Red Mill)
Baking powder- 1 1/2 tsp.
Baking soda- 1/2 tsp.
salt- 1/2 tsp.
raw sugar- 1/2 cup
cardamom powder- 1 tsp.
grated zucchini- 1 cup

wet:
unsweetened applesauce- 3 tbsp.
grapeseed oil (or) any neutral oil – 1/3 cup
(non-dairy) milk- 1/3 cup + 2 tbsp.

Preheat oven to 350 °F.
Grate a zucchini fine and keep aside.
In a mixing bowl, add all wet ingredients and mix.
In another bowl, combine dry ingredients and slowly add to the wet mixture while mixing.
Fold in grated zucchini and spoon into a muffin pan lined with parchment paper.
Bake for 27-30 minutes.
Cool completely before enjoing these goodies and store in the fridge.
11s COMMENTS