16 December, 2015
Easy Savory or Masala Granola For Diabetes Friendly Thursdays
Comments : 7 Posted in :
Appetizer
,
Diabetes Friendly Thursdays
,
Gluten free baking
,
snack
on
by :
apsara
Tags:
diabetes granola
,
healthy snack
,
Indian spice granola
,
savory granola
Creating Recipes with a Cause! I am a proud DFT blogger. To learn about DFT, click here! 
Celebrate this Holiday Season with Team DFT with some figure fitting, weight watchers and Diabetes Friendly Recipes!
Who says granola has to be super sweet or even sweet? And who says you have to eat it only for breakfast!
Here is a SAVORY (mildly spicy) version of the regular oats snack. A very easy-to-make snack and TOTALLY ADDICTIVE! I mean it! Whenever I make this, it does not last more than a day!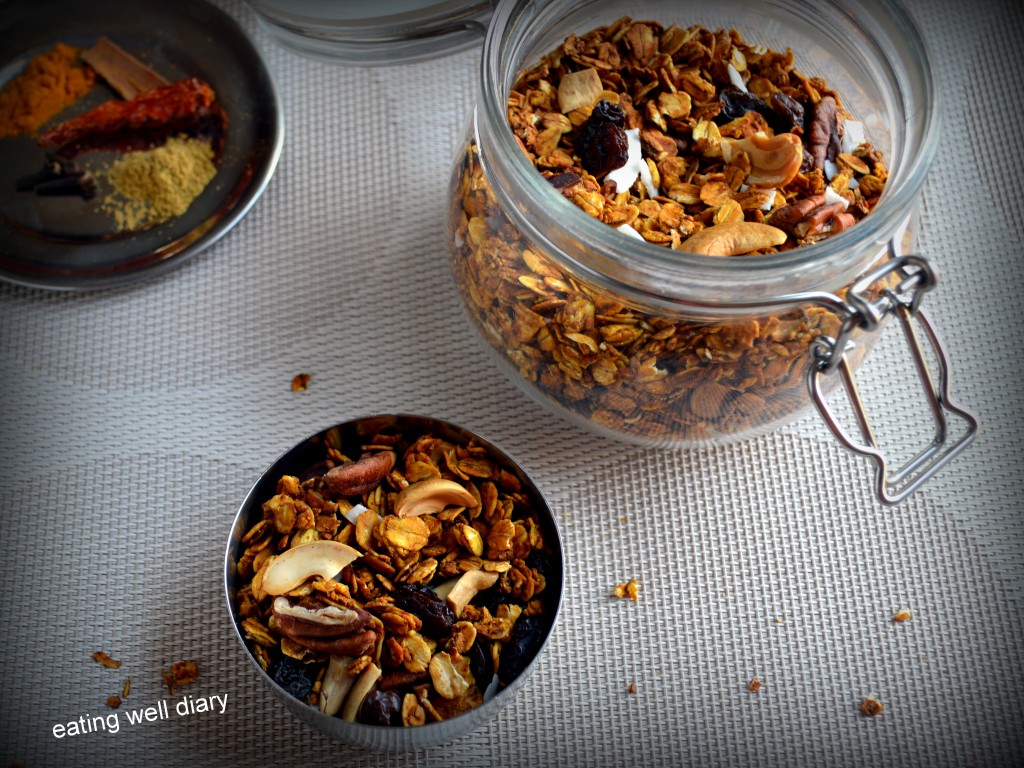 It is a well-known fact that whole grains are low in Glycemic Index since they digest slower than refined grains. This is a perfect snack for diabetics as well as others. It is loaded with good fat from nuts and has mild spices to enhance flavor.
Like it says on a bag of granola, just eat it out of the jar! 
Baked Savory Granola
Servings: 5
Time: 30 minutes
Difficulty: easy
Ingredients:
Whole grain rolled oats- 1 1/2 cup (Use certified gluten-free oats to make this a GF snack)
unsweetened applesauce- 3 tbsp.
melted coconut oil-  2 tsp.
raisins- a handful
cashew halves- 1/3 cup
pecan halves- 1/4 cup
unsweetened coconut flakes- 1 tbsp.
sea salt- 1/4 tsp.
spices:
turmeric powder- a generous pinch
cinnamon powder- a pinch
coriander powder- 1/4 tsp.
paprika or red chilly powder- a pinch
ground cloves- a pinch
(or) just use 1/4 tsp. of your favorite Kadhai Masala or Garam Masala mix!
Method:
1. Pre-heat oven to 350 °F. Line an aluminum baking sheet with parchment paper.
2. In a bowl, take applesauce, and add oil, all the spices and salt to it. Mix well.
3. Add rolled oats, mix to coat. Also add all the nuts at this time.
4. Spread evenly on the baking sheet and bake for 15 minutes.
5. Remove tray from oven and shake around the mixture to ensure even baking.
6. Return to oven and bake for 10-15 minutes more. Keep watch so as not to burn it!
7. Add raisins, coconut flakes. Cool and store in airtight containers. Serving size: 1/2 cup
Check out other DFT recipes from my friends:
Shailja: Black bean Meatless Meatballs
Sarika: Murgh Malai Tikka
Sonal: Spicy Rajma Chaat in Tomato Baskets
Suchitra: Quinoa Sweet Potato Mini Cutlets
Swati: Kala Chana and Palak Kababs
7s COMMENTS