19 November, 2015
Sugar-free Cranberry Relish- A Thanksgiving Recipe
Comments : 14 Posted in :
chutneys
,
condiments
,
Diabetes Friendly Thursdays
on
by :
apsara
Tags:
diabetes cranberries recipe
,
fall cranberry recipe
,
healthy cranberry relish
,
healthy side dish
,
Thanksgiving cranberry relish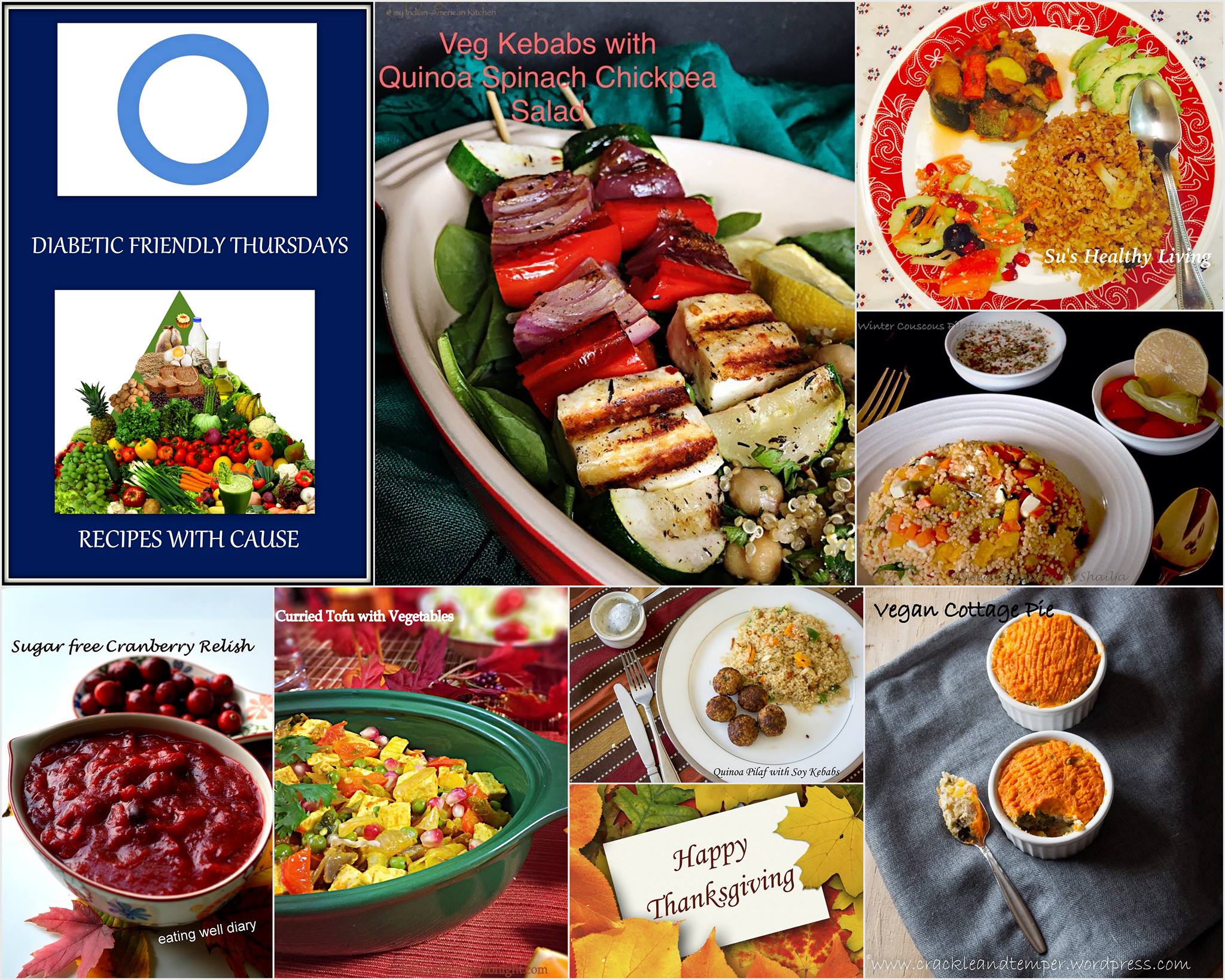 Creating Recipes with a Cause! I am a proud DFT blogger. To learn about DFT, click here!
It is Thanksgiving time! There are traditional Thanksgiving recipes everywhere.
What appeals to me the most is the cranberry relish that is served usually with the turkey. A sweet, tangy side dish but loaded with sugar. Here's a satisfactory cranberry relish that has zero sugar. Mix of sweet and tangy taste, bursting with antioxidants and vitamin C, it can serve as a dip or side to any vegetables.
Cranberries have shown some promise in regulating blood sugar in diabetes as highlighted in this article from Nutrition News.
Do you know that cranberries are the one of the best sources of pro-anthocyanins or compounds that have the potential to prevent urinary tract infections? Just one more nutritional benefit of taking fresh cranberries when they are in season! Be sure to buy organic when possible, since all conventional berries are loaded with pesticides.
Linking up to Plant Based Party Link Up #70 at Urban Naturale.
Sugar-free Cranberry Relish with Grilled Peppers and Onions
Servings: 8-10
Time: 30 minutes
Difficulty: easy
Ingredients:
fresh organic cranberries- 8 oz. or  g.
juice of 2 medium oranges
dates- 6 (I used Medjool dates)
orange zest- a pinch
warm water- 3 tbsp.
cardamom powder- a pinch
sea salt- a pinch
honey or maple syrup- 1 tbsp. (optional)
Method
1. Wash cranberries, keep aside.
2. Soak dates in orange juice or, if using other dates, soak in a small amount of warm water to soften.
3.Use a spice grinder or small blender to make a paste of the dates.
4. In a saucepan, heat cranberries on low heat till they pop. Add the remaining ingredients to it and stir over low heat till desired consistency is achieved.
5. Taste and stir in the honey/ maple syrup, if necessary.
6. Store in a fridge for 3 days. If most of the moisture is removed by heat, it can be stored longer.
Side Of Grilled Bell Peppers and Onions:
Sweet peppers- 6
Medium Onion- 1
refined coconut oil- 1 tsp.
Marinade:
Rice vinegar- 1 tbsp.
Crushed black pepper- 1/4 tsp.
Sea salt-to taste
Method:
1. Cut peppers and onions lengthwise and soak in marinade for 1-2 hours.
2. Lightly saute in a pan with 1 tsp. oil.
3. Use a convenient grilling method to get nice grill marks on the vegetables. I used a small panini press.
4. Serve with cranberry relish!
Disclaimer:
I am not a nutritionist or dietitian. My knowledge and information is based on my research and reading from different resources. Please consult your doctor or dietician before making any changes to your diet.
Check these other DFT posts from my friends:
Sonal: Veg Kebabs with Quinoa Spinach Chickpea Salad
Shailja: Veg Couscous Pilaf
Parvathy: Vegan Cottage Pie
Swati: Curried Tofu with vegetables
Sarika: Quinoa Pilaf with Tofu
Suchitra: Ratatouille Roasted Cauliflower Quinoa
14s COMMENTS