26 April, 2015
Made With Love- A Princess Birthday Cake (whole wheat, egg-free, natural colors)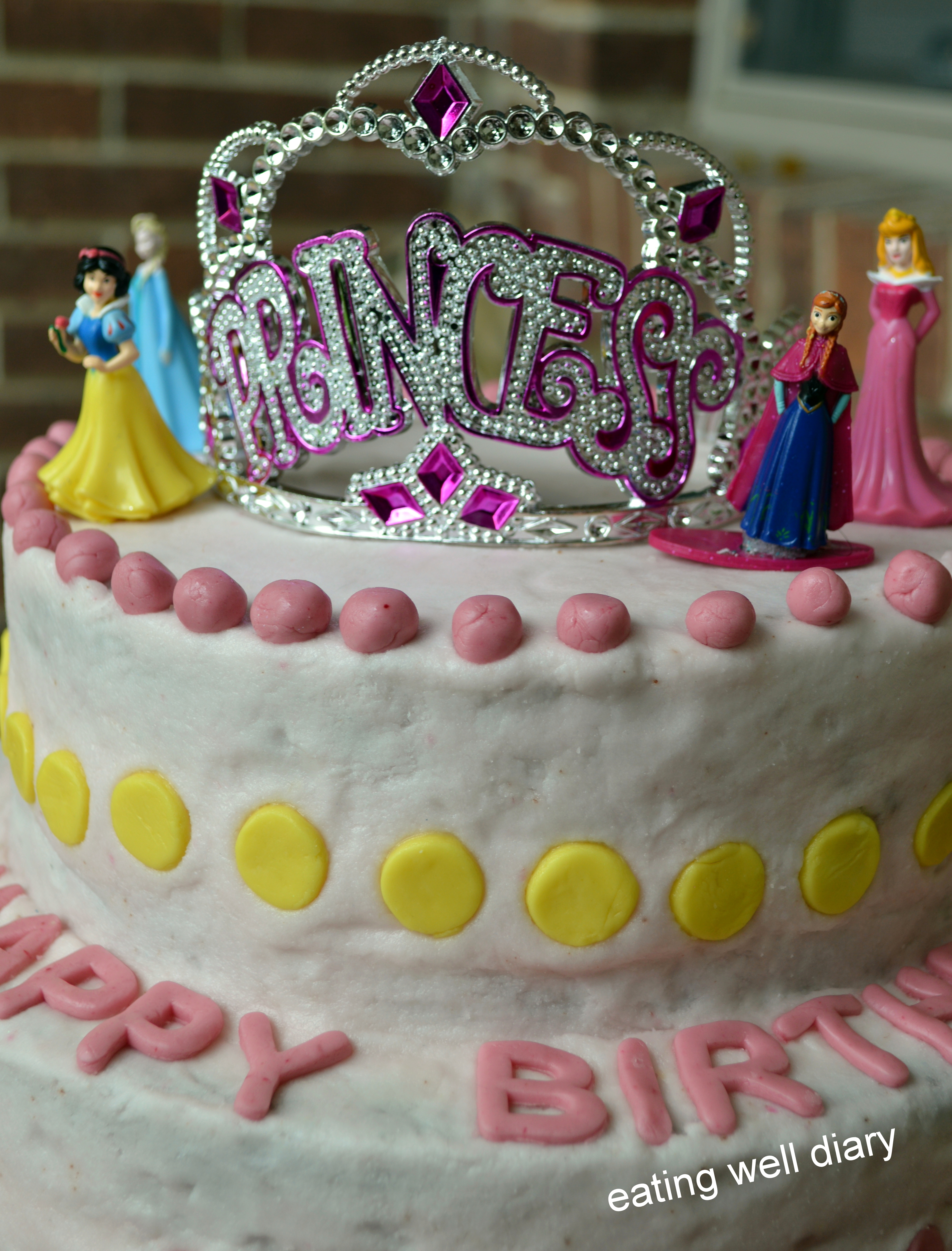 Comments : 16 Posted in :
eggless cakes
on
by :
apsara
Tags:
2-tier cake birthday
,
natural colors fondant
,
natural icing color cake
,
Princess Birthday cake
Don't get me wrong, all decorated cakes that I have done are made with love. But when a dear friend asks me to make a birthday cake for a sweet 4-year-old (the second time around), I really want to make it special.
They have no special conditions for the cake, just a chocolate flavor with strawberry filling. But it is just me- I want to avoid using artificial colors and flavors as much as possible, trying to see how much I can push it. Yes, this cake with pastel pink icing and pink fondant is colored just with beetroot juice concentrate!  The yellow color in the fondant is from natural icing color from India Tree (refer to my post sunflower cupcakes).
I am not expert enough to make edible figurines, so they are dolls bought from the store and used as props, including the real Princess crown. But it does justice to the theme, right, in a simple way? I had so much fun making this and seeing the joy on the kids' faces!
Taking this to Fiesta Friday #65 at Angie's blog, co-hosted by Jhuls and Effie.
Princess birthday cake
Time: 7-8 hours
Difficulty: medium
Ingredients:
Cake (makes one 8″ layer)
organic whole wheat pastry flour- 1 1/4 cup
light brown sugar- 1 cup
butter- 4 oz.
organic fat free milk- 1 cup
vinegar- 1/2 tbsp.
unsweetened cocoa powder- 3/8 cup
baking soda- 3/4 tsp.
baking powder- 1/2 tsp.
salt- 1/4 tsp.
organic vanilla extract- 1 tsp.
Filling:
strawberry spreadable fruit (contains no added sugar)
Method:
1. Mix all wet cake ingredients along with melted butter. Preheat oven to 350 °F.
2. Combine dry ingredients and add to wet mixture.
3. Pour into an 8″ pan lined with parchment paper. Bake for 40 minutes or till knife inserted in the middle comes clean.
4. Bake two layers of 10″ and 8″ cakes. Once the cakes cool, invert, take parchment paper off, and arrange with strawberry filling between layers (use separator plate), and decorate.
Icing:
Spectrum organic vegetable shortening- 1 1/2 cup
powdered sugar- 7 cup
water- approx. 10 tbsp.
beet juice concentrate- as needed
For Homemade Fondant Recipe refer to this post.
16s COMMENTS