18 December, 2014
Super-moist Chocolate Bundt cake (egg-free, butter-free, whole-wheat)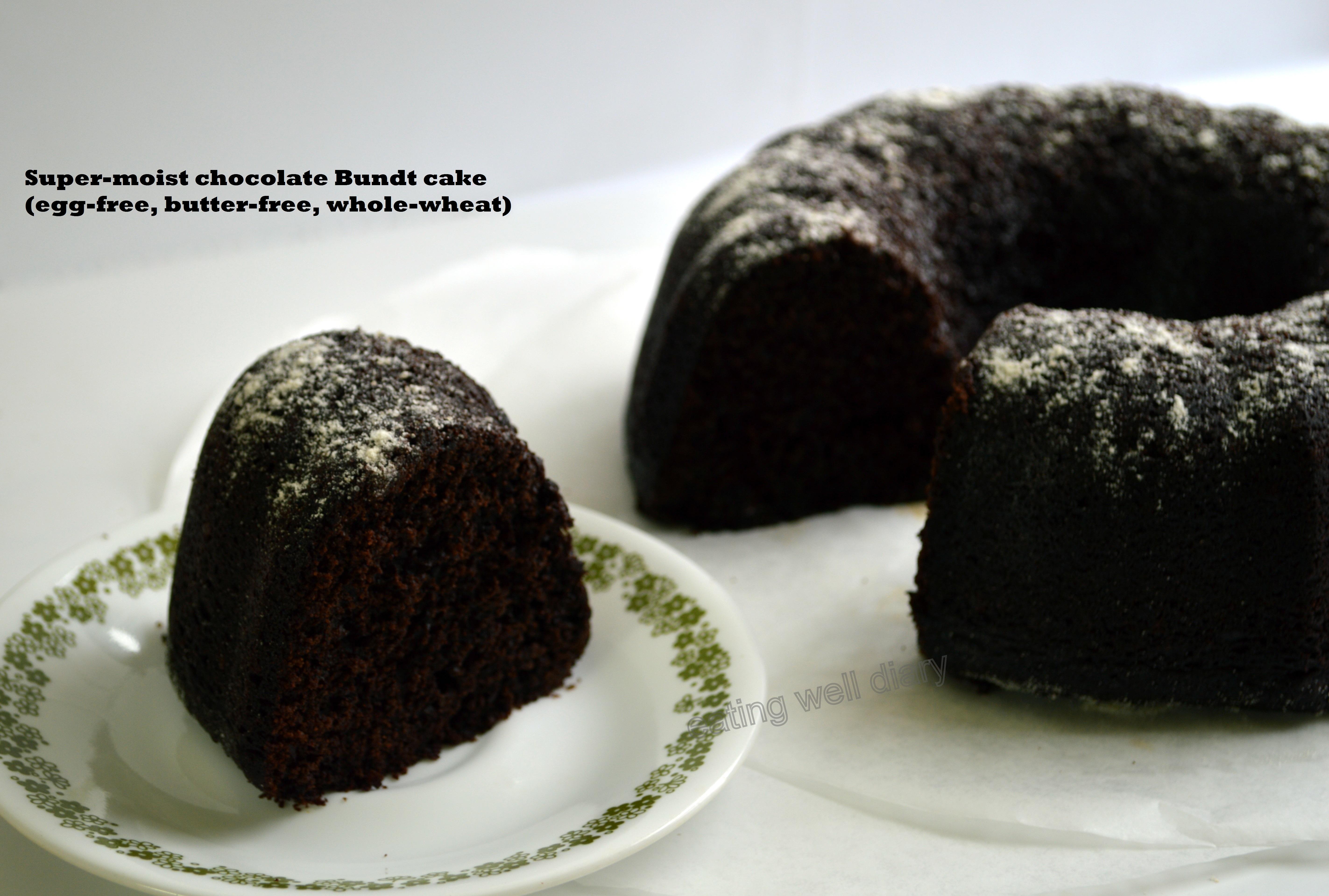 Comments : 42 Posted in :
Desserts
,
eggless cakes
on
by :
apsara
Tags:
maple syrup cake
,
no-butter chocolate cake
,
sugar-free chocolate cake
,
vegan chiffon chocolate cake
With Christmas  around the corner, the atmosphere is so festive that the urge to bake a cake is just irresistible! This is another version of chocolate cake that I have been making over the past six years- one with maple syrup that makes it so moist that it is hard to believe it is egg-free!
The Baking Partners group (managed by Swathi) has an assignment of making a chocolate chiffon cake this month.
In my searches, I found that an egg-free version of such cakes that depend on many eggs in the recipe is not easy to make. This post reveals more about chiffon cakes, and the fact that oil is used instead of butter for an airy texture. So here's a version of an airy and moist chocolate "chiffon" cake, dressed in powdered sugar (originally adapted from The Post Punk Kitchen, back in 2008).
Bringing this to the party at Angie's Fiesta Friday #47. Thank you, Indu and Jhuls for co-hosting the party!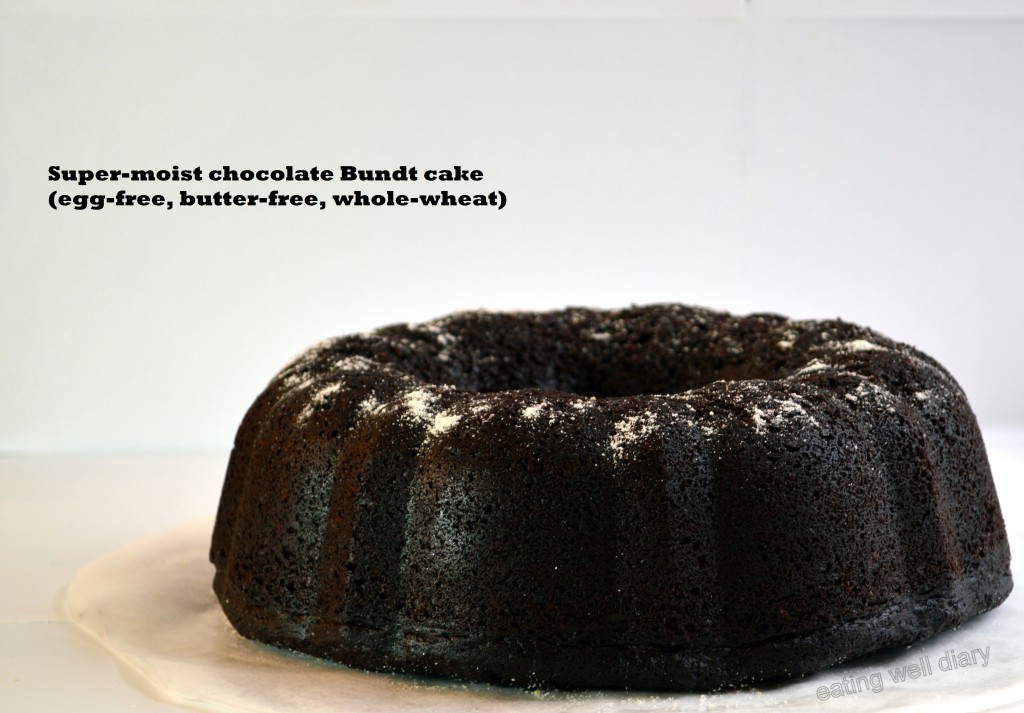 Also submitting to Virtual Vegan Potluck 25 at Annie's blog.
Super-moist chocolate Bundt cake
Time: 1 hour 10 minutes
Difficulty: medium
Ingredients:

dry:

whole wheat pastry flour- 2  1/2 cup (310 g.) (see Notes for alternative)

baking soda- 2 tsp.

baking powder- 2 tsp.

salt- 1 tsp.

cocoa powder- 1  1/4 cup (100 g.)

wet:

milk of choice- 1  1/2 cup (I have used almond milk or 2% milk, both work well)

maple syrup- 2  1/4 cup (see Notes, below for alternative sweeteners)

avocado oil or any neutral oil- 3/4 cup

apple cider vinegar- 1  1/2 tsp.

vanilla essence- 2-3 tsp.

topping:

powdered raw sugar

Method:

1. Preheat oven to 350 °F. Grease a 10″ Bundt pan generously with oil/spray.

2. Warm the milk for a minute in the microwave (or on stove top) and dissolve the cocoa powder in it. Add the other wet ingredients and whisk.

2. Combine dry ingredients separately. Add in batches to the wet while whisking at low speed.

3. Pour into pan and bake for 50-55 minutes or till a toothpick inserted in the middle comes clean.

4. Cool completely before inverting onto a plate. Sprinkle powdered sugar on top.

Notes:

* If pastry flour is not available, atta or regular wheat flour can be used.

* Other liquid sweeteners like date syrup could be used if maple syrup is not available, but the amount of liquid has to be adjusted according to the thickness of syrup.
42s COMMENTS