13 May, 2014
Herb-loaded pizza with homemade sauce (whole wheat)- Fiesta Friday Challenge 1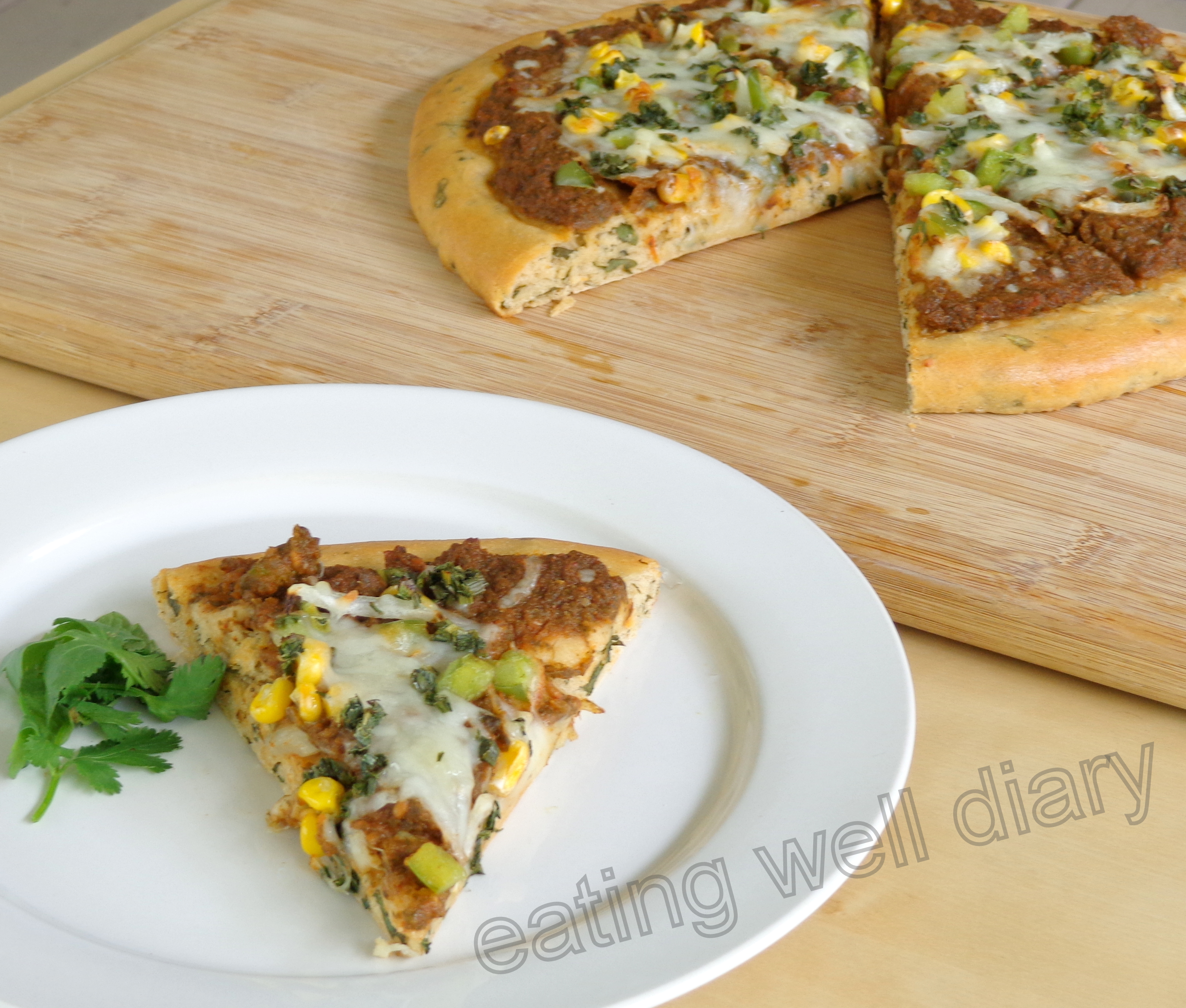 Comments : 48 Posted in :
Main course
,
snack
on
by :
apsara
Tags:
coriander pizza sauce
,
herb pizza
,
homemade pizza sauce
,
mint pizza dough
,
pizza indian style
,
whole wheat pizza
Nothing is more rewarding for a mom when her kids eat her homemade pizza and ask for more. Even if it is 100% whole wheat and not loaded with cheese. If we can eat whole wheat roti, whole-wheat pizza should be nice to eat too, right? Made from the same wheat flour, dressed with herbs and cheese.
I entered my name for Fiesta Fridays Challenge 1 (hosted by the lovely Angie) with some trepidation, because it involves cooking with yeast and herbs in the same dish. I haven't tried too many recipes with active yeast, although I have had some luck with pizza in the past. So this was my chance to befriend the little microbe, starting with the pizza, Indian style!
Collecting herbs: I got freeze-dried chives which are readily revived  by the addition of water. Isn't that cool?  I have used mint in the dough, chives and coriander in the sauce.
Feeding the yeast with honey in lukewarm water- foams up, showing yeast is active.
A word on the wheat flour: I have tried Gold Medal whole wheat flour, and when I used it in this recipe, I found that it had an after taste. I recommend using whole wheat flour (atta) from the Indian store which is lighter in color and does not have that after taste. Since this pizza is made entirely of whole wheat, this is important.
I used a stand mixer to knead the dough., next placed in a bowl:
It doubles in size in an hour.
Preparing the sauce- puree of blanched tomatoes and coriander leaves.
Reduce to sauce consistency, add salt, chilly powder and garam masala. This is enough for one 10″ pizza.
Mix in mint with the risen dough, divide into 2 balls. Roll out into a 10″ circle.
Spread sauce on top, load with favorite toppings and shredded cheese. Bake at 450 °F for 15 minutes, and it's ready!
herb-loaded pizza with homemade sauce
Servings: 6-8
Time: 2 hour
Difficulty: easy
Ingredients:
for pizza dough: makes 2 10″ circles
whole wheat – 141 g; 3 cups (atta from Indian market)
active dry yeast- 7 g. or 1/4 oz. (1 packet- I used Red Star brand)
lukewarm water- 1 1/3 cup
honey- 1 tbsp.
salt- 1 1/2 tsp.
olive oil- 2 tbsp. + 1/2 tsp.
chopped fresh mint leaves- 1/2 cup
for sauce:
Roma tomatoes- 3 medium
coriander leaves- 1 cup
salt- to taste
red chilly powder- 1/4 tsp.
garam masala- a pinch
 toppings:
bell pepper, onions, chives, corn, shredded mozzarella cheese- handful of each
Method:
1. Dissolve honey in lukewarm water and empty the packet of yeast into it. Let it stand for 10 minutes.
2. Wash and chop mint leaves. Wash coriander leaves.
3. Combine 3 cups of flour, oil and salt in a bowl/stand mixer and add the yeast mixture into it. Knead for 3-4 minutes to form a smooth dough. It should spring back when pressed. Transfer to an oiled bowl, cover with wet towel and leave in an oven (150-160 °F) with light turned on. It should more than double in size in an hour.
4. While the dough is rising, prepare sauce: Chop tomatoes into two, heat in a little water till you can peel away the skin. Puree with coriander leaves in a blender. Return it to the pan and heat on medium while stirring, to remove most of the water.
5. Prepare toppings- chop bell pepper, onions into desired size. Sprinkle water on freeze-dried chives to revive them.
6. After dough has risen, punch it down, transfer to a floured area of counter top. Add mint leaves and knead with hand till fully incorporated. Divide into 2 portions.
7. Preheat oven to 450 °F.
8. Roll out one ball with a roller into a circle. Transfer to pizza pan and spread sauce, add toppings, cheese.
9. Bake for 15 minutes.
10. After taking out of the oven, lightly brush the edge of the pizza with olive oil.
48s COMMENTS