18 November, 2014
Pumpkin Whoopie pies (whole wheat, egg-free) Fall Recipe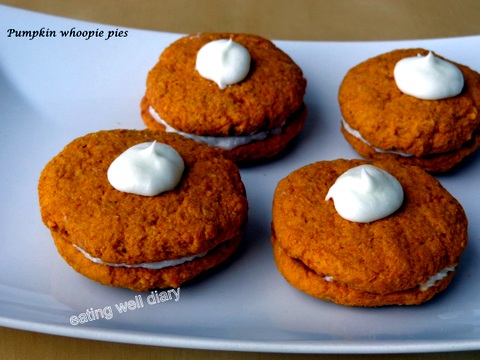 Comments : 18 Posted in :
Desserts
,
eggless cakes
on
by :
apsara
Tags:
healthy snack
,
pumpkin dessert
,
Thanksgiving dessert
,
whole wheat pumpkin pie
,
whoopie pies
Have you heard of Whoopie Pies? They are a sandwich of 2 "cookies" with cream filing. The cookies are soft and have more of a pie or cake consistency. A very American dessert, originally from Pennsylvania/ New England. According to historians, Amish women packed these in the farmer's lunches and they would shout "whoopie!" when they found them. (source- wikipedia)
I recently joined the Baking Partners group managed by Swathi of Zesty South Indian Kitchen. Every month, a new baking assignment is announced and this month, Anitha of Anitha's Kitchen Diary chose the Pumpkin Whoopie pie. Thank you, Anitha and Swathi, this is just the right treat for Thanksgiving/Fall season!
Here's my version of it. I've omitted the egg, used whole wheat pastry flour, and substituted the butter with vegan butter and coconut oil.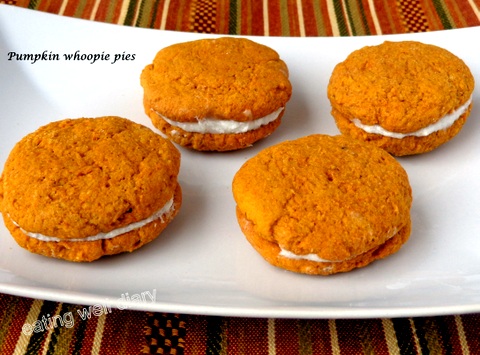 Inspired by Joy of Baking
Pumpkin Whoopie Pies
Servings: 7 filled pies
Time: 40 minutes
Difficulty: easy
Ingredients:
whole wheat pastry flour- 3/4 cup + 1 tbsp. (or) 120 g
raw sugar- 1/2 cup (or) 54 g
Earth Balance or any vegan butter- 3 tbsp.
coconut oil- 1 tbsp.
pumpkin puree- 1/2 cup
baking soda- 1/4 tsp.
baking powder- 1/4 tsp.
salt- 1/4 tsp.
vanilla extract- 1/4 tsp.
spices:
cinnamon- a small piece, cloves- 2, ground ginger- a pinch
for filling:
Spectrum organic shortening- 1 tbsp.
powdered sugar- 5-6 tbsp.
water- 2 tsp.
Method:
1. Preheat oven to 350 °F. Combine flour, baking soda, baking powder and salt in a bowl.
2. Crush spices with a mortar and pestle and add to it.
3. Beat melted vegan butter, coconut oil and sugar in another bowl. Add pumpkin puree and beat one more time.
4. Add the dry mixture to this and mix batter with hand.
5. Place parchment paper on a baking sheet and drop batter with a tablespoon onto it. Flatten them roughly with hands and allow some room for expansion.
6. Bake for 20-22 minutes or until the top springs back when pressed lightly. Cool on wire rack.
7. Prepare filling by beating shortening, powdered sugar and water. Once the pies have cooled completely, place filling on one and top with the other.
Notes:
1. If whole wheat pasty flour is not available, 50% whole wheat flour and 50% all-purpose flour can be used.
2. I have used an aluminum baking tray with parchment paper. If a non-stick tray is used, baking time will be considerably less.
18s COMMENTS