13 May, 2015
Marinated and Spiced Tofu Kebabs for Diabetic Friendly Thursdays (gluten-free, vegan)
Comments : 21 Posted in :
Appetizer
,
Diabetes Friendly Thursdays
,
snack
on
by :
apsara
Tags:
baked tofu snack
,
diabetes baked tofu snack
,
diabetes kabab
,
Indian spiced tofu snack
,
tofu kebab Indian spices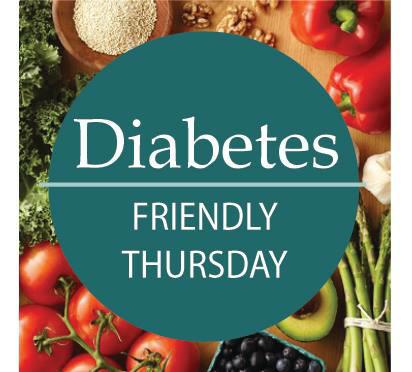 Creating Recipes with a Cause! I am a proud DFT blogger. To learn about DFT, read this link. To view more DFT recipes, Click here!
DFT brings to you "Kebabs and Tikki Factory" this time. I am contributing to the cause with Spiced Tofu Kebabs!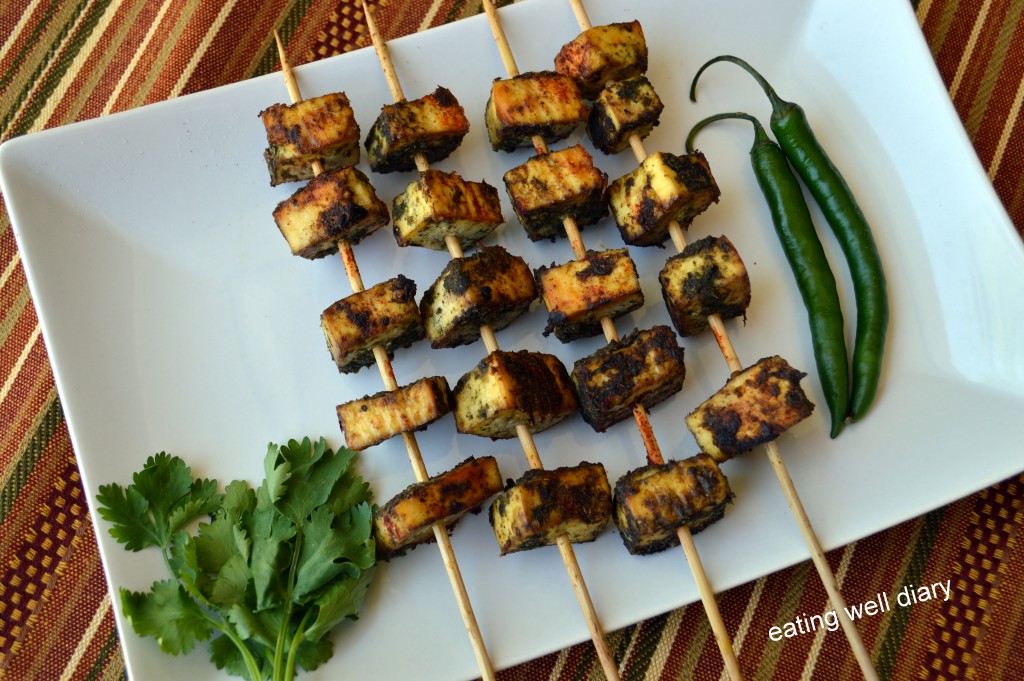 A quick and fancy treat for the kids in the evening. Yes, this turned out to be a hit with my kids today, so much so that I got to taste only one! I'm sure to be making more in the future.
Just a little planning that goes in for the marinade and this can be made easily, no fuss!  It is baked, so you don't have to stand in front of the stove and fry them in a  pan. And who doesn't like it when you present them on bamboo skewers with a little chutney on the side? Yum!
This is a very diabetic-friendly recipe. Tofu, in general, is a great source of protein, B vitamins and is a low-sodium food, and hence an excellent replacement for meat. Read more here.  Coriander herb is an excellent flavor for this protein, provides nutrients and has anti-inflammatory and blood-purifying properties.
Marinated and Spiced Tofu Kebabs (gluten-free, vegan)
Servings: 4
Time: marinating time + 45 minutes
Difficulty: easy
Ingredients:
Organic Extra Firm Tofu- 200 g or7 oz.
paprika- 1/2 tsp. for garnish (can use red chilly powder)
organic canola oil spray
for marinade:
Coriander leaves- 1 cup
green chillies- 1 (small)
tomato- 1 (small)
black kokum- a small lime sized piece (can substitute with tamarind)
salt- to taste
cumin powder- 1/2 tsp.
Method:
1. Drain water from the tofu and place it on a thick layering of cloth (or paper towels). Add more cloth on the top and place some weight on it to press out all the water.
2. When it is relatively free of excess water, carefully chop into little bite-sized pieces.
3. Prepare the marinade: Grind the washed leaves, chopped tomato, kokum and green chilly together into a paste. Season with cumin powder and salt.
4. Coat each bit of tofu with the marinade and place in a glass dish. Close it and leave in the fridge overnight. If they are needed the same day, allow 3 hours for marination outside the fridge. Save excess marinade for serving as a dip.
5. An hour before baking, place the tofu outside to let it warm up. Preheat oven to 400 °F. If using bamboo skewers, place them in a bowl if water to wet them completely. This is necessary to avoid burning them in the oven!
6. Push the tofu into the skewers and place them on parchment-lined baking paper on an aluminum tray. Sprinkle with paprika and spray lightly with canola oil.
7. Bake for 35 minutes. Rotate the tray once halfway.
8. Serve with the extra marinade as chutney!
Disclaimer: I am not a nutritionist or dietitian. My knowledge and information is based on my research and reading from different resources. Please consult your doctor or dietitian before making any changes to your diet.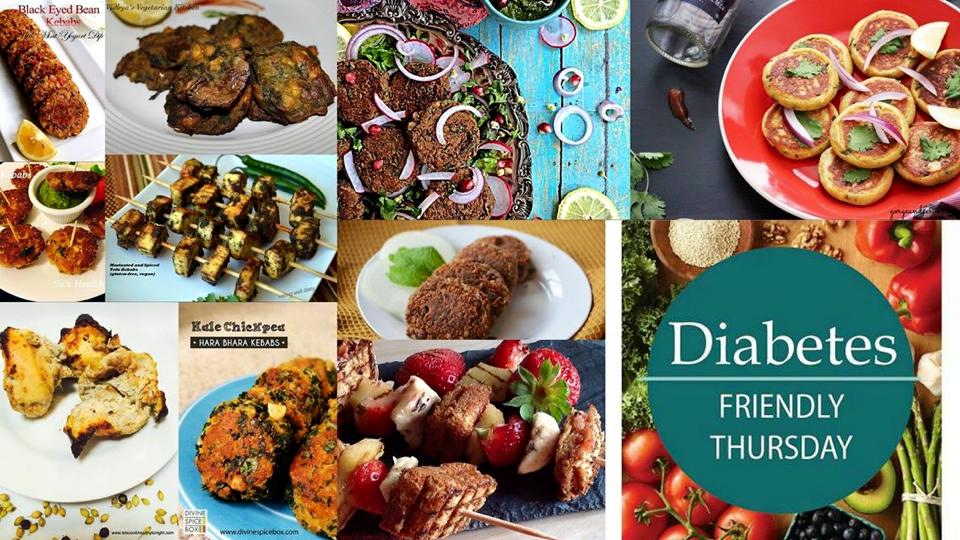 Check the other DFT posts from my friends:
Chahat: Quick Dahi Kk Kebab
Anupama: Black Eyed Bean Kebabs with Mint Yogurt
Shailaja: Grilled Peanut Butter Jelly Kababs
Prachi: Kale Chickpeas Hara Bhara Kebab
Sonal: Kamal Kakdi and Masoor Shami Kebabs
Sarika: Veg Shaami Kebabs
Srividhya: Baked Zucchini Tikkis with Spinach and Corn
Swati: Indian Chicken Kebabs
Suchitra: Salmon Kebabs or Fish Cakes
21s COMMENTS