7 September, 2014
Masala Crackers Won the First Prize at a Local Cooking Contest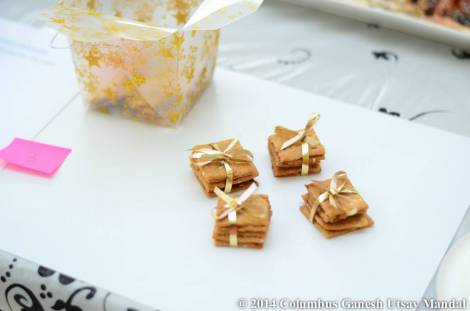 Comments : 39 Posted in :
Awards
,
Crackers
on
by :
apsara
Tags:
award winning recipe
,
cooking contest
,
healthy cookie
,
healthy cracker
I'm very thrilled today! I took part in a cooking contest in our city, and made my Baked Whole grain Masala Crackers which won the first prize! The category was "Making familiar dishes in an unfamiliar way".  This contest is held as part of a Ganesh Chaturti celebrations every year. Check out their lovely website here. Renowned food blogger Deepti Thete, who blogs at The Sizzling Pan conducts and judges this contest along with Ananya Joshi and Sharvari Deshpande.
Another category was "Little Chefs of Columbus", in which kids would play an active role in making a dish. This is a new feature in this year's contest. Since my daughter loves to mix dough, cut out cookie patterns and arrange them, I took this opportunity to have her make "Flower mini cookies" with my Ragi and Oats cookie recipe. I modified the recipe slightly using brown sugar and substituted some butter with coconut oil.
And guess what, there were 3 entries in that category and all 3 "little chefs" won prizes!
The judging criteria are: originality, nutrition value, taste, presentation, time required for preparation. The other categories included "Modak goes modern", "Dessert shots", and "Food crafters".
My heartfelt thanks to all the organizers of this contest who take the trouble every year to motivate us amateur cooks to create/recreate interesting dishes! I would like to thank my husband and my mother (who is visiting me at this time) for their support at home. My husband says I can call my self an 'award-winning chef' now, LOL!
I hope this will be an encouragement all my friends in Columbus (IN) to take part in this great event in the future years.
Source of the pictures: Columbus Ganesh Utsav Mandal's Facebook page here.
39s COMMENTS