1 January, 2018
Homemade Hazelnut Truffles For the New Year!
Posted in :
Desserts
,
snack
on
by :
apsara
Tags:
gluten free Ferrero Rocher
,
hazelnut truffle
,
vegan truffles
Wishing you a very happy New Year 2018, I am back again with these delicious Hazelnut Truffles, after a long hiatus!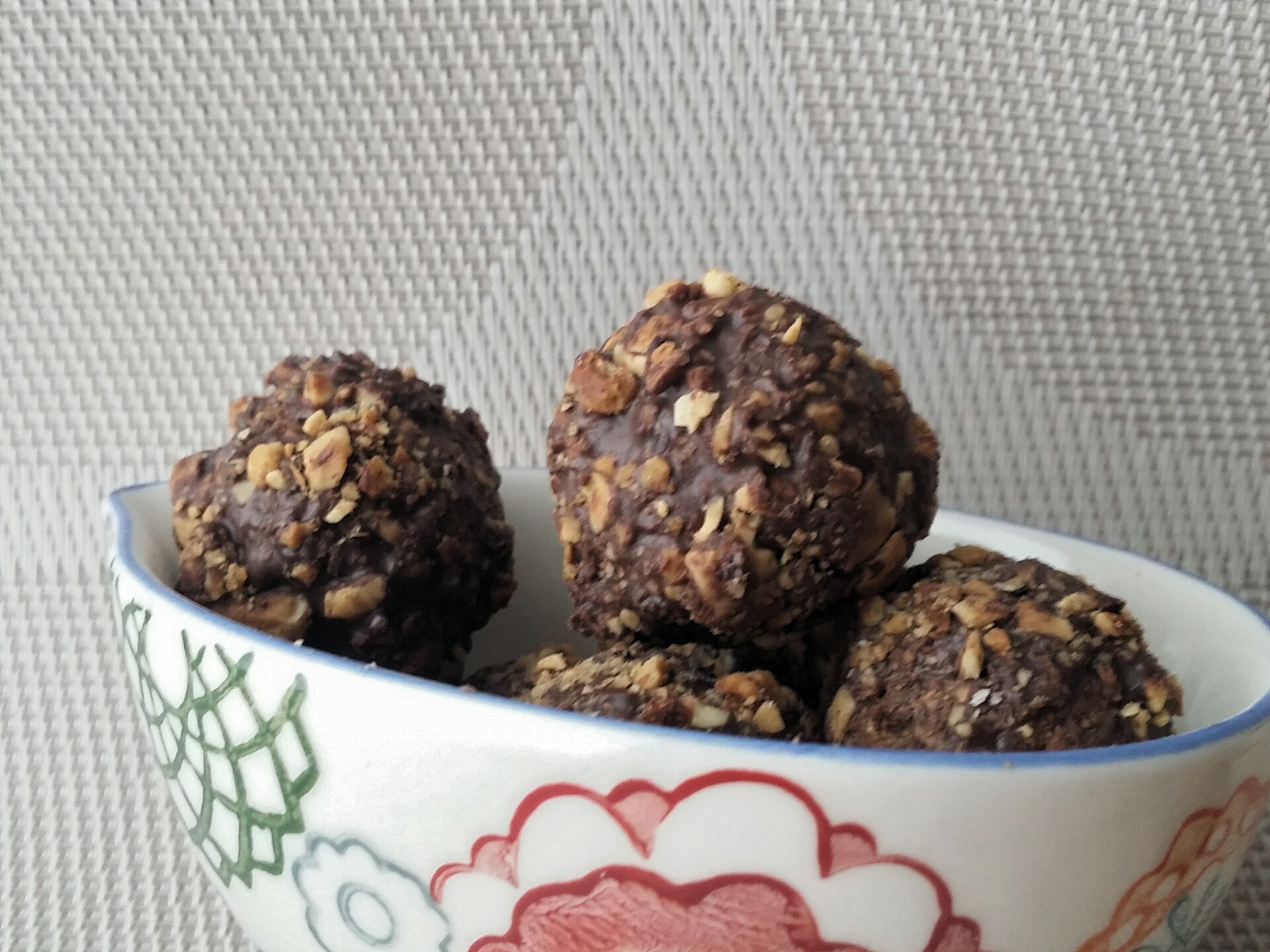 It is my new year resolution to get my blog updated every week or every few weeks at least. You know how it is… once you lose the momentum of blogging, it is hard to get it back. It is not  that I have not been cooking new things in the kitchen, but I have not been documenting any of it. 
When I found these raw hazelnuts at Trader Joe's I decided to try out my own version of "healthier" Ferrero Rocher truffles.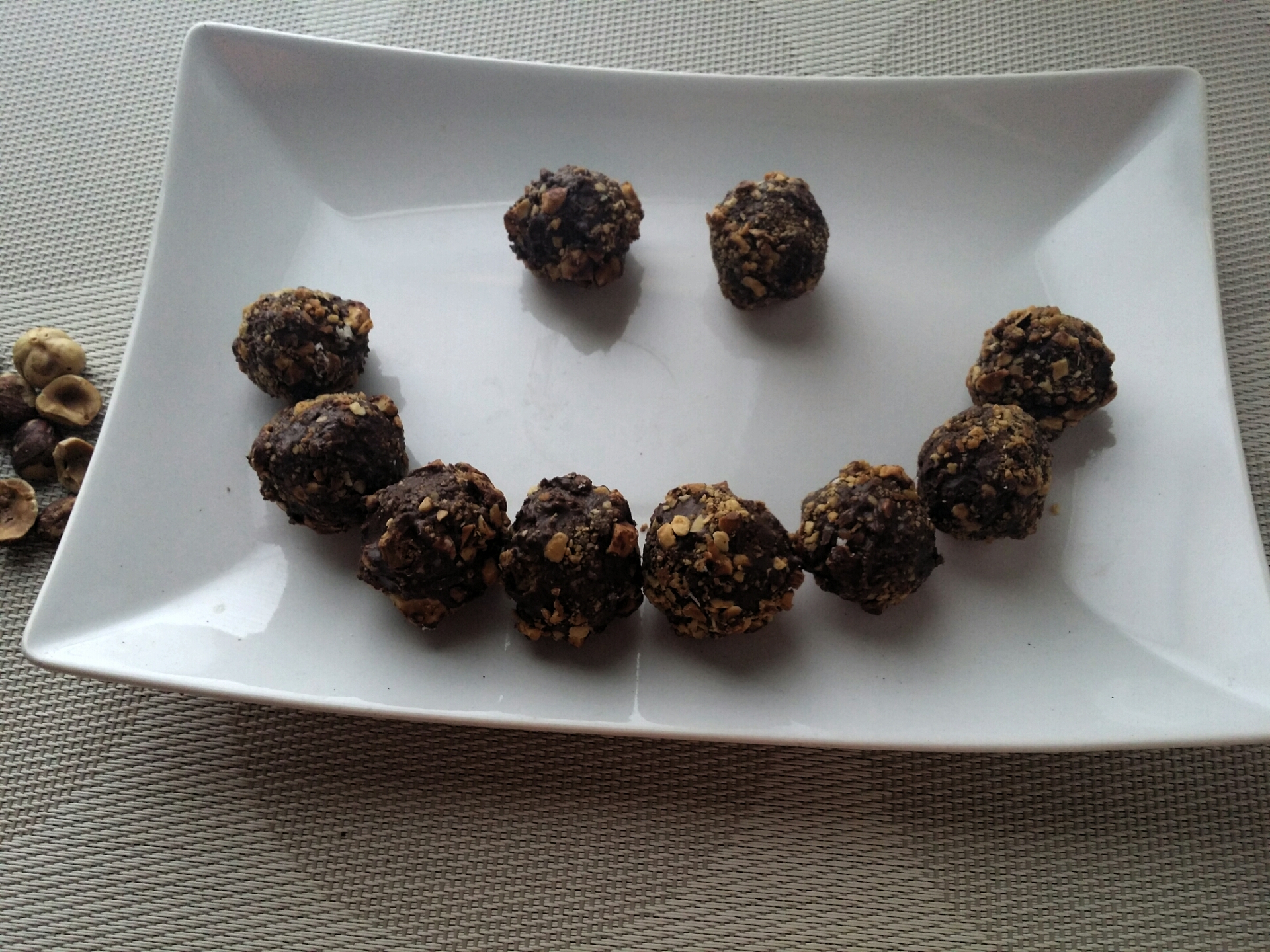 Activation of Raw Nuts:
I always soak and dehydrate all raw nuts before consuming them, because it helps to make them easy for digestion. This process is called "activation", and removes harmful enzyme inhibitors that interfere with digestion.
Even with the hazelnuts, I soaked them overnight, discarded the water, let them dry and then toasted them in the oven at 300 F for 40 minutes.
The toasted hazelnuts are oh so tasty by themselves, so I had to reserve some for making these beauties before they disappeared!
Homemade Hazelnut Truffles (GF, vegan)
Servings: 12-14
Time: 40 minutes
Difficulty: easy
 

Ingredients:

Toasted hazelnuts-  1 1/4 cup

For filling:

Powdered coconut sugar- 2 tsp.

unsweetened cocoa powder- 1 tsp.

For chocolate coating: 

Enjoy Life chocolate chips- 1/3 cup

Method:

1. Use a food processor (or a blender with jar for dry blending ) to make a meal with 1 cup of the hazelnuts, 1 tsp of cocoa powder and 2 tsp. powdered coconut sugar. Process till fine.

2. Save the hazelnut meal in a mixing bowl

3. Add 1/4 cup of toasted hazelnuts and process very lightly till they are coarsely broken.

4. Save some hazelnut halves for pacing in the center of each truffle

5. With a double boiler method, melt the chocolate chips  (place them in a bowl in a hot water bath) and keep ready to dip truffles

6. With hands, make small balls of the hazelnut meal, place a hazelnut half inside and shape the ball again. Save them on a plate

7. Carefully dip the ball in the melted chocolate and roll them in the plate of coarsely chopped hazelnuts

8. Allow the truffles to cool and enjoy!

 
Hope to see you soon with a new recipe! Stay warm and enjoy the truffles!