9 January, 2015
A simple Thai green curry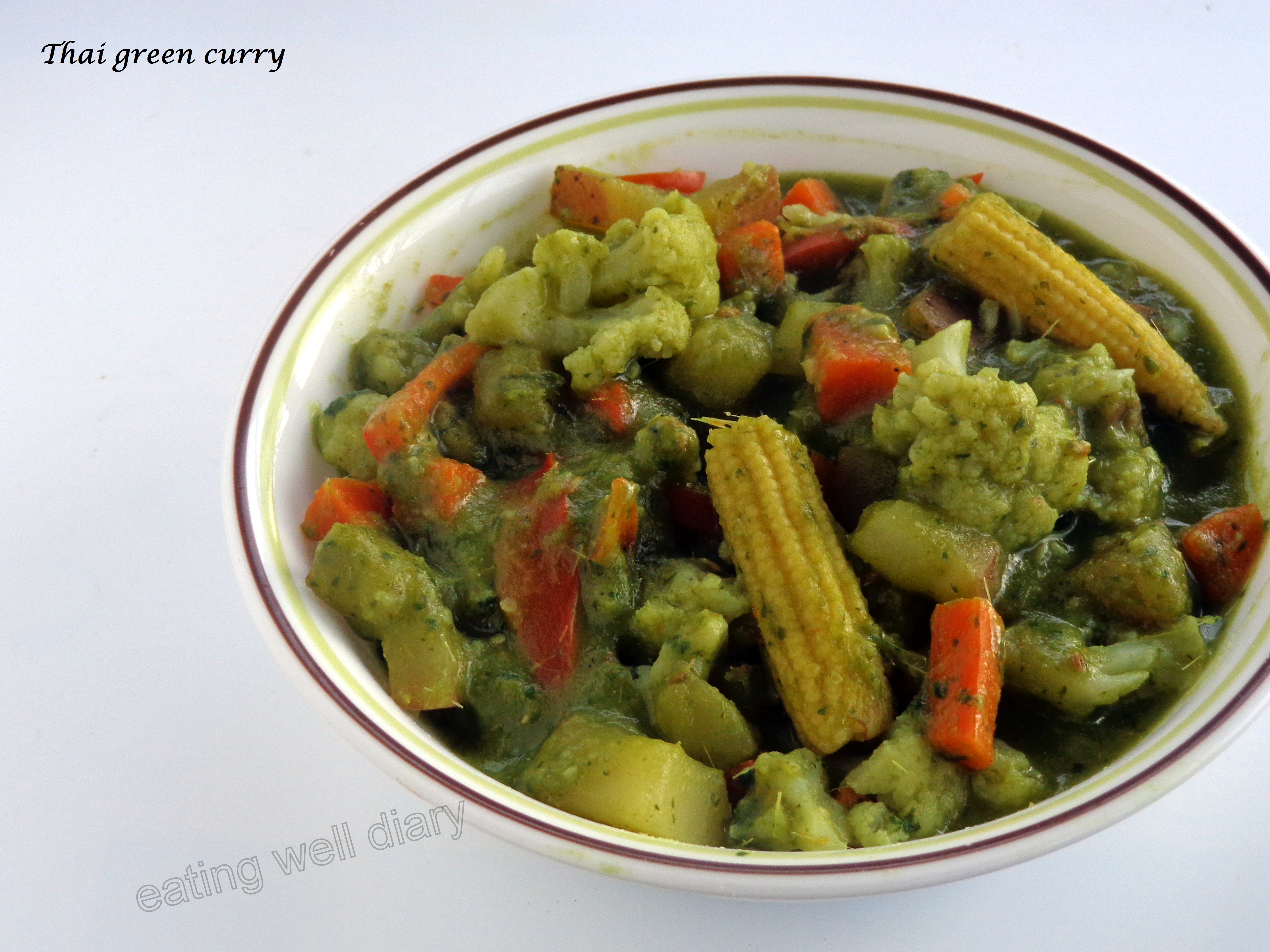 Comments : 31 Posted in :
Easy lunch box recipes
,
Main course
,
side dish
on
by :
apsara
Tags:
coconut milk curry
,
Thai curry
,
vegan curry
,
vegan Thai curry
,
vegetarian green curry
It is not often that I find fresh lemongrass, and when I did see some in a grocery store, I knew I had to try a Thai dish that calls for the herb.Took some inspiration from Veg Recipes of India here, and made my version of this delicious Thai green curry. So rich and flavorful, I know I'll be hunting down some lemongrass just for making this again!
Lemongrass stalks look like this. The outer dry layers have to be peeled away to reveal softer layers inside.
Taking this to Fiesta Friday #50 where Angie is joined by lovely co-hosts Selma of Semla's Table and Sue of Birgerbird.
Also submitting this to the biweekly Virtual Vegan Potluck #1 conducted by Angela of Canned Time and Poppy of Bunny Kitchen. Thank you, ladies, for carrying on the vegan potluck!
The authentic version calls for kaffir lime leaves and galangal, both of which I've never seen in a store around me. Thankfully, there are alternatives- lemon zest and ginger. I also added lots of cilantro and skipped the onions.
Ingredients:
veggies:
carrots (julienned)- 1 cup
cauliflower florets- a handful
red bell pepper (julienned)- 1/2
potato (cubed)- 1 small
frozen baby corn- a few
other:
full-fat coconut milk- 14 oz. or 1 can (I use preservative-free Native Forest brand)
lemon zest- 1/2 tsp.
salt- to taste
Tamari soy sauce- 1-2 tsp.
sesame oil- 1 tbsp.
for paste:
coriander leaves- 2 cups
lemon grass stalks- 2
garlic- 1-2 cloves
ginger (peeled)- 1 inch piece
green chillies- 2
black peppercorns- 1/4 tsp.
cumin seeds- 1/2 tsp.
Method:
1. Use a spice grinder to make a paste of coriander leaves, chopped ginger, garlic, chillies, lemongrass, pepper and cumin. Add water or coconut milk if necessary.
2. Steam the vegetables (except red pepper) or cook in a closed pan with a little water and some salt till just tender. Do not make them too soft.
3. In a heavy bottomed pan, heat oil, roast red peppers till they get cooked. Add the ground paste, coconut milk and cooked vegetables. Add coconut milk and stir in soy sauce and lemon zest. Adjust salt accordingly and let it simmer till flavors blend.
4. Enjoy with hot rice.
31s COMMENTS