3 July, 2014
Growing Kohlrabi/ noolkol in the garden and curry made two ways!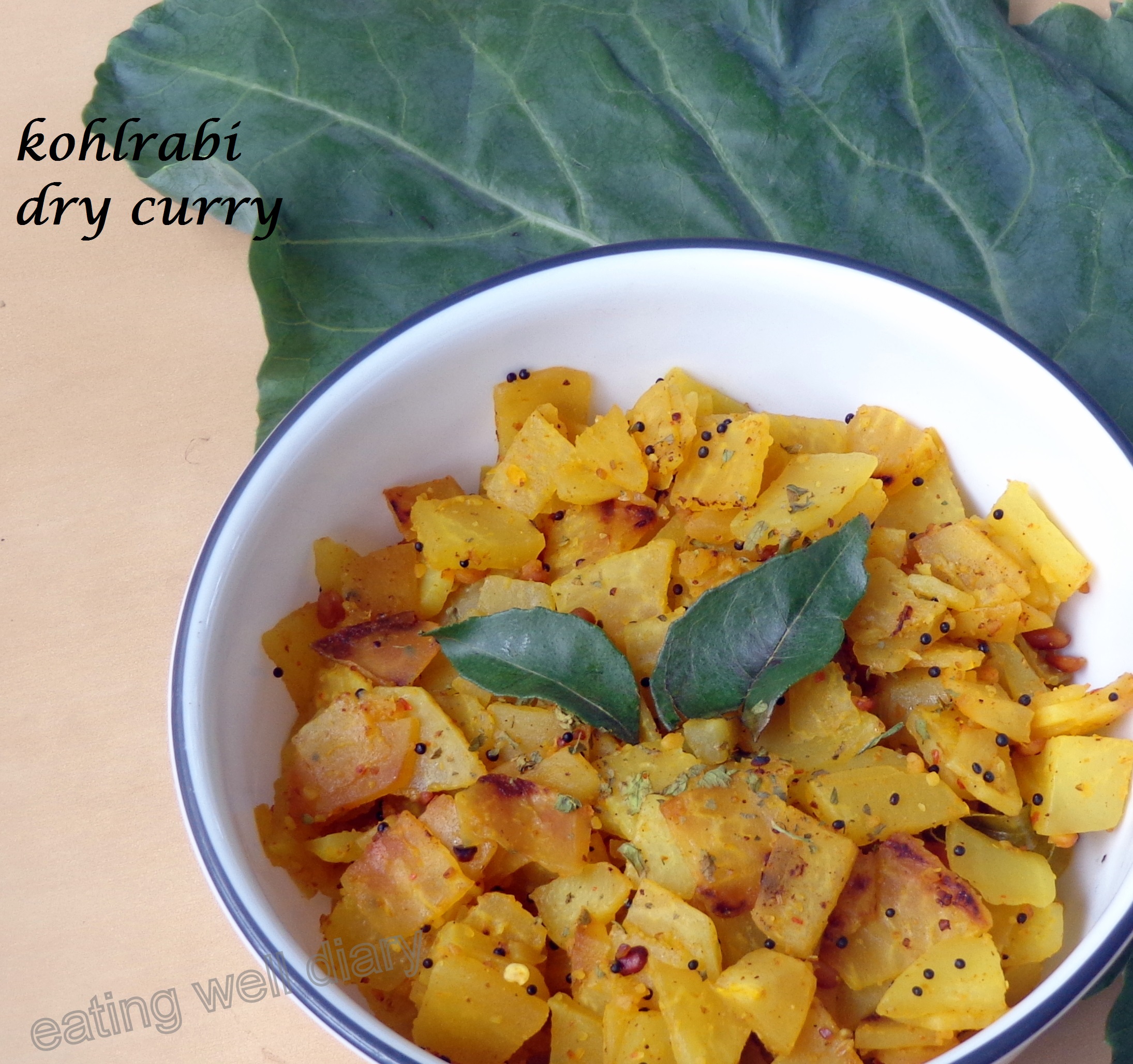 Comments : 42 Posted in :
side dish
on
by :
apsara
Tags:
kohlrabi gardening
,
nool kol
,
vegan Indian side
,
vegan korma with kohlrabi
,
vegan side dish
I was able to successfully grow kohlrabi in my garden this year! It is one of the easiest vegetables to grow, provided you have made the area rabbit-proof. I used a gardening tip and planted a row of lettuce as a companion right next to it. They grew pretty tall and yielded nice bulbs. Luckily, only one (out of 12) was attacked by a caterpillar-like pest. I harvested them before they got very woody and it was perfect and tender without too much fiber. Kohlrabi is considered one of the healthiest vegetables, high in vitamins B, C and minerals potassium, copper, manganese.
Bringing these dishes to the virtual blogger's party, Fiesta Friday #23, over at Angie's blog, The Novice Gardener. Thank you Angie and this week's co-hosts! This is also my entry into the Virtual Vegan Potluck at An Unrefined Vegan. Do check out the links for awesome recipes from other bloggers!
In this picture you see butter leaf lettuce on the left and kohlrabi on the right.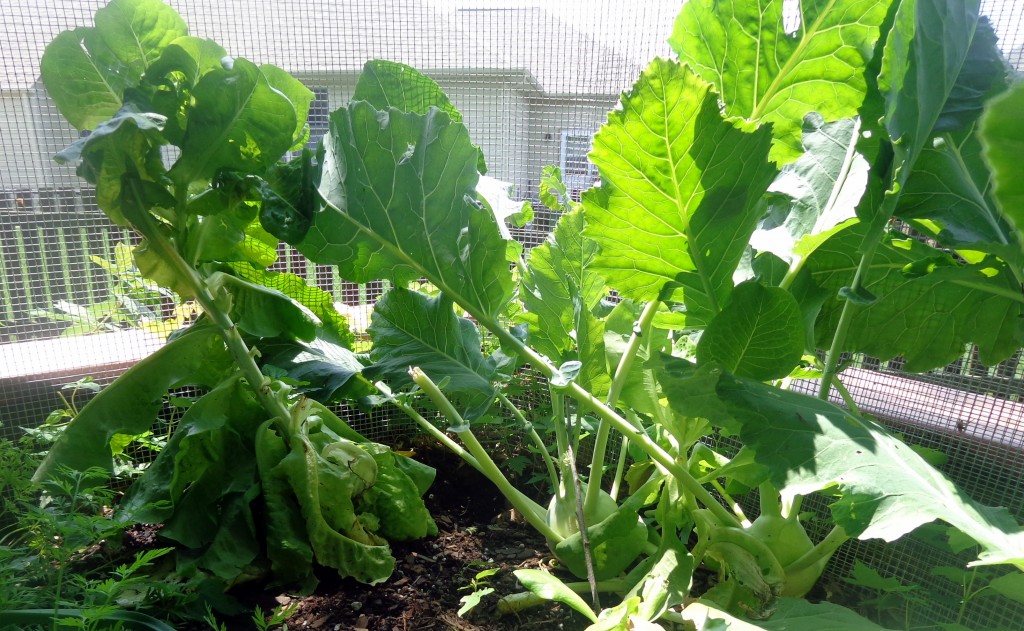 The whole kohlrabi plant is taken out; the root is removed and tender leaves can be stored and used in other recipes.
I present two delicious curries of this nutrient-rich vegetable. One is a simple saatvik dry side dish that I learned to make from my mother-in-law. The other is adapted from my blogger friend Namrata of My Food Tapestry. I have adapted her recipe for mixed vegetable dish and used kohlrabi almost exclusively.
Let's start with the simple dry curry:
The vegetable is roughly peeled and cut into thin slices like this.
Cooking with Indian spices, simple as that!
Kohlrabi dry curry
Servings: 5
Time: 25 minutes
Difficulty: easy
Ingredients:
kohlrabi- 2 medium
curry leaves- a few
turmeric powder- a pinch
red chilly powder- 1/4 tsp.
salt- to taste
curry powder– 1 tsp. (optional, sub with cumin + coriander powder)
for tempering:
mustard seeds- 1/2 tsp.
urad dal/black gram- 1 tsp.
asafoetida powder- a pinch
oil- 1 tbsp.
Method:
* Cut washed kohlrabi into thin slices.
* Heat oil in shallow pan, add mustard seeds, asafoetida and urad dal. When seeds splutter, add curry leaves and kohlrabi. Add salt, turmeric powder and cook with lid on.
* When the vegetable is soft, add the other spices and blend well. Serve warm with rice and lentil rasam/sambar. Or just eat it plain, it is yummy!
Here's what you need for the gravy version,
Kohlrabi curry in tomato gravy
Servings: 6
Time: 35 minutes
Difficulty: easy
 Ingredients:
kohlrabi- 2 medium
tomatoes- 3
carrot- 1
(small) onion- 1
mustard seeds- 1/2 tsp.
oil- 1 tbsp.
salt- to taste
for spice mix:
chana dal- 1 tbsp.
urad dal- 1 tbsp.
coriander seeds- 1 1/2 tbsp.
red chillies- 2
cloves- 2
cinnamon stick- a small bit
poppy seeds- 1 tbsp.
asafoetida- a bit (or a pinch of powder)
shredded coconut- 2-3 tbsp.
Method:
* Dice kohlrabi and carrots. Prepare the spice mix by dry roasting all the ingredients except coconut. Then cool and grind along with coconut in a spice grinder.
* Steam kohlrabi and carrots in a separate pan till tender. Add required amount of salt.
* Meanwhile, heat oil in a shallow pan. Add mustard seeds and asafoetida. When the seeds splutter, add onion, turmeric powder.
* Add chopped tomatoes, salt and cook till gravy forms. Add cooked vegetable, spice mix and blend well on low heat.
* Serve with Indian flat bread or rice.
42s COMMENTS