31 March, 2014
Coconut and pine nuts chutney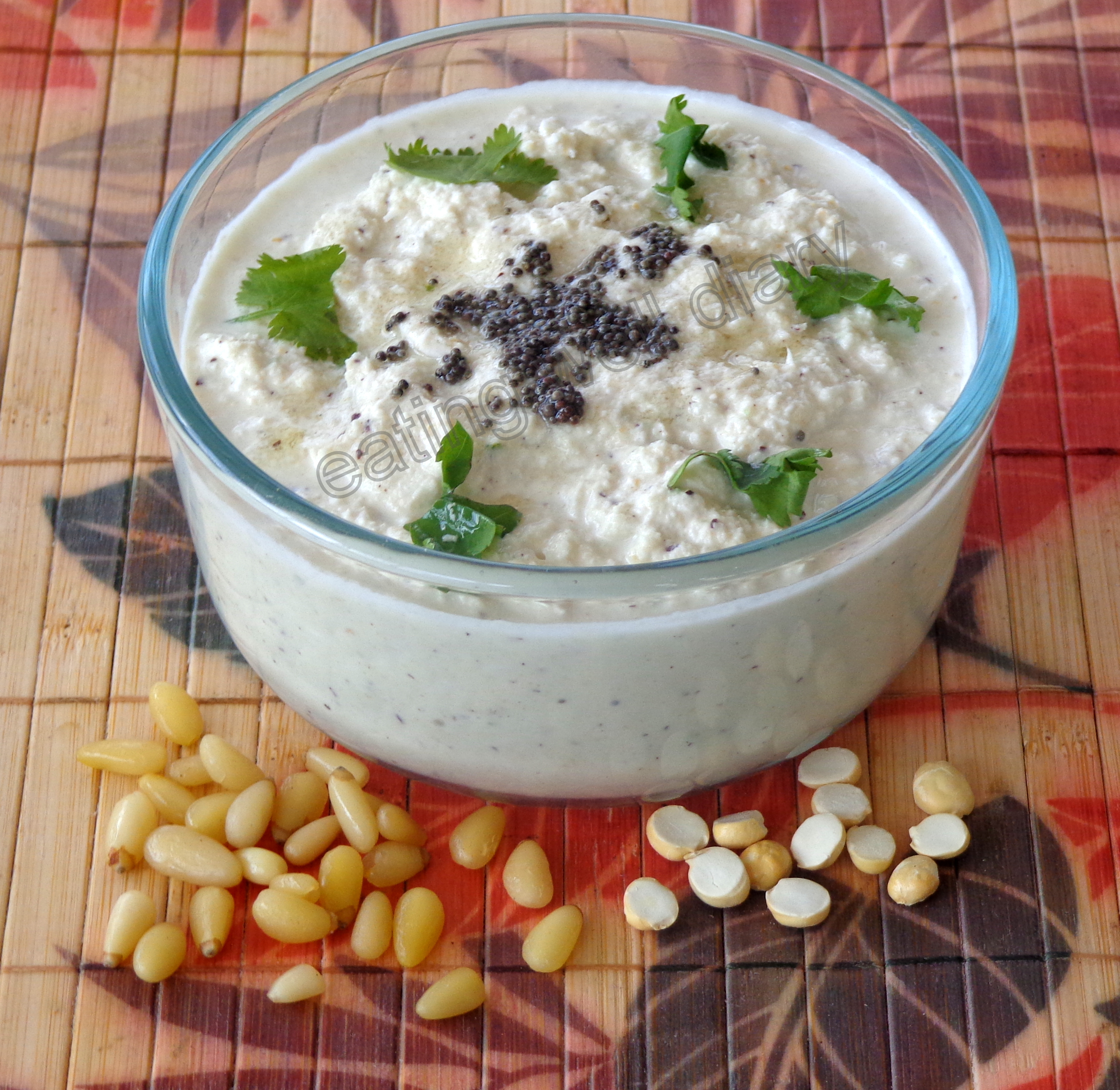 Comments : 28 Posted in :
condiments
,
side dish
on
by :
apsara
Tags:
activating nuts
,
anti-nutrients
,
chutney
,
coconut
,
enzyme inhibitors
,
frozen coconut
,
Indian cuisine
,
pine nuts
,
saatvik chutney
,
vegan chutney
Pine nuts are one of those nuts (seeds, actually) that have immense nutritional benefits but are not very tasty to eat by themselves. They are expensive and their shelf life is short too; need to be stored in the fridge or freezer. The best way to use them in Indian cuisine, from my experiments, is in combination with coconut in a saatvik (sans onion and garlic) chutney.
Chutneys are the best side dish for Indian crepes (dosa), savoury pancakes and idlis. Those of us who make coconut chutney know that frozen coconut is terrible to make chutney with. But what do you do if you need chutney in a hurry and a fresh coconut is not available? Use some pine nuts and you'll get a really smooth and creamy texture.
It is best to soak nuts in water for a few hours (to remove enzyme inhibitors and anti-nutrients) and discard the water. This makes them activated and easily digestible (source: Food Matters). For storage, I spread the nuts in a glass baking dish, and dry in an oven at 170 °F for 30 minutes. After cooling to room temperature, they go back in the fridge. It is recommended that you use a dehydrator at 150 °F, since most ovens do not go down to that temperature. An oven works fine if the drying process is short.
Ok, I'm done with the boring lecture. 🙂 Ready for the recipe?
Coconut and pine nuts chutney
Servings: 8-10
Time: 15 minutes
Difficulty: easy
Ingredients:
frozen coconut (unsweetened)- 1 cup
pine nuts- 1/2 cup (soaked in water 5-7 hours, drain water)
split chickpeas  (dalia)- 1/4 cup
green chillies- 2
salt- to taste
asafoetida powder- a pinch
for tempering:
mustard seeds- 1/4 tsp.
canola oil- 1 tsp.
Method:
* Thaw frozen coconut by keeping outside or heating gently in a pan. (I do not prefer the microwave method)
* Grind along with pine nuts, green chillies, asafoetida, salt in a blender. Use required amount of water.
* Heat oil in a pan, add mustard seeds and wait till they pop. Add into the chutney. Garnish with cilantro.
28s COMMENTS